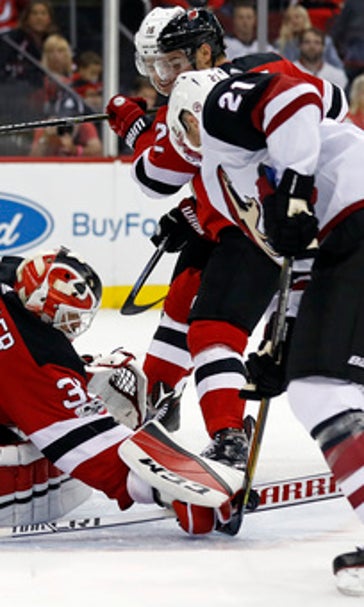 Bratt's late PP goal lifts Devils over winless Coyotes 4-3 (Oct 28, 2017)
October 29, 2017

NEWARK, N.J. (AP) When the New Jersey Devils were consistently one of the NHL's elite franchises, one of their trademarks was a near-unwavering belief that they could defeat any opponent.
It's a trait their modern-day descendants appear to be developing.
''When you find ways to win, it does build a belief that you can do it,'' New Jersey coach John Hynes said after a 4-3 victory Saturday night over the winless Arizona Coyotes, who became the second NHL team to start a season with 11 consecutive losses.
Jesper Bratt's tiebreaking goal on a power play with 4:13 left was the winner and capped a game in which the Devils rallied from 1-0 and 3-2 deficits.
''Credit to the guys,'' Hynes said. ''They found ways to stay with it and have executed at key times to come back in games. That's something we haven't been able to do the past couple years, so it's certainly an improvement.''
Taylor Hall scored twice and Bratt had two assists as New Jersey improved to 8-2-0 with its fifth win in six games. Brian Gibbons added a goal on a short-handed penalty shot for the Devils.
Cory Schneider made 34 saves after missing two games due to a lower-body injury and the birth of his daughter.
''It's a really exciting time for my wife and I and my son,'' Schneider said. ''You get a little extra inspiration and motivation to play for them.''
Arizona fell to 0-10-1 and joined the 1943-44 New York Rangers (0-11) as the only clubs in NHL history to open a season with 11 straight defeats.
''I've been on a team where we've struggled throughout the course of the year,'' Brendan Perlini said. ''You just have to work hard.''
Perlini, Christian Fischer and Clayton Keller scored for Arizona. Louis Domingue finished with 21 saves
The Coyotes scored the first goal for the eighth time this season when Fischer connected on a power play 10:37 into the game. Fischer drove down the left wing and whipped Christian Dvorak's rebound past Schneider before colliding with the New Jersey goalie in the crease, which sparked a mini wrestling match between Coyotes and Devils players.
Arizona had a lead, and it lasted a full 1:18 before Gibbons tied it with the Devils down a man at 11:55. Gibbons drew a hooking call on Oliver Ekman-Larsson on a breakaway, leading to the penalty shot. New Jersey's leading goal scorer broke in on Domingue and faked a shot before using a forehand-backhand move to slide the puck under Domingue.
As they did in the first period, the teams traded goals in the second.
Hall broke the deadlock with his second of the season at 11:09 with a wrist shot from the slot set up by Bratt's forecheck, but Perlini pulled Arizona even 48 seconds after Hall's goal.
''They're everything a good team is,'' Hall said of the Coyotes. ''They're just not getting wins right now. That's what we saw. ... They played a really solid game.''
Keller stripped top draft pick Nick Hischier in the offensive zone before snapping in his team-leading eighth goal to give the Coyotes a 3-2 lead heading into the second intermission.
''That was the best second period we played all year,'' Keller said. ''We were in their zone the whole game, we were playing our game, getting pucks deep and throwing it at the net.''
New Jersey tied it 3-all on Hall's second power-play goal from the left faceoff circle 4:30 into the third to set the stage for Bratt. With the Devils on a power play following Fischer's roughing penalty, Bratt slammed in Hall's feed from the right circle.
New Jersey was 2 for 2 on the power play, while Arizona went 1 for 5.
''Our power play is clicking,'' Hall said. ''That's really a positive thing for the skill guys on the team to go out and feel good.''
NOTES: Before the game, the Devils traded goalie Scott Wedgewood to the Coyotes for a 2018 fifth-round draft pick. Wedgewood dressed for Arizona and wore No. 40 as he served as the backup to Domingue. After acquiring the pick, New Jersey has eight selections in next June's draft. ... During his pregame media availability, Hynes announced defenseman Andy Greene would miss the game after his wife, Rachel, gave birth to the couple's second child, Maddox David. ... Devils right wing Kyle Palmieri missed his second straight game with a lower-body injury. He is day to day. ... New Jersey dressed right wing Stefan Noesen in place of left wing Marcus Johansson. On its Twitter feed, the team announced Johansson sustained a lower-body injury during warmups. ... Arizona scratched defenseman Adam Clendening and center Nick Cousins. Coyotes goalie Antti Raanta missed his seventh straight game with a lower-body injury, and goalie Adin Hill was sent down to Tucson of the AHL. ... It was the second of two professional hockey games Saturday at Prudential Center. Earlier in the day, the Metropolitan Riveters beat the Boston Pride 4-1 in a National Women's Hockey League matchup. The Devils have a partnership with the Riveters.
UP NEXT
Coyotes: Continue their five-game road trip Monday at Philadelphia.
Devils: Begin a three-game road trip to Western Canada on Wednesday in Vancouver.
---
A previous version of this story corrected to 34 saves for Schneider and two assists for Bratt.
---
More AP hockey: https://apnews.com/tag/NHLhockey
---
---