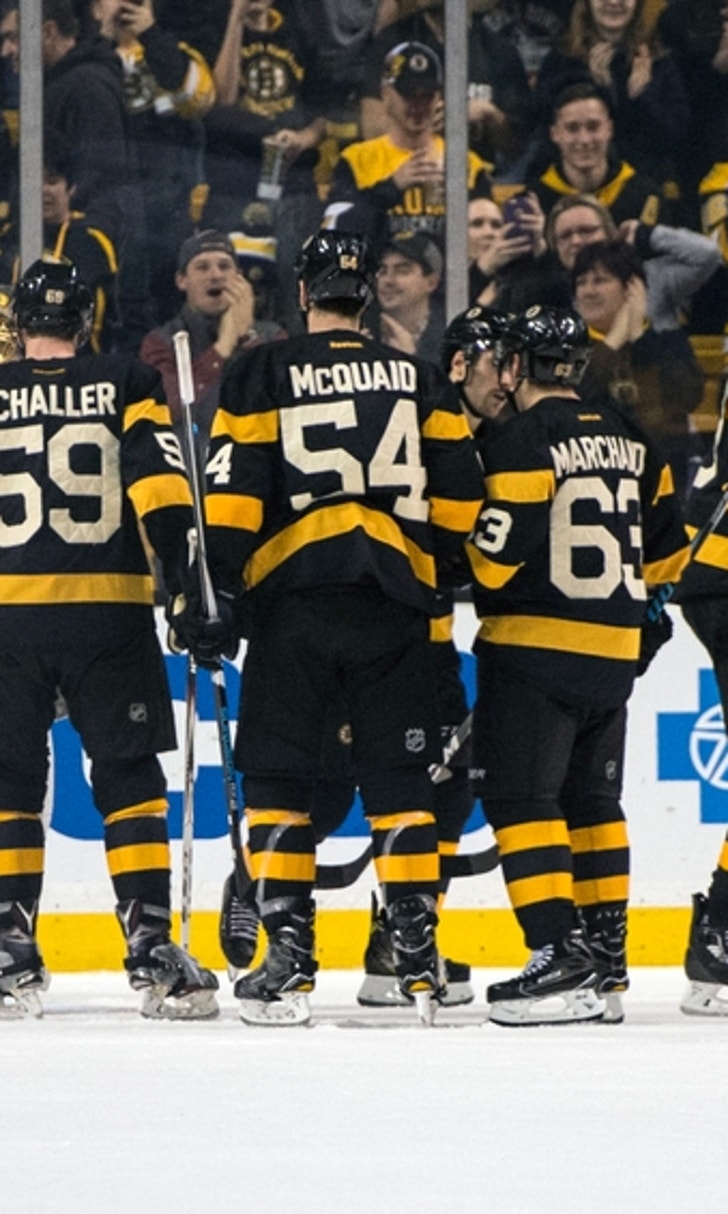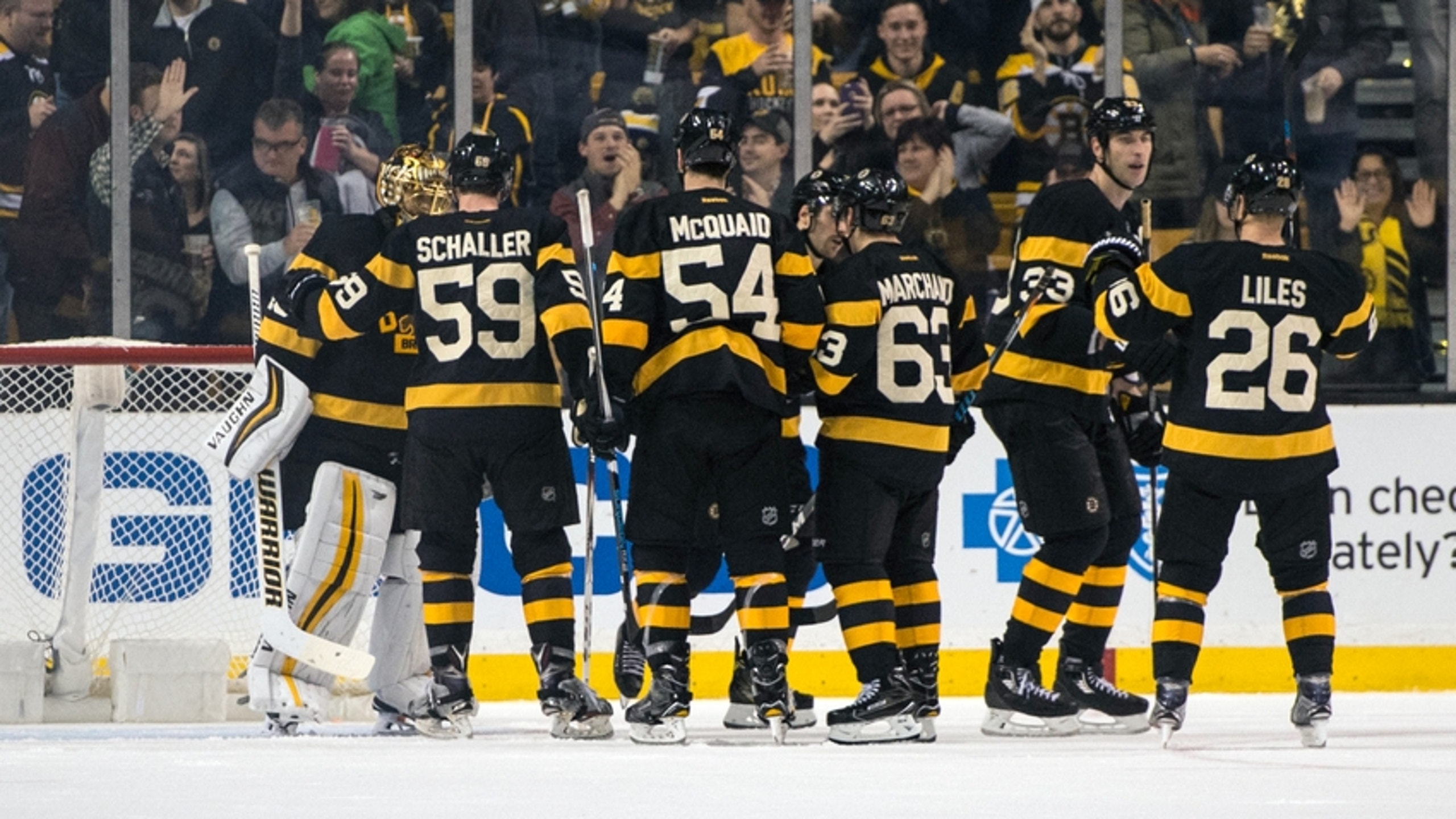 Boston Bruins: Glimpse At January, Projected Record, More
BY Fansided and Mike Cratty/FanSided via Causeway Crowd • January 2, 2017
After a rollercoaster month of December, the Boston Bruins will look to find consistency in the New Year. What does the month of January look like for the Bruins and what is there to look out for?
After going 8-5-3 in December, the Boston Bruins seek better thing as they head into 2017. The B's ended 2016 on a two game winning streak, they also took five out of eight possible points in their last four games. Things are looking good for the Bruins right now, but can certainly be better.
Upcoming January Games
Game 40: Jan. 2: BOS @ NJD [W]
Game 41: Jan. 5: BOS vs. EDM [OTL]
Game 42: Jan. 7: BOS @ FLA [OTW]
Game 43: Jan. 8: BOS @ CAR [L]
Game 44: Jan. 10: BOS @ STL [OTL]
Game 45: Jan. 12: BOS @ NSH [W]
Game 46: Jan. 14: BOS vs. PHI [L]
Game 47: Jan. 16: BOS @ NYI [W]
Game 48: Jan. 18: BOS @ DET [W]
Game 49: Jan. 20: BOS vs. CHI [L]
Game 50: Jan. 22: BOS @ PIT [L]
Game 51: Jan. 24: BOS vs. DET [W]
Game 52: Jan. 26: BOS vs. PIT [W]
Game 53: Jan. 31: BOS @ TBL [W]
Record after December: 20-15-4, 44 points
Record Prediction after January (See brackets): 28-19-6, 62 points
*Predictions made before game @ NJD on 1/2/17*
What needs to continue
In order to win games more consistently, more consistency needs to be shown from the big guys in the forward core. Patrice Bergeron, David Krejci and Ryan Spooner all showed signs of improvement throughout various parts of December. Being integral parts of the current forward core, they need to keep this going. High production is more important from Bergeron and Krejci due to the fact that they make $6,875,000 and $7,250,000 respectively. Bergeron is the fourth highest player on the team, Krejci is the highest.
The same thing goes for the defense and goaltending. Around the beginning part of the season, we saw much of the same lackluster defense that we have unfortunately become so accustomed to. But, at times this year, the Boston Bruins defensive core has surprised us with some pretty good performances. It feels good to finally say that after watching them underperform so often. There isn't much to say about Tuukka Rask, he just needs to keep playing at a high level like he has so far. Rask has bailed them out of plenty of games this year, and all-around improvement from the whole team will likely take some of the burden off of the Finnish netminder. The backup goaltending situation needs some work.
What needs to change
Guys like Riley Nash and Jimmy Hayes aren't guys who are highly regarded for their goal scoring prowess, but need to step up and provide some more bottom six scoring. Dominic Moore, Austin Czarnik and Tim Schaller can't be the only ones to produce from the bottom six forward core.
The main thing that needs to change is the backup goaltending. Not via the barren backup goaltender trade market, but right in your own farm system. Zane McIntyre is the answer behind Tuukka Rask, not Anton Khudobin, this should be obvious at this point. Anton Khudobin's stats currently look like this: 1-5-1, 3.06 GAA, .885 SV%. That guy is in the NHL? I know it's not a huge sample size, but those numbers are unacceptable for someone at the NHL level. Jaroslav has had similarly bad numbers this year and he was put on waivers the other day, why don't the Bruins do the same with Khudobin? It may because having a contract like Khudobin's (1.2M AAV) buried in the AHL doesn't make sense to them.
When it all comes down to it, McIntyre has been with the Bruins organization since he was drafted in 2010. After four years at NCAA powerhouse, the University of North Dakota, and now beginning his second season with the Providence Bruins, it's Zane McIntyre time in Boston. His numbers weren't great in his short time with Boston this year, but those starts were without Tuukka Rask in front of him. McIntyre's numbers speak for themselves: 10-0-0, 1.41 GAA, .951 SV%. December's AHL goaltender of the month, case closed.
Notable games
Some tough Western Conference games are on tap for January, as the B's take on the Chicago Blackhawks, St. Louis Blues, Nashville Predators and Edmonton Oilers. Even being at TD Garden, the game against the Chicago Blackhawks should be the biggest challenge, as the Hawks look like Stanley Cup contenders yet again, to the surprise of no one.
Their Eastern Conference competition isn't staggering besides playing the defending champion Pittsburgh Penguins twice in a span of five days. Big time Eastern Conference teams such as the Montreal Canadiens, New York Ranger and Columbus Blue Jackets are avoided. There are some important divisional games though. The Detroit Red Wings twice, the Florida Panthers and the Tampa Bay Lightning. Three of those games being on the road. The Philadelphia Flyers will also be a tough test, as we have seen their game at it's best through their impressive ten game winning streak earlier this year. Also, Claude Giroux, Jakub Voracek and Wayne Simmonds are all in the top 25 in the league in points and Simmonds is tied for sixth in goals (17). Claude Giroux and Wayne Simmonds are not only in the top 25 in points, but assists as well.
Whether the New Year will bring newfound success for the Boston Bruins has yet to be seen. Making the playoffs is the main goal and they are in a playoff spot as of now, let's hope this keeps up. It sure won't be easy to maintain success with a tough schedule ahead. Happy New Year!
*Info as of 1/2/17 at 1:00 PM ET*
More from Causeway Crowd
This article originally appeared on
---
---