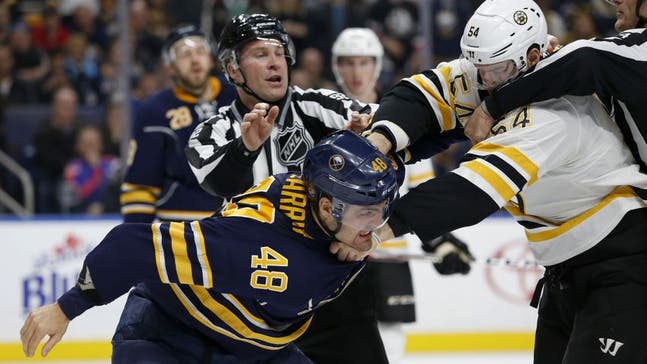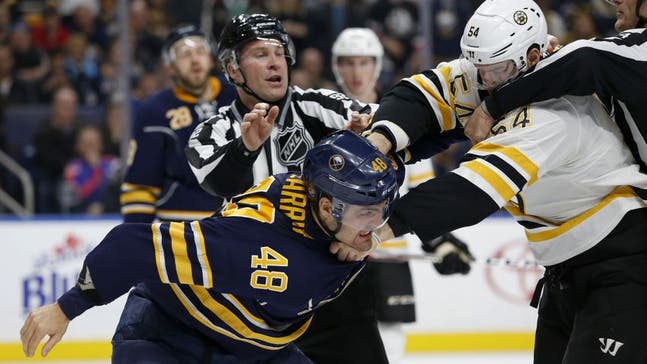 Boston Bruins: Adam McQuaid Gets Bloody in 4-2 Win.
Updated
Mar. 4, 2020 12:48 p.m. ET

Fansided, Andrew Thompson/FanSided via Causeway Crowd
Boston Bruins defenceman Adam McQuaid is a tough cookie on the ice.  When McQuaid is not trying to fight, he's a clean and restrained player. McQuaid's patience was sorely tested tonight against the Buffalo Sabres.
More from Causeway Crowd
Boston Bruins defenceman Adam McQuaid has become the B's primary enforcer ever since Shawn Thornton left the team. McQuaid has absolutely no problem holding other players accountable for dirty hits on any Bruins player.
That was the case again tonight as Sabres winger William Carrier pulled a Matt Cooke on David Backes. About five minutes into the game, Carrier throws an elbow into Backes' head. Backes had to leave the ice, and was unable to return to the game. The Bruins did eventually come back from a two goal deficit to beat the Sabres, 4-2.
Adam McQuaid took offense to the hit and engaged Carrier later on. The fight looked like a one-sided win for 'Darth Quaider' before the referees decided to interfere. Then things got messy.
As the referees try to restrain McQuaid, Carrier begins to wail on McQuaid, whose arms are tied up with the refs. McQuaid is essentially defenseless and Carrier goes 'full Cooke' on the Bruins blueliner.  McQuaid had to head off for the ice for repairs. Carrier got two minutes for an illegal check to the head of Backes.
Carrier will likely be fined or suspended for his dirty hit on Backes. But the refs should have let the fight play out. They should have let those two go at it and settle the hit on the ice. But they didn't.
So, what will happen on New Years Eve? The Bruins found a way to score four unanswered goals, and the Sabres are going to want payback. The Sabres got away with injuring two of their players (one with the active help of the refs). The Bruins aren't going to forgive or forget that. Thanks to the refs not doing their jobs properly, the B's last game of the year is going to be an ugly one.
---
---