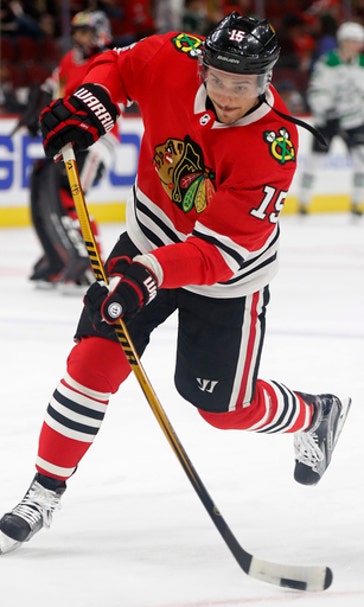 Anisimov strong in front so far this season for Blackhawks
BY AP • December 1, 2017
CHICAGO (AP) When everything is going well for Artem Anisimov, he is repeatedly hit by sticks - in the back, legs, everywhere. He is pushed, poked and prodded by big, hulking defensemen, and all he can do is stand his ground as much as possible.
Business is quite good at the moment.
Anisimov wrapped up a productive November for Chicago with a power-play goal during Thursday night's 4-3 overtime loss to the Dallas Stars. The second-line center has 11 goals and two assists in the last 15 games, helping the Blackhawks stay afloat in the tough Central Division.
''Good things (are) going to happen when you go to the net,'' Anisimov said, ''like screen the goalie, a free bounce, all the little things.''
The 6-foot-4, 198-pound Anisimov makes his living on the most expensive real estate in the NHL. He is Chicago's best player when it comes to providing a net-front presence, camping out around the goalmouth in hopes of obstructing the view of the goaltender or corralling a rebound for a prime scoring opportunity.
Just reaching that small sliver of ice is a difficult task.
''A lot of teams are boxing out and whether it's a cross check or prevention of body positioning and you got to work and spin off and find a way to get where you're all of the sudden in a goalie's eyes, there's a little bit of an art to that and there's some physicality and dirty work,'' coach Joel Quenneville said.
Despite his offensive role and defensive responsibilities, Anisimov has been whistled for just six penalty minutes in 25 games - largely resisting the urge to lash out even as he gets hit from several different directions.
''Probably my body already get used to it,'' Anisimov said. ''For the punches and the cross-checking ... you need to pay the price to score goals.''
Anisimov's recent scoring spree includes his first career hat trick in a 6-3 victory against the New York Rangers on Nov. 15. New York was Anisimov's first NHL team, taking the Russian forward in the second round of the 2006 draft.
He played for the Rangers for parts of four seasons before he was traded to Columbus in the July 2012 deal that moved Rick Nash to New York. Anisimov had 40 goals and 44 assists in 168 games with the Blue Jackets before another blockbuster deal brought him to Chicago.
Worried about Brandon Saad's restricted free agency, Blackhawks general manager Stan Bowman dealt the rugged winger to Columbus for a package that included Anisimov, three more players and a draft pick. Bowman had long wanted a big center to play behind captain Jonathan Toews, and he promptly signed Anisimov to a $22.75 million, five-year contract extension.
''He plays a game that I wouldn't really want to play,'' Chicago winger Patrick Kane said. ''He goes to the net front hard. Really good two ways. Has to battle on face-offs, has to battle for the puck a lot. But at the end of the night he could come away with a goal or a couple chances or be involved in a lot of action at net.''
Anisimov, Kane and Artemi Panarin formed one of the NHL's most dangerous lines for the previous two seasons. Anisimov had 22 goals and a career-high 45 points in 64 games last season before he was sidelined by a left leg injury.
Anisimov returned for the playoffs, but Chicago was swept by Nashville in the first round. He had no points in the series against the Predators.
''I feel pretty healthy in the playoffs, but that's tough, the game and timing, the game is a little bit different when you miss 10, 15 games,'' he said.
Panarin was traded to Columbus over the summer - bringing Saad back to Chicago - and Anisimov began the season on the Blackhawks' third line. After a slow start, Quenneville put Anisimov back together with Kane with Nick Schmaltz on the left side, and the line started piling up points.
The 29-year-old Anisimov leads Chicago with 12 goals. Kane has a team-high 17 assists and 27 points. Schmaltz is third on the team with 12 assists.
Anisimov ''doesn't get as much credit as he deserves,'' Schmaltz said. ''Obviously he played with Kaner and Panarin the last couple years and those guys had a lot of success, but he was a big reason (why). He's really good defensively, responsible, and then on the offensive end he's got a lot of skill and he's a fun guy, easy guy to play with.''
---
Jay Cohen can be reached at http://www.twitter.com/jcohenap
---
More AP NHL: https://apnews.com/tag/NHLhockey
---
---