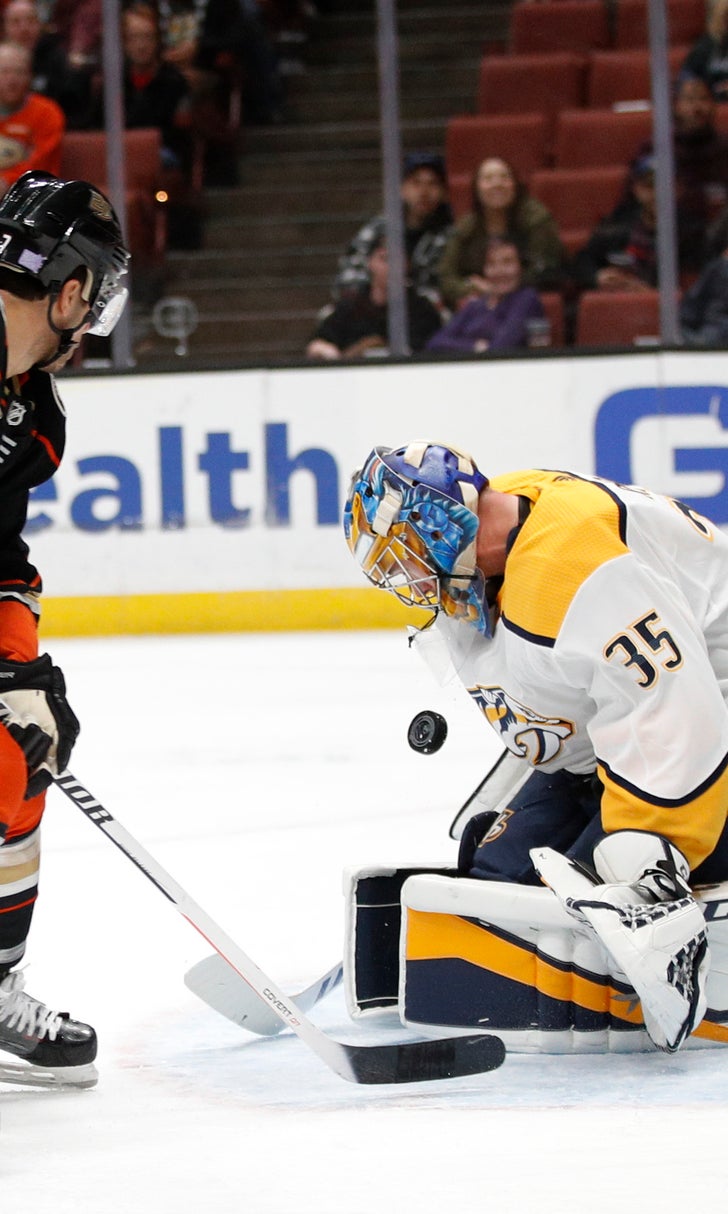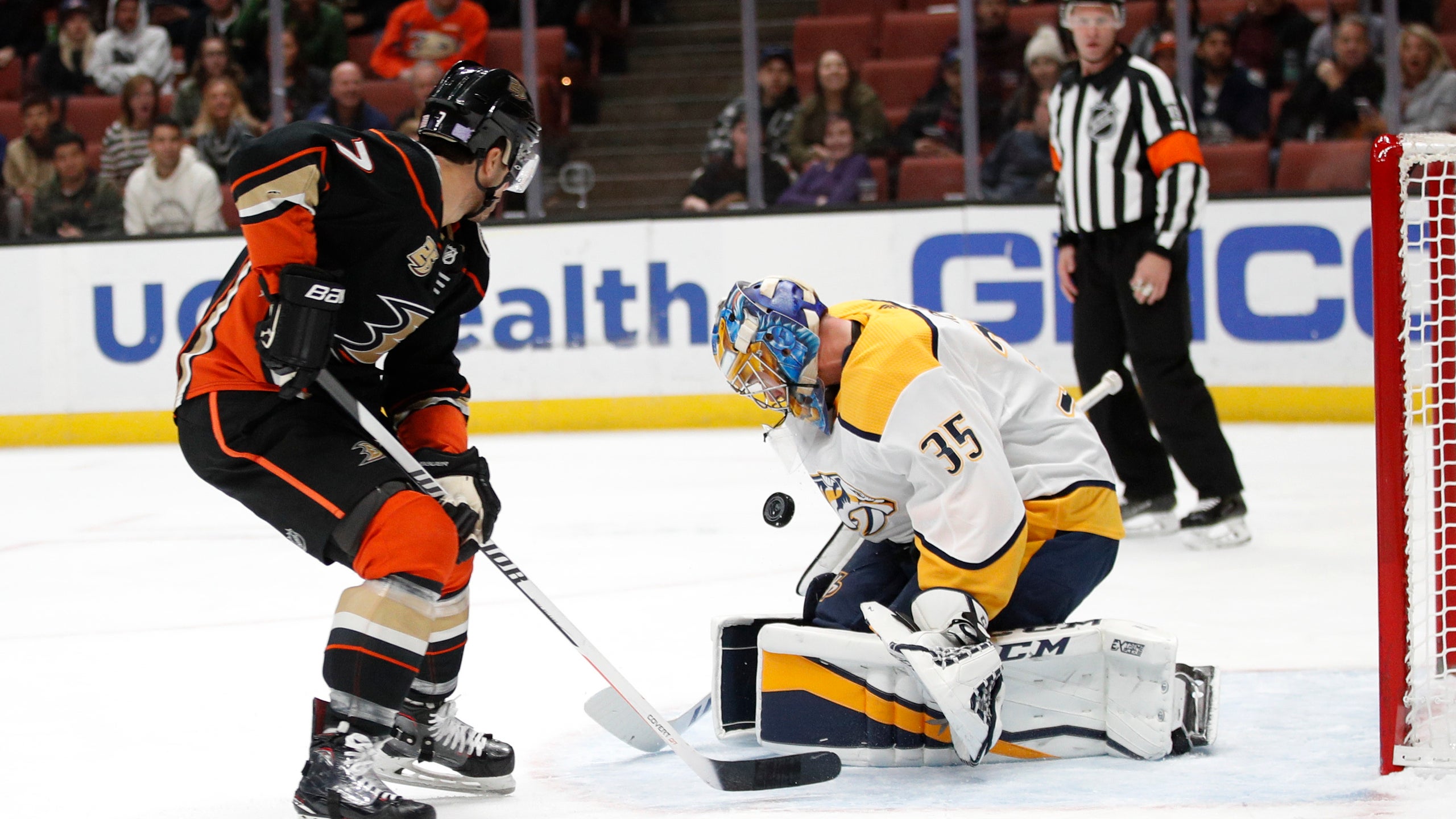 Anaheim wins in shootout to deal Nashville first road loss
November 13, 2018
ANAHEIM, Calif. (AP) — The Anaheim Ducks had all weekend to stew over their worst game of the season. They responded Monday night with a win against the NHL's top team.
Rickard Rakell's goal in the fourth round of the shootout propelled the Ducks past Nashville 2-1 and handed the Predators their first road loss this season.
"We felt that we embarrassed ourselves with our effort and competitiveness in the last game (a 5-1 loss Friday to Minnesota) and we needed a response game to feel good about ourselves. We feel like we got that tonight," Anaheim coach Randy Carlyle said.
Rakell got his first game-deciding goal in a shootout when he beat Pekka Rinne. John Gibson then stopped Kevin Fiala to snap the Predators' five-game winning streak.
Anaheim's Pontus Aberg and Nashville's Kyle Turris scored in the first round.
"I had a little plan before I went out there," said Rakell, who improved to 7 for 20 in shootouts. "Previous times this year (it) hasn't really worked for me, so I just tried to throw everything out there. It was really nice to see it go in."
Nashville had won its first eight road games, a franchise record and the third-longest streak to begin a season in league history. The 2006-07 Buffalo Sabres won their first 10 away from home, and the 2009-10 New Jersey Devils reeled off nine straight.
Gibson, who made 34 saves, and the Ducks' penalty-killing unit were big keys in the win. Anaheim was 7 for 7 killing off Nashville power plays and is 19 of 21 when down a man over the last five games.
Ryan Johansen thought he won it for the Predators with a wide-open shot on the power play late in overtime, but Gibson made a diving stop.
"They have a good power play, so we knew they were going to get shots. That one just hit my glove and I scrambled," Gibson said. "I was fortunate enough to get a piece of my glove on it. Whatever it hit, I kept it out."
Ryan Getzlaf scored in regulation for Anaheim, which improved to 2-2 in shootouts.
Fiala had Nashville's lone goal in regulation, and Rinne made 29 saves. It was the Predators' first shootout of the season.
"We fought back again and got one point so we are happy about that," Fiala said. "We had a chance to bring two points back, but overall we have to play better. We can't just think we can do it in the third period all the time."
Getzlaf gave the Ducks the lead with 30 seconds remaining in the second when he took a backhand pass from Rakell and tipped it past Rinne for his ninth of the season. The Ducks captain has points in six of his last eight games, with four goals and five assists.
Fiala tied it three minutes into the third when he beat Gibson with a shot from the left circle. It was the left wing's second goal, and first in 10 games.
NOTES: Anaheim has won eight of its last 10 home games against Nashville. ... The Predators placed forward Viktor Arvidsson on injured reserve with an upper-body injury. He is second on the team with eight goals. ... Nashville did not have a shot on goal the final 11:53 of the second period. ... Ducks RW Ondrej Kase played his first game of the season. He missed the first 18 games after suffering a concussion in the final preseason game. ... Rakell has an assist in five of the last seven games. ... Anaheim D Cam Fowler took a puck to the face on a shot by Nashville RW Craig Smith with 3:06 remaining in regulation and did not return.
UP NEXT
Predators: Continue their four-game road trip against San Jose on Tuesday.
Ducks: Journey outside of California for the first time in nearly three weeks when they face Vegas on Wednesday.
---
---