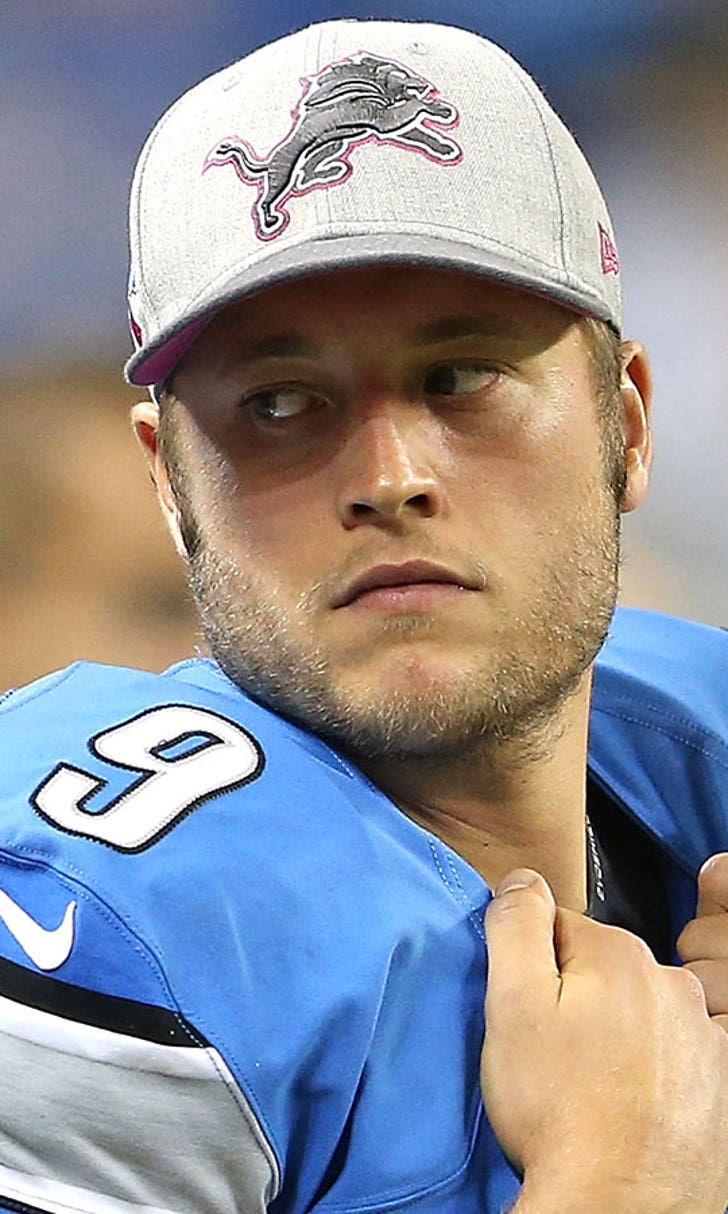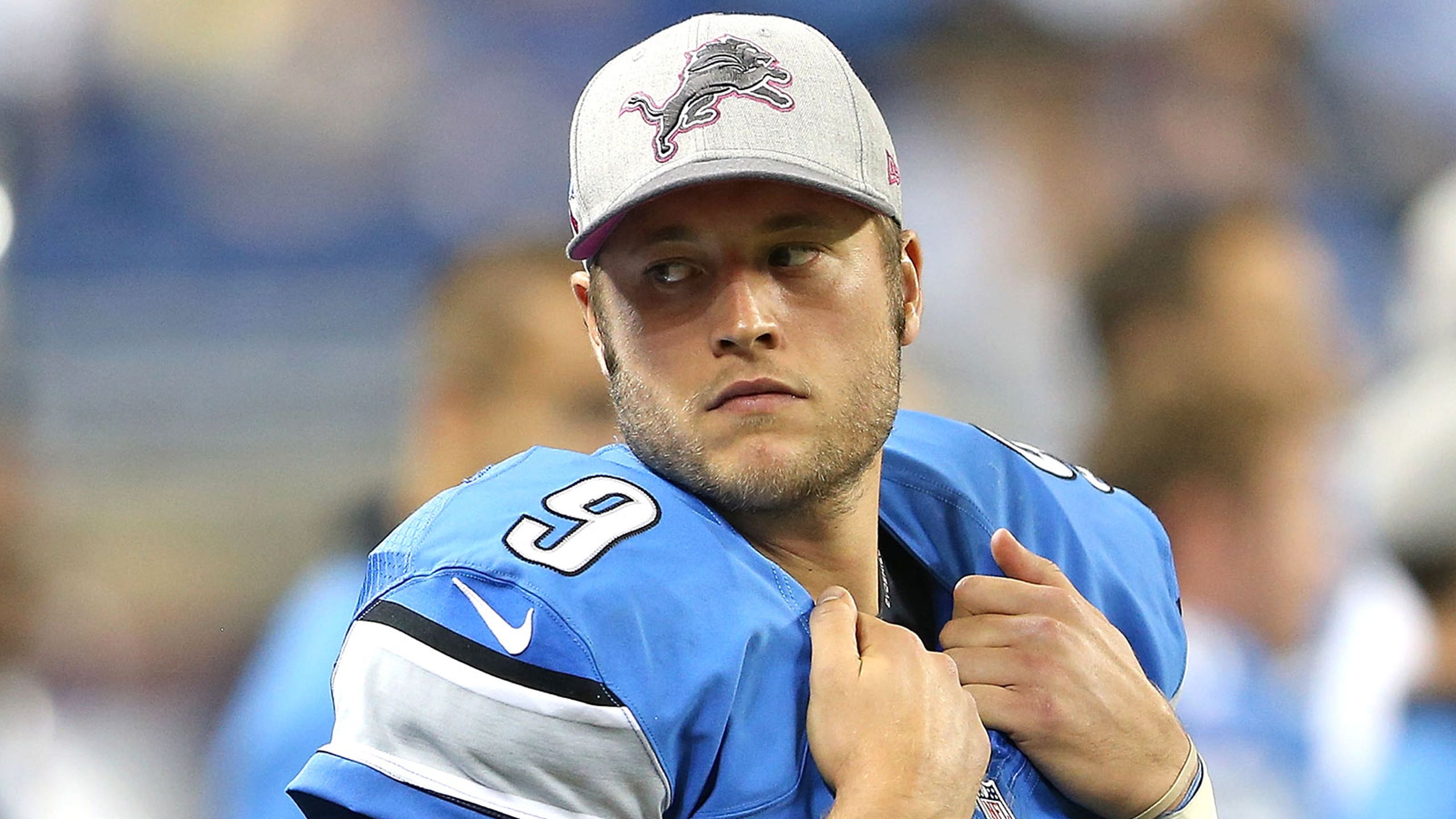 What's happened to Matthew Stafford?
BY foxsports • October 13, 2015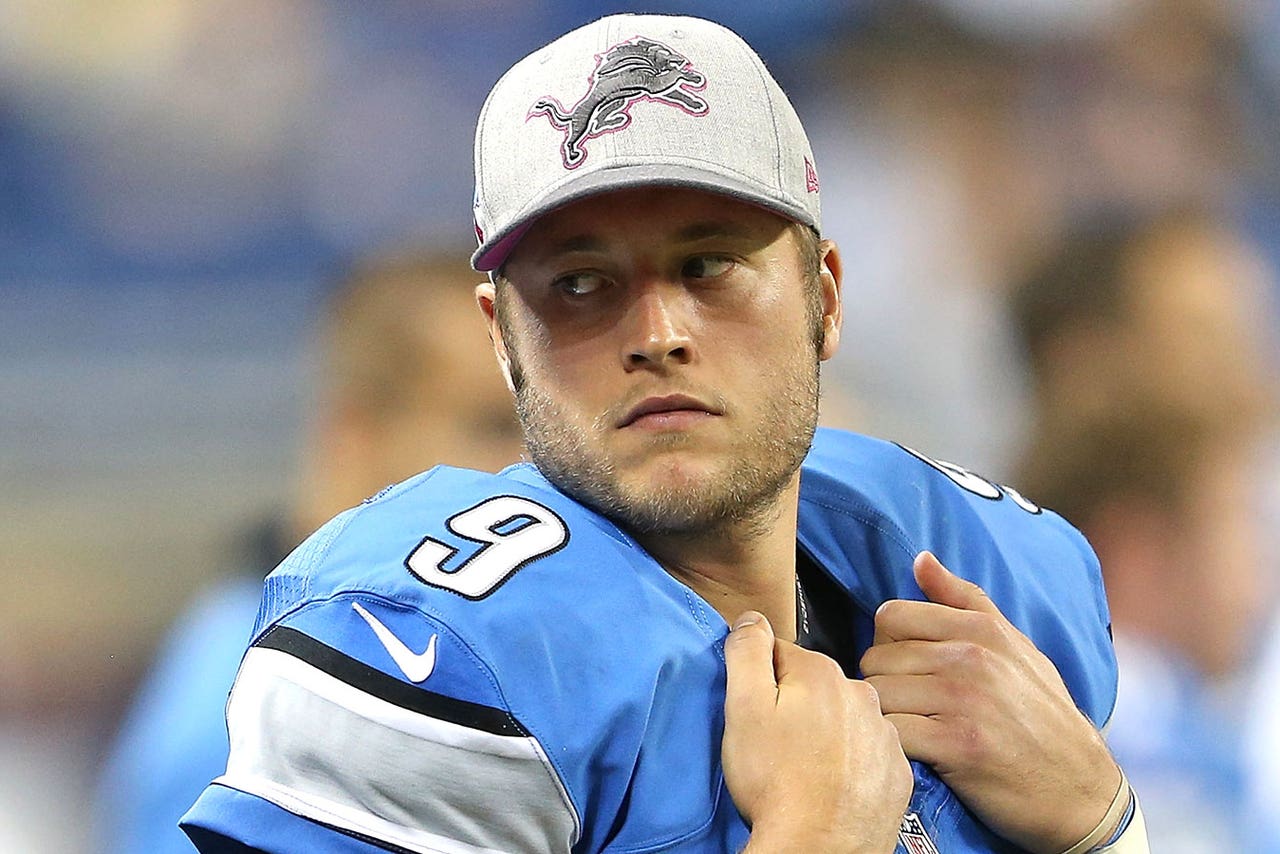 Matthew Stafford started playing for the Detroit Lions in 2009. Jay Cutler started playing for the Chicago Bears in 2009.
Stafford was the first overall pick in 2009, while Cutler was selected 11th overall in 2006 by the Denver Broncos.
In Stafford's six-plus seasons in Detroit—year seven only being five weeks old— so far Calvin Johnson has led the team in receiving six times (including the start of this season). In Cutler's time with the Bears, he's had leading receivers in Devin Hester (2009), and Johnny Knox (2010, 2011) before being given actual receivers such as Brandon Marshall and Alshon Jeffrey.
However, Stafford has dealt with six different leading rushers throughout his time in Detroit—Kevin Smith, Jahvid Best, Mikel Leshoure, Reggie Bush, Joique Bell, and now Ameer Abdullah (through five weeks this season)—while Cutler has always had the ever-reliable Matt Forte.
Stafford turns the ball over more than you'd want your franchise quarterback to, as does Cutler. The former has tossed 93 interceptions in 82 games—with a league-leading eight this season—while the latter has managed 133 interceptions in 122 games—leading the league twice (2009, 2014).
In fact, here's how their numbers stack up:
QB1—59.9 percent completion rate, 22,919 yards, 137 TD, 93 INT, 279.5 YPG, 83.1 rating
QB2—61.7 percent completion rate, 28,627 yards, 189 TD, 133 INT, 232.7 YPG, 85.2 rating
Not surprisingly, their INT rates are similar—2.8 percent to 3.3 percent, respectively.
QB1 is Stafford, QB2 is Cutler. You can't go one week without hearing something derogatory about the latter, and while frustration might have already boiled over with Detroit's signal caller, it's hard to recall the last time the media or fans in general went all-in on trying to bring him down.
That's because they haven't. In fact, Bill Simmons, formerly of Grantland, may have hit the nail on the head back in January when he wrote:
"You took Jim Caldwell and Matt Stafford, together, in a nationally televised playoff game. You forgot that Stafford is Jay Cutler with better PR."
You see, Stafford carries himself like he genuinely cares about and enjoys what he's doing. Cutler, on the other hand—well, we've seen the pouting and countless memes. We get it; he's an emotionless sinkhole.
Let's get to some more numbers and factors that actually matter, though.
Since 2011, when Stafford completed 63.5 percent of his passes and threw for 5,038 yards, 41 touchdowns, and 16 interceptions with a quarterback rating of 97.2, he's crashed and burned.
Counting the three full seasons since, his highest completion rate has only been 60.3 percent. His highest passer rating since '11? 85.7. Not terrible, but there's a certain set of expectations that come with that kind of career year from three-plus seasons ago.
And this year, he's off to an atrocious start. On top of leading the league in interceptions, his 74.8 passer rating is on pace for a career low, despite completing 64.6 percent of his passes thus far, which would ultimately be a career high.
As always, Stafford is the key to Detroit's offense, but that hasn't worked out well this year. Detroit is 23rd in yards per game, and although they are 8th overall in pass offense, they've averaged just 16.6 points per game—good enough for 30th in the league.
They lead the league in giveaways with 15; Stafford accounts for nine of them—60 percent—with the aforementioned eight interceptions, and also one lost fumble.
Opponents seem to know what the Lions are going to do as they're lining up. If that weren't bad enough, Stafford was benched in the second half of Sunday's game against Arizona in favor of 32-year-old Dan Orlovsky—who's played in just 26 games since being drafted in 2005—completing just 58.2 percent of his passes for 3,122 yards, 15 touchdowns, and 13 interceptions.
If you're getting benched for that, there's a problem.
Throughout his career with the Bears, Cutler has more or less been Cutler, with a passer rating normally in the mid to high-80s. Only in 2009 (76.8) and 2012 (81.3) were they lower.
Since his career year in 2011, expectations for Stafford have risen. Yet he's gone on to prove one of two things: either 2011 was a tremendous fluke, or he's never been nearly as good as most people wanted him to be.
Perhaps the two go hand in hand.
Regardless, the arm has always been there. The talent? Potentially, yes. Certainly on paper. But his decision-making in recent years—and really throughout his career—has been poor, and it's only getting worse.
Statistics courtesy of Pro Football Reference
More from The Sports Post:
---
---