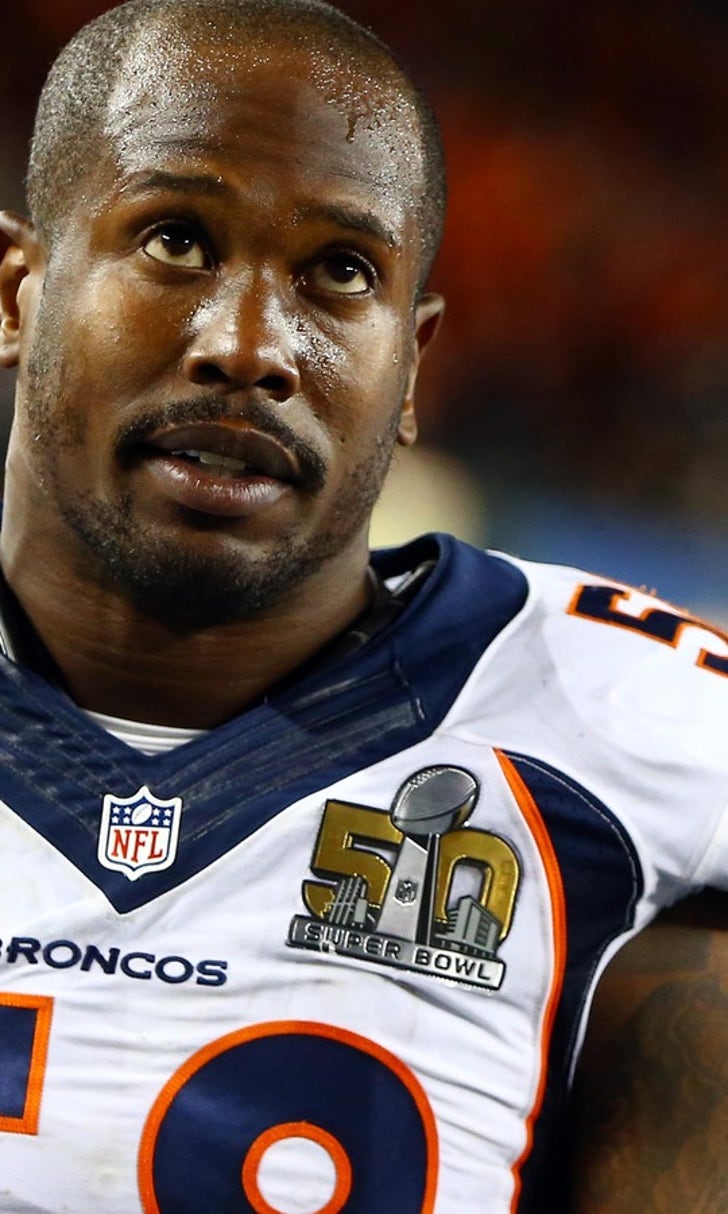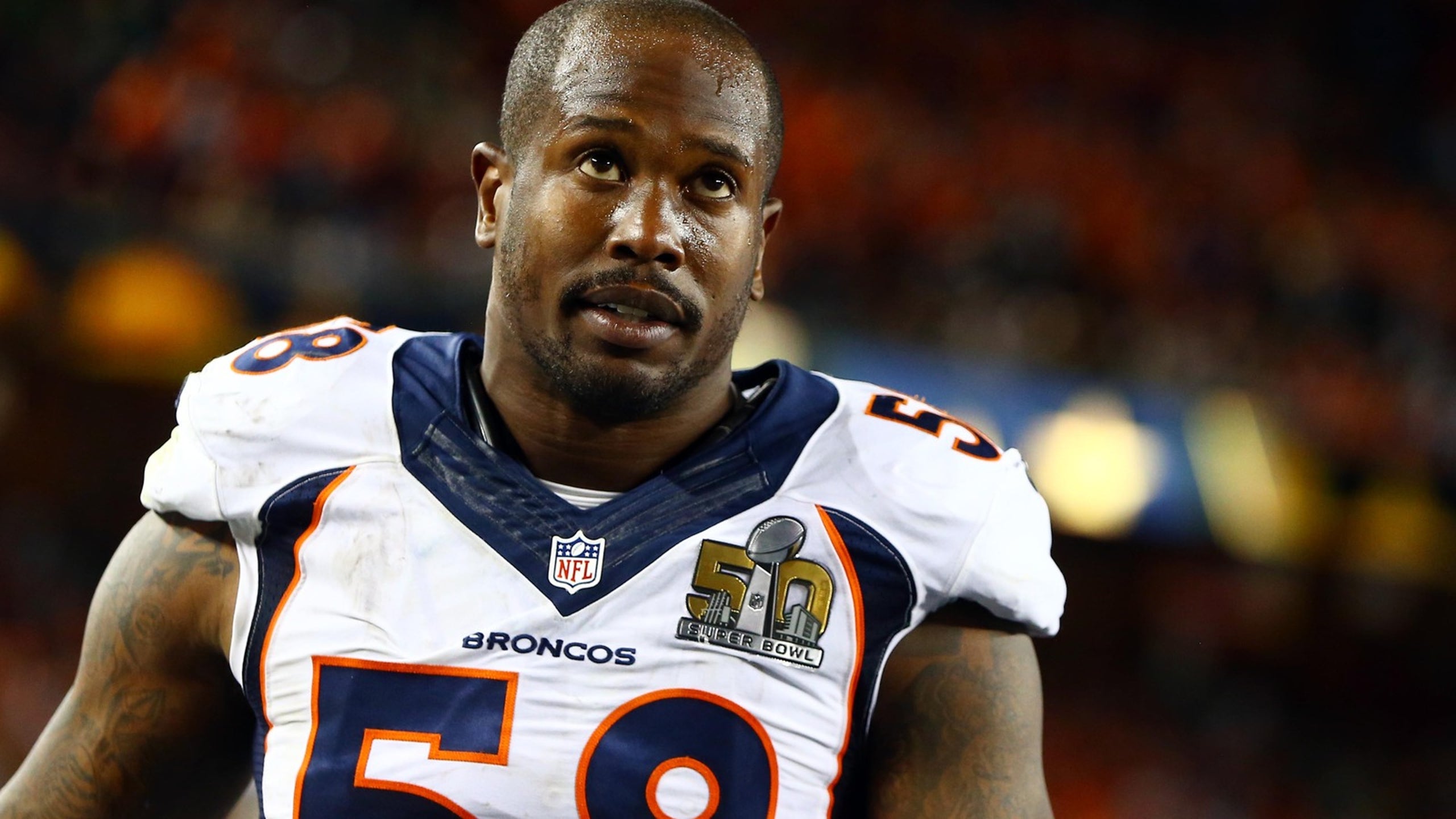 Von Miller reportedly isn't ready to accept the Broncos' giant contract offer
BY foxsports • June 8, 2016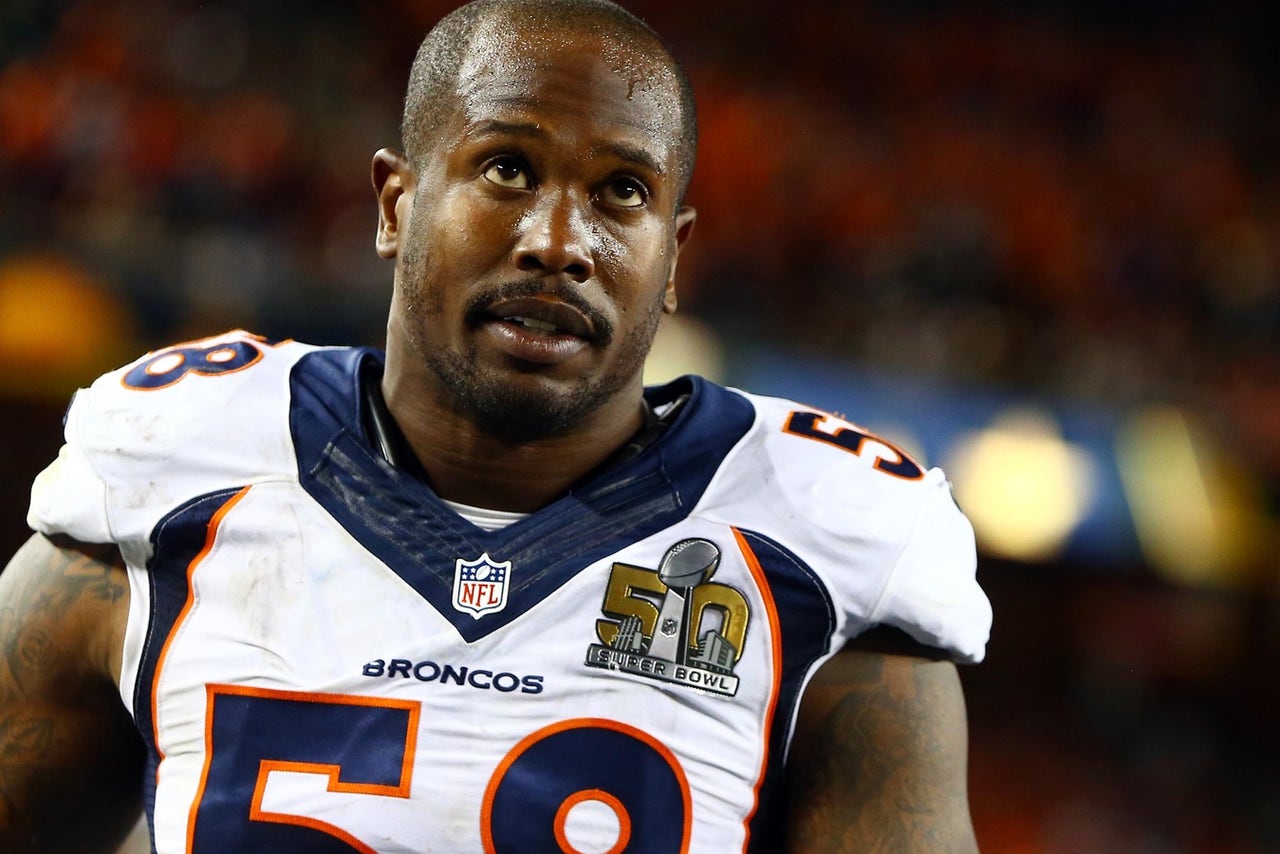 Super Bowl MVP Von Miller has been presented a contract offer by the Denver Broncos that would make him the highest-paid defensive player in the NFL, but he's not biting, according to multiple reports.
The Broncos' six-year offer slightly exceeds the $114.375 million contract signed by Dolphins defensive lineman Ndamukong Suh in 2015, according to Denver's 9News, but that offer was supposed to have a 10 p.m. Tuesday deadline.
Though the 9News reports that talks continued past the deadline Wednesday, ESPN is reporting that the sides remain far apart.
The Broncos had said that without an agreement by the deadline, Miller would have to play the 2016 season on a $14.129 million franchise tag. On Monday, Miller said at a press conference during the team's visit to the White House that "real progress" had been made in negotiations.
But the sticking point, according to 9News, is not in the terms of the deal but in how much money will be guaranteed. The league deadline to sign a long-term contract before the franchise tag kicks in is July 15, but the Broncos wanted to move up the date to get Miller into this week's minicamp, which he has not attended.
The Associated Press reported that Miller's representatives rejected an offer that included $39.8 million in guarantees in the first two years.
Team president John Elway could revisit Miller's contract, but he's turning his attention toward negotiations with wide receiver Emmanuel Sanders and inside linebacker Brandon Marshall.
Miller guided the Broncos to a 24-10 win over Carolina in Super Bowl 50 with two sack-strips of NFL MVP Cam Newton that led to both of Denver's touchdowns. That came after he collected two sacks and intercepted Tom Brady in the AFC championship game.
The Broncos placed their exclusive franchise tag on Miller, who has 60 sacks and six more in the playoffs. If the sides don't return to the table and work out a deal, he would have to play the 2016 season under the one-year $14.129 million tender.
Miller predicted peaceful negotiations while his agent sought a contract topping Suh's deal with the Dolphins in 2015 that includes $50 million in guarantees over the first two years.
Elway imposed an earlier deadline than the July 15 cutoff because he's leery of letting things go right up to the last minute, which leaves players exposed to the possibility of injury or a dip in production after missing months of offseason workouts with their teammates.
Former Broncos left tackle Ryan Clady suffered a season-ending foot injury in Week 2 after signing a five-year, $52.5 million contract just before training camp in 2013. Wide receiver Demaryius Thomas saw a dip in his production last year after signing a five-year, $70 million deal at the deadline.
Thomas topped 100 catches again last season, but his 12.4 yards per catch represented a significant decline from his 15.1-yard career average, and his touchdowns dropped from 11 in 2014 to six last season. He also dropped 18 passes and in the playoffs collected just seven receptions for 60 yards and no touchdowns.
Elway criticized Thomas for skipping offseason workouts last year, but didn't do the same with Miller, suggesting in April that it was good for him to get away from football for a while.
He didn't want that vacation to last any longer, but couldn't convince him with his latest contract offer.
The Associated Press contributed to this report.
---
---