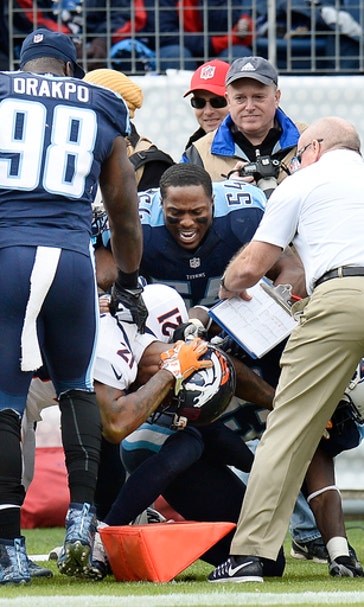 Titans tied atop AFC South after edging Denver Broncos 13-10
December 12, 2016

NASHVILLE, Tenn. (AP) The Tennessee Titans are above .500 for the first time this season and tied atop the AFC South for a second straight week.
For the Denver Broncos, the NFL's toughest finish is even more rugged - they're in a scrap for a playoff spot, just for a chance to defend their Super Bowl title.
The Titans used the NFL's third-best rushing attack to control the first half and jump out to a 13-point lead, then held on to beat Denver 13-10 Sunday for their biggest win in years.
''To come out here and put ourselves in position for the AFC South and to beat the defending Super Bowl champions, who have been doing their thing all year, and for us to come out here and really shut them down, that was definitely gratifying,'' Titans linebacker Brian Orakpo said.
Now tied with Houston, the Titans (7-6) hadn't been tied for the division lead this late in a season since winning the AFC South wire-to-wire in 2008. It's a big turnaround for a franchise that drafted Marcus Mariota at No. 2 overall in 2015 before winding up with the No. 1 overall pick, which they traded away to help rebuild.
''We're doing what we haven't done in years, and let's get over those and start talking about other things that everyone says we can't do that our team is accomplishing,'' Titans coach Mike Mularkey said.
Denver (8-5) hosts New England next, the first of three final opponents who all are 10-game winners already.
''I mean the schedule's nasty, but we can win those games,'' Denver linebacker DeMarcus Ware said.
Here are some things to know about the Titans' big win over Denver:
GROUNDED TITANS
Mariota had the worst passing day of his career in a game he finished, throwing for only 88 yards. But he also ran for 38 more. Best of all, he didn't turn the ball over to mark the Titans' fourth straight game without a turnover. It's the first time they've gone four games without a turnover since the start of the 2013 season, and this is the first game they've won without Mariota throwing a touchdown pass. Mariota snapped an eight-game streak with multiple TD passes.
''That is how it is going to be sometimes,'' Mariota said. ''We had to grind it out a little bit on offense, you know, make plays when we needed to and guys did.''
SIEMIAN'S BACK
Trevor Siemian returned and threw for 334 yards, his third 300-yard passing game of his career. He also had a 3-yard TD pass to Emmanuel Sanders in the fourth quarter trying to rally Denver. But his fourth-down pass on the second play of the quarter was incomplete as Denver turned it over on downs. The Broncos also settled for a 34-yard field goal from Brandon McManus after a sack backed them up from first-and-goal at the Titans 7.
Denver also had the ball needing only a field goal to force overtime when A.J. Derby lost a fumble with 53 seconds left after catching a pass from Siemian.
BATTLE ROYALE
Denver star cornerback Aqib Talib promised after the game to fight Titans wide receiver Harry Douglas when they meet at the office of the agent they share. Talib remained upset over Douglas' low block of teammate Chris Harris Jr. and tangled with Douglas on the Titans' sideline on the next play, sparking a scrum that ended with Talib penalized for unnecessary roughness and with his helmet missing. Harris also wants Douglas fined for what he called an illegal hit. Douglas defended himself, saying film study would've shown he cut blocks in run support.
TITANS' OFFENSIVE LINE
The Titans have young tackles in third-year player Taylor Lewan at left and rookie Jack Conklin, the eighth pick overall, at right. They gave up a sack to Shane Ray, giving the Denver linebacker his 10th career sack. Ware also got a sack, breaking a tie with Richard Dent and John Randle for eighth all-time with the 138 + sack of his career. But Tennessee ran for 138 of its 180 yards in the first half in jumping out to a 13-0 halftime lead.
FORSETT'S FUMBLE
The Broncos plucked Justin Forsett off waivers earlier this week to help run the ball, and he got the first carry for Denver. And fumbled . That was Forsett's first fumble lost since 2009, a span of 950 consecutive touches without a fumble lost. Forsett ran six times for 17 yards.
---
For more NFL coverage: http://www.pro32.ap.org and http://www.twitter.com/AP-NFL.
---
Follow Teresa M. Walker at www.twitter.com/teresamwalker
---
---