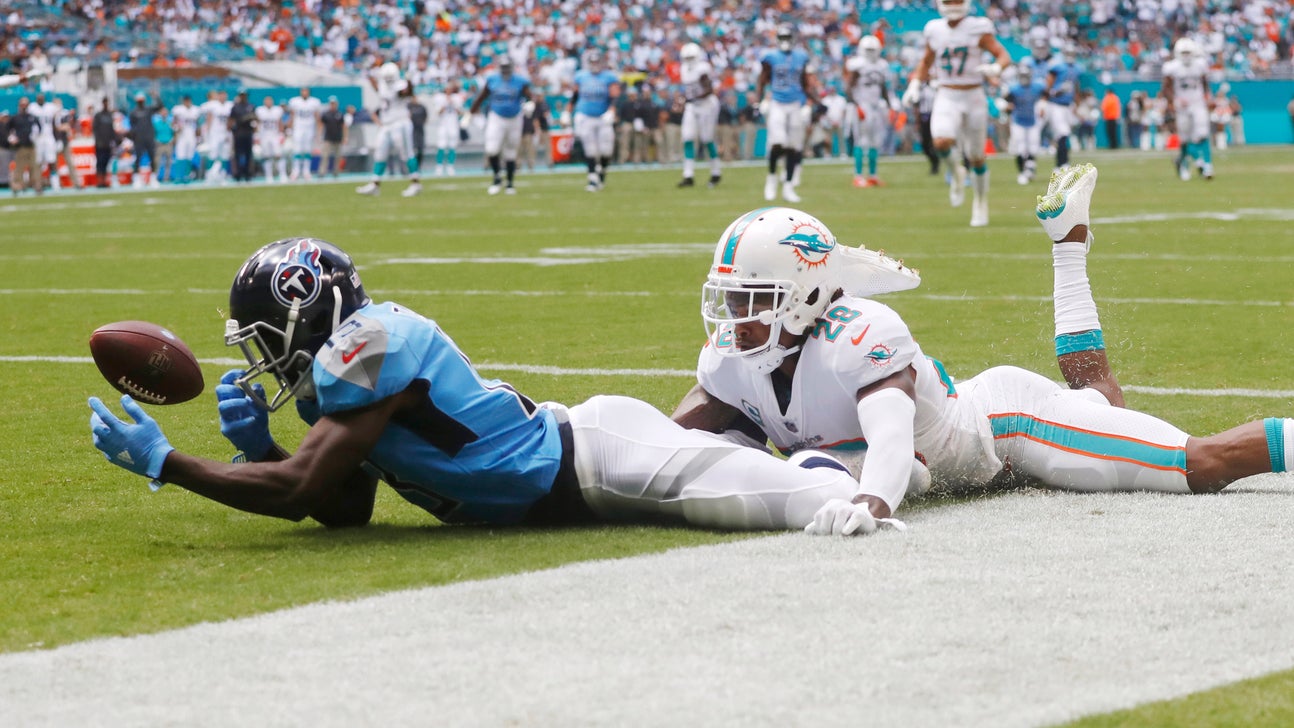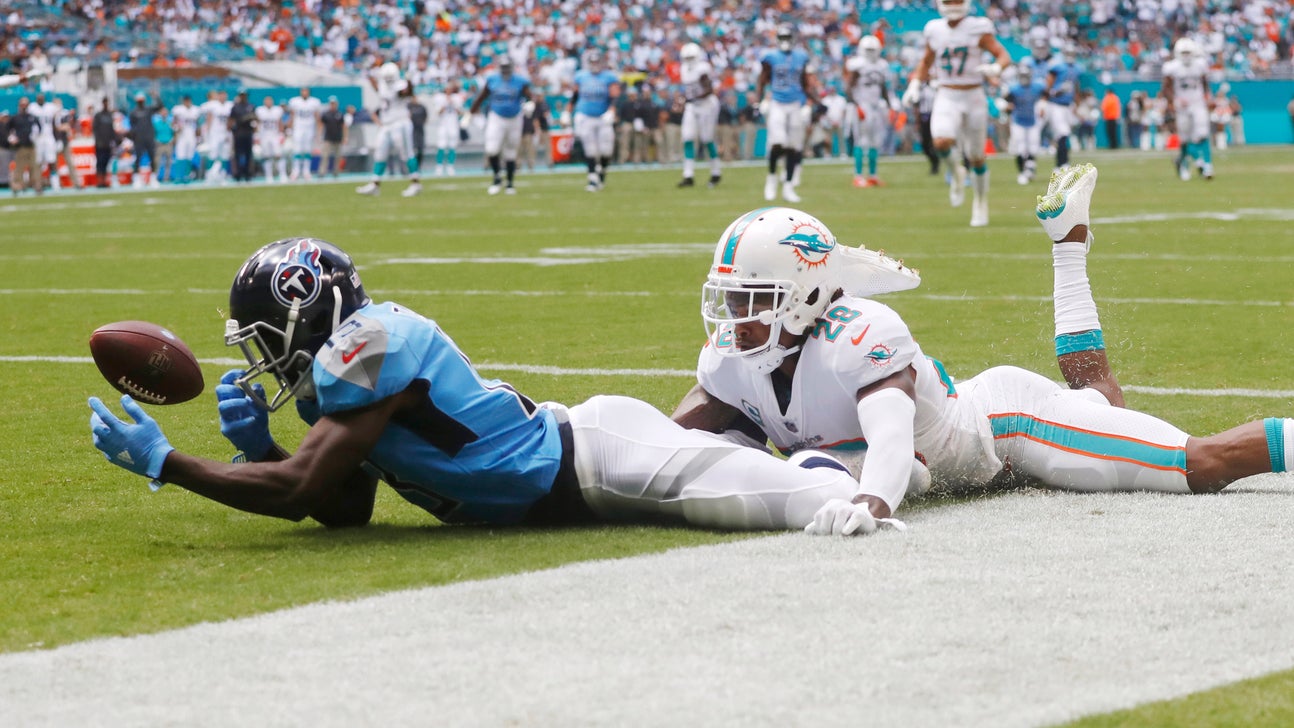 Titans need young receivers to mature, hang on to passes
Updated
Mar. 4, 2020 10:12 p.m. ET
NASHVILLE, Tenn. (AP) — The Tennessee Titans are doing their best to help their young group of wide receivers grow up.
General manager Jon Robinson's biggest personnel move before Tuesday's trade deadline was adding a fullback, not bolstering a receiving corps that includes a couple second-year players (Corey Davis and Taywan Taylor) and another (Tajae Sharpe) essentially in his second season after sitting out 2017 on injured reserve.
Tight end Jonnu Smith also is in his second season after being drafted in the third round last year.
Their youth is even more apparent after three-time Pro Bowl tight end Delanie Walker broke his right ankle in the season opener followed by veteran receiver Rishard Matthews being released at his request in September.
Coach Mike Vrabel said the Titans are trying to help those receivers improve as quickly as possible.
"That's why you draft them is to play them and get them better," Vrabel said. "And so we just got to keep heading down that path of improving and making sure these guys understand where they fit in the scheme and how they can help us on third down."
With the Titans at 3-4 and mired in a three-game skid, receivers need to start hanging on to more balls.
The Titans have dropped 10 passes this season, according to Stats .com. That's 14th in the NFL but count much more in an offense 31st with only 126 total catches. Tennessee, which visits Dallas (3-4) on Monday night, is 30th in the league in passing offense.
One drop on a would-be touchdown pass late Oct. 7 in Buffalo led to a 13-12 loss and cost Nick Williams his job. A couple more dropped passes came in their last game, a 20-19 loss to the Chargers in London. Receivers coach Rob Moore said they won't use youth as an excuse and have been working on technique, hand placement and getting the head around better to correct the problem.
"I believe that we have the guys in our room to get that done, and we just have to demonstrate that from week to week," Moore said during the bye week.
Davis, the fifth overall pick in 2017, leads the Titans with 30 catches for 395 yards receiving. He had his best game with nine catches for 161 yards and a touchdown in Tennessee's overtime win over Philadelphia on Sept. 30. He's been held to a total of eight catches over the past three games.
Sharpe was the first pick of the fifth round in 2016 and started 10 games as a rookie. He has started six games this season, and the 6-foot-2 receiver is coming off his best game yet after a career-high 101 yards receiving catching seven of nine passes thrown to him. Each catch earned the Titans a first down, and five of Sharpe's catches came on third down.
"He's found ways to kind of get open," Mariota said. "At the same time, he understands his routes. He understands the concepts. If we can find ways to kind of get everybody on the same page, just as Tajae is figuring it out, I think we can be even better on third down. I give credit to Tajae. I think he's done a great job of understanding his role and finding zones or beating his man on third down."
---
---