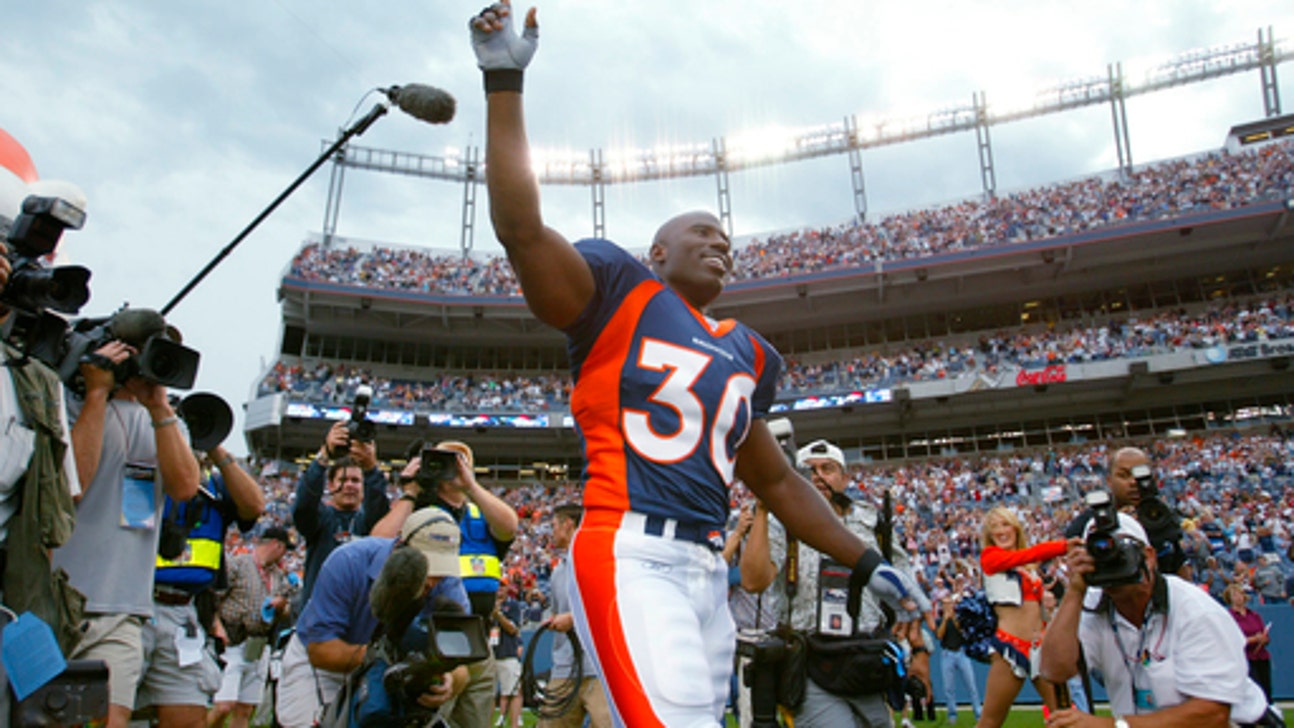 Terrell Davis' visit with Broncos brings back memories
Updated
Mar. 4, 2020 8:43 p.m. ET

ENGLEWOOD, Colo. (AP) Terrell Davis' first visit to Denver Broncos headquarters since being elected to the Hall of Fame brought back memories of his first training camp when he couldn't see much of a future in football and came close to quitting.
The Broncos were in Tokyo practicing for a preseason game against the San Francisco 49ers in the summer of 1995.
''Let's just say, if I spoke better Japanese I wouldn't be here,'' Davis said Wednesday. ''I'm telling you, I was this close to walking out of there because I looked at everything around me and I just had no shot of making the team. I was a sixth-round draft pick, I was seventh on the depth chart, I wasn't getting any reps in practice, I had my coach constantly on me and it just didn't feel like there was any way of me making the team.''
Davis didn't figure he had much of a present in football, much less a future.
''And yeah, I had a moment, I had a weak moment where I thought after practice I'm out of here. I'm not going to wait until we get back to Denver to get cut. I'm going to walk out of here,'' Davis said.
''Thank God I didn't. And then I made the big hit.''
In the preseason game against the 49ers, Davis delivered a crushing hit on kick returner Tyrone Drakeford that got the attention of the coaching staff and prompted fellow future Hall of Famer Shannon Sharpe to marvel, ''Who was that?''
That was the man who would go down in league history as the only running back to own back-to-back Super Bowl titles, an MVP trophy, a Super Bowl MVP honor, a 2,000-yard season and seven consecutive playoff wins in which he topped 100 yards rushing.
Davis, who will be inducted into the Hall of Fame this summer, said he uses that rags-to-riches anecdote all the time.
''Because it goes to show you that my thing is if you quit, the result is always failure,'' said Davis, now an analyst for the NFL Network. ''But if you don't quit, you never know what the outcome could be. So, quitting on yourself should never be an option, which I almost did.
''And for anybody that's out there struggling ... I try to tell them even if your situation seems dire, don't give up. Just keep fighting, keep fighting, keep fighting. You never know. The only thing you can control is the effort. You can't control the outcome or the results, but just keep going at it and you never know how that plays out.''
Sticking it out landed Davis with football immortality.
''I think what's great about it is the story behind it, it's not (one of) a typical, first-round selection, big school, all-time leading rusher. I was totally sort of opposite of all those things and yet I was still able to make it to the Hall of Fame,'' Davis said. ''So, what does that tell a kid right now who is struggling and is not maybe first team or not at the school that he wants to be at, or whatever the situation may be?''
Notes: Broncos offensive coordinator Mike McCoy was the quarterback at Long Beach State, where Davis started his college career before transferring to Georgia when the Long Beach program was shut down. ''I think he threw me a few touchdown passes,'' Davis said. ''I think I made him look good on a few.'' ... Davis spent time with Broncos current running backs C.J. Anderson, Jamaal Anderson and Devontae Booker after practice. ... NT Kyle Peko had surgery on his broken foot Wednesday but is expected back by August.
---
For more NFL coverage: http://www.pro32.ap.org and http://www.twitter.com/AP-NFL
---
Follow Arnie Melendrez Stapleton on Twitter: http://twitter.com/arniestapleton
---
---