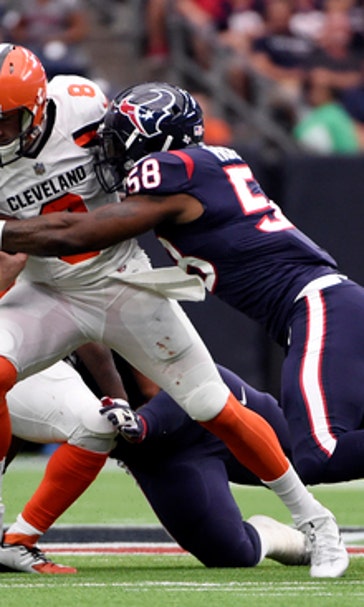 Sub-text: Browns' misery worsened by loss to Watson, Texans
October 16, 2017

CLEVELAND (AP) The incessant failure has been unbearably painful for the Browns and their fans.
On Sunday, Deshaun Watson made it feel even worse.
Houston's getting-better-by-the-week rookie quarterback, a player Cleveland could have drafted this year but chose to go in a different direction, threw three touchdown passes as the Texans kept the Browns winless with a 33-17 victory.
The outing didn't surprise coach Hue Jackson, who fell to 1-21 in two seasons with the Browns (0-6).
''What I saw from Deshaun Watson yesterday is what I anticipated he would be,'' Jackson said Monday on a conference call.
''He is a good football player. They have a good system for him. He is playing good football. He did some great things. I am not surprised by what he is doing.''
Jackson's praise was expected. After all, the coach bonded with Watson during the months leading up to the draft, even creating the impression the Browns might draft him.
Cleveland passed. On Monday, Jackson was asked if that was a mistake.
''How can we miss on him?'' he said. ''We made a decision. He is in Houston. They picked him. We made the pick that we decided to take. That is how that works. He is not on our football team. He is on the Houston Texans team, and we didn't pick him.''
Watson's performance came while the Browns chose to sit their own rookie quarterback, DeShone Kizer, in the hope that he'd learn something from a week watching on the sideline.
His backup, Kevin Hogan, became Cleveland's 28th different starter since 1999 and threw three interceptions Sunday. He will likely return to his role as second-stringer behind Kizer when the Browns host Tennessee on Sunday.
The break may do Kizer some good.
For Browns fans, there is no break in sight, and the decision to pass on Watson has only raised more questions about Jackson and a front office feeling some heat.
Following Sunday's game, Jackson rebutted a report that he had texted Watson on draft day and told him to ''be ready.''
Watson stood by his claim that he was in communication with Jackson, a dialogue that seemed to underscore the coach's belief that the Browns were going to select the former Clemson star.
However, after taking defensive end Myles Garrett first overall, Cleveland traded the No. 12 pick to Houston so the Texans could draft Watson.
A year earlier, Cleveland's analytics-friendly decision makers, led by Sashi Brown, traded out of the No. 2 pick and Philadelphia took QB Carson Wentz.
Jackson isn't denying his back-and-forth with Watson, but denies he ever told the young QB he was coming to Cleveland.
''He was a guy that I was fond of as a person and as a player, but I knew on draft day exactly where we were heading and what we were trying to accomplish,'' Jackson said.
''Like I said yesterday and I will stand by it, I never would have said the way it came out that everybody is trying to make it seem like I texted him with the thought process that we would draft him and put him on our team.
''That wasn't the case at all.''
Two drafts. Two missed chances.
Week after week, Jackson espouses commitment and the promise of a better day. It hasn't arrived.
There are some small signs of progress, just not enough, and six weeks into the season, the Browns are right where they were a year ago. Jackson acknowledged feeling some deja vu.
''I am not going to kid you - 0-6 is 0-6,'' he said. ''We are different than last year in the sense that I think there is more hope and I think we understand the situation we are in and what we are trying to accomplish. I think our guys know and I truly know that at some point in time this thing is going to flip and you don't know what might make it flip.
''I know one thing that can help it flip is we have to quit turning the ball over on offense, we have to keep getting more turnovers on defense and we have to continue to eliminate the penalties and the self-inflicted wounds that have hurt our football team.''
---
For more NFL coverage: http://www.pro32.ap.org and http://www.twitter.com/AP-NFL
---
---