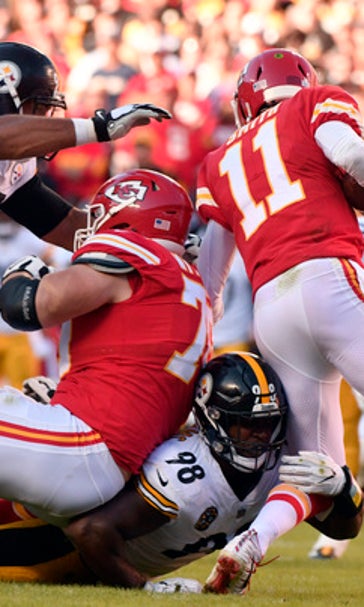 Steelers LB Vince Williams fitting right in in "Blitzburgh"
October 20, 2017

PITTSBURGH (AP) The coaches at Florida State didn't ask Vince Williams to get after the quarterback during his career with Seminoles, so he didn't.
That doesn't mean the Pittsburgh Steelers inside linebacker didn't want to. It just wasn't part of the job.
It is now. Then again, Williams figures it kind of comes with the territory when you wear black-and-gold.
''If you play linebacker for the Steelers, you're a pass rusher,'' said Williams, who leads Pittsburgh (4-2) with four sacks heading into Sunday's visit from Cincinnati (2-3). ''If you play safety for the Steelers, you're a pass rusher. If you play corner for the Steelers, you're a pass rusher. That's how it works.''
Williams took down Kansas City's Alex Smith on consecutive snaps late in the second quarter of a pivotal road victory over the previously unbeaten Chiefs. Williams missed the latter stages with a hip injury and skipped practice on Wednesday and Thursday, but did enough on Friday to work up a sweat in hopes he can face the Bengals.
''I'm full go,'' Williams said. ''I'm ready to go.''
Pittsburgh coach Mike Tomlin felt good enough about what he saw from Williams on Friday that Williams isn't even listed on the injury report, meaning he'll get another shot to build up an impressive first season as a full-time starter. The Steelers saw enough in the former sixth-round pick that they awarded him a three-year contract, $5.5 million contract in the summer of 2016, then let veteran and mentor Lawrence Timmons walk in free agency last spring.
It's proven to be money well spent.
Williams has tripled his career sack total in six games and his 31 tackles rank second behind Ryan Shazier. While not as fast as Shazier or as physically imposing as James Harrison, Williams makes up for it with intelligence, timing and more than a bit of tenacity.
Asked to explain his success, Williams just smiled and said ''this is Blitzburgh.''
''Anytime I can get an opportunity to get after the quarterback, that's what I can do,'' he added.
Something the Steelers have done as effectively as anyone early in the season. Pittsburgh is tied for second in the league with 20 sacks, but that's only been half the battle. The run defense has been spotty at best. The Steelers have allowed over 200 yards on the ground in stunning losses to Chicago and Jacksonville. Now here come the Bengals, who have won two straight thanks in part to giving rookie running back Joe Mixon a larger role. Mixon is averaging 19 touches since Bill Lazor took over as Cincinnati offensive coordinator two weeks into the season.
''He's a bigger guy, he's really shifty, has great feet, hands out of the backfield, power, contact all that,'' Williams said.
Still, Williams is confident the issues that have intermittently plagued Pittsburgh during an occasionally uneven opening six weeks are over.
''I think we're playing pretty decent,'' Williams said. ''I think we're finally starting to come together. We got a lot of continuity. We've just got to keep gelling, take care and shore up that run defense. I think we'll be pretty good.''
NOTES: DE Stephon Tuitt (back) will sit Sunday. Tuitt missed two games earlier this season with a left biceps injury. ... RT Marcus Gilbert (hamstring) did not practice and is doubtful. Chris Hubbard will start at right tackle if Gilbert isn't ready in time. ... CB Artie Burns was named the team's Ed Block Courage Award nominee. The award is given annually to players who ''exemplify commitments to the principles of sportsmanship and courage'' according to the award's website.
---
For more NFL coverage: http://www.pro32.ap.org and http://www.twitter.com/AP-NFL
---
---