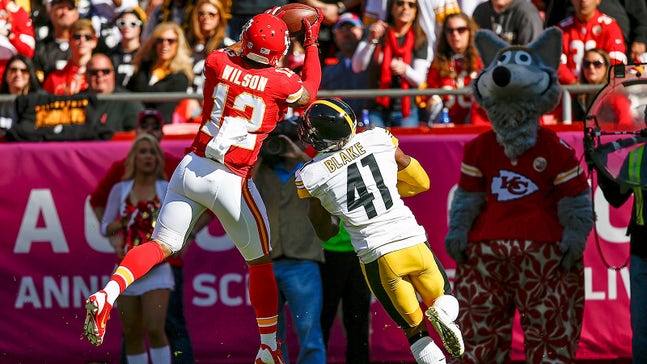 Steelers know defense must be better vs. Bengals
Updated
Mar. 4, 2020 8:10 p.m. EST

PITTSBURGH (AP) Even with Ben Roethlisberger on his way back to the lineup, the Pittsburgh Steelers will need more than a healthy quarterback Sunday against an unbeaten Cincinnati team hoping to start 7-0 for the first time.
The Steelers' defense looks to recover from a poor performance during last Sunday's loss at Kansas City. The Steelers know it won't be easy to rebound against Bengals quarterback Andy Dalton and one of the top offenses in the league.
''It's a very big game and a division rivalry,'' Steelers linebacker Jarvis Jones said. ''We're coming off a loss and we're at home. They've been winning and they're on a long streak, so they're definitely not coming in here to lose.''
Pittsburgh is fifth in the league in points allowed and eighth against the run, but 24th in total defense and 27th against the pass. Two weeks ago, the Steelers gave up nearly 500 yards of offense against Arizona, but an opportunistic defense forced three turnovers and limited the high-scoring Cardinals to 13 points in a come-from-behind win.
It was a different story last Sunday against Kansas City as the defense, which forced nine turnovers the previous five weeks, couldn't manage any against the Chiefs. Instead, it was largely victimized by missed tackles and big plays at inopportune times.
''It's something we definitely have to continue to work to eliminate,'' Jones said. ''I feel like if we would've made those tackles and did the little things right, it would've been a different game.
''But the Chiefs made plays and we didn't.''
Two of the biggest - a third-down pass to Travis Kelce for 26 yards and a 36-yard run by Charcandrick West - came on back-to-back plays during a fourth-quarter touchdown drive that sealed the Chiefs' victory.
''I feel like we left a lot out there defensively as far as not having the fundamentals we have been displaying the past couple weeks,'' Steelers linebacker Arthur Moats said. ''In this league, all it takes is one or two bad plays to have a performance look really bad for us, and ultimately those are the things we need to correct immediately.''
The Steelers don't have much time to turn it around as they prepare for the Bengals' third-ranked offense.
Dalton leads the group, carrying an NFL-best 116.1 quarterback rating. He has completed 67 percent of his passes for 1,761 yards and 14 touchdowns with just two interceptions, the third-highest differential behind only Tom Brady and Aaron Rodgers.
''He doesn't get as much credit as he deserves,'' Steelers cornerback Antwon Blake said. ''He's making good decisions this year.''
The majority of his plays have been to A.J. Green and Tyler Eifert, who lead the Bengals' talented group of pass catchers. The Steelers will also have to contend with Giovani Bernard and Jeremy Hill, the Bengals' 1-2 punch out of the backfield, too.
''It's a very high-powered offense,'' Blake said. ''They have a lot of weapons and they've been making plays all year.''
The Steelers wants to put a stop to that and crawl back into the AFC North race.
Cincinnati was in control of the division, ahead of the pack by 1 1/2 games in 2014 until Pittsburgh's 21-point road victory in December. It contributed to the Bengals' late-season meltdown as Pittsburgh won eight of its final 10 games, including the regular-season home finale against Cincinnati to take the AFC North.
The Steelers, who trail unbeaten Cincinnati by 2 1/2 games, still remember how it all unfolded.
''I feel like last year was a prime example that it doesn't matter what you have done until that point,'' Moats said. ''It's about playing your best game that day, and I felt both times, when we met them, we had the better game.
''Ultimately, going into this game, even though they're 6-0, we're not worried about their record, we want to have our best game on Sunday, and if we do that we feel we can beat anybody.''
NOTES: Roethlisberger practiced in full for the second straight day on Thursday. Offensive coordinator Todd Haley said after the workout that Roethlisberger is ''full-go and that's the way we're expecting.'' ... DE Stephon Tuitt (knee) didn't practice for a second straight day, while S Will Allen (ankle), LB Terence Garvin (knee) and QB Mike Vick (hamstring) also missed Thursday's practice.
---
AP NFL website: www.pro32.ap.org and www.twitter.com/AP-NFL
---
---