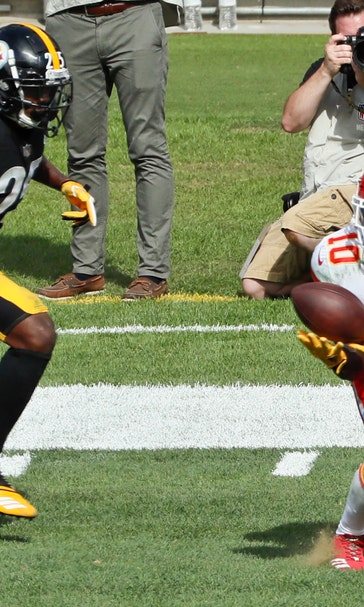 Steelers defense out of sorts in 42-37 loss to Chiefs
September 16, 2018
PITTSBURGH (AP) — Forget the communication issues in the secondary. The lack of a consistent pass rush. The inability to get off the field. Forget the eye-popping statistics the Pittsburgh Steelers gave up in a 42-37 loss to Kansas City on Sunday that left the two-time defending AFC North champions at an early season crossroads.
All the mistakes and missed opportunities — and there were plenty to go around — came down to one very obvious problem.
"We didn't kick enough (tail)," defensive end Cam Heyward said. "It's as simple as that. I'm not going to sit up here and sugarcoat it. As a leader I have to be better."
Heyward is hardly the only one.
A week after racking up seven sacks and helping the Steelers salvage a tie in Cleveland they perhaps didn't deserve, Pittsburgh's revamped defense wilted under the mid-September sun and the steady onslaught of Chiefs quarterback Patrick Mahomes.
The Steelers have been in the NFL for 86 seasons and played nearly 1,200 regular-season games. Mahomes became only the second player ever to throw for six touchdowns against Pittsburgh. Hall of Famer Jim Kelly did it for Buffalo in 1991.
Mahomes did it in his third career start.
Ouch.
"We just didn't cover well enough," Steelers coach Mike Tomlin said. "We didn't rush well enough. It is always collective when they are making plays in the passing game. We didn't get after them."
Not by a long shot.
Mahomes had more touchdown passes than incompletions, finishing 23 of 28 for 326 yards. The Steelers (0-1-1) only forced Kansas City to punt twice, failed to prevent a touchdown in four red-zone trips by the Chiefs and seemed completely overmatched at times.
Pittsburgh played without veteran cornerback Joe Haden, nursing a hamstring injury. The Steelers started Cam Sutton in Haden's place, but the experiment lasted barely a quarter. By then Mahomes had already thrown for three scores as Kansas City built a quick 21-point lead.
On the surface, it looked much like Pittsburgh's 45-42 loss to Jacksonville in the divisional round of the playoffs.
"We felt like we gave them the 21 points," cornerback Mike Hilton said. "They didn't really go down and earn it on us. We had a lot of miscommunications and blown coverages that led to the 21 from the start."
The Steelers rallied behind quarterback Ben Roethlisberger, drawing to a 21-all tie by halftime. Their momentum stalled in the second half. The Chiefs (2-0), meanwhile, just kept on coming.
Kansas City found the end zone on its first three possessions in each half. Rather than exploit one matchup, the Chiefs spread the ball around. Seven different Kansas City players caught passes. Five different Chiefs scored.
"Those guys were getting open today," Mahomes said. "The offensive line was blocking great, so it was making my job a lot easier."
Not that the Chiefs met with much resistance. The Steelers only forced Kansas City into five third downs all afternoon.
"Every category for the defense we was below average, and you can't beat a good team like that," safety Sean Davis said. "We missed tackles. We gave up plays. Too many penalties."
Things won't get any easier for Pittsburgh next week. The Steelers travel to Tampa Bay to take on the surprising Buccaneers, who are off to a 2-0 start behind resurgent Ryan Fitzpatrick. All the 35-year-old Fitzpatrick has done is go over 400 yards in each of the first two week while filling in for suspended starter Jameis Winston.
Still, the Steelers (0-1-1) preached patience, not panic.
"The locker room I don't think is going to break apart," defensive end Stephon Tuitt said. "A lot of guys are close. We just have to keep continuing to push each other. We're going to get better. We're going to get over this hump but we just have to continue to build and push."
Might want to hurry.
"You look at the glass half full and say we're 0-1-1, not 0-2," Heyward said. "I'm not going to over judge. I just say we have got to get the job done."
---
---