Six Points: Cowboys vs. Bills
December 24, 2015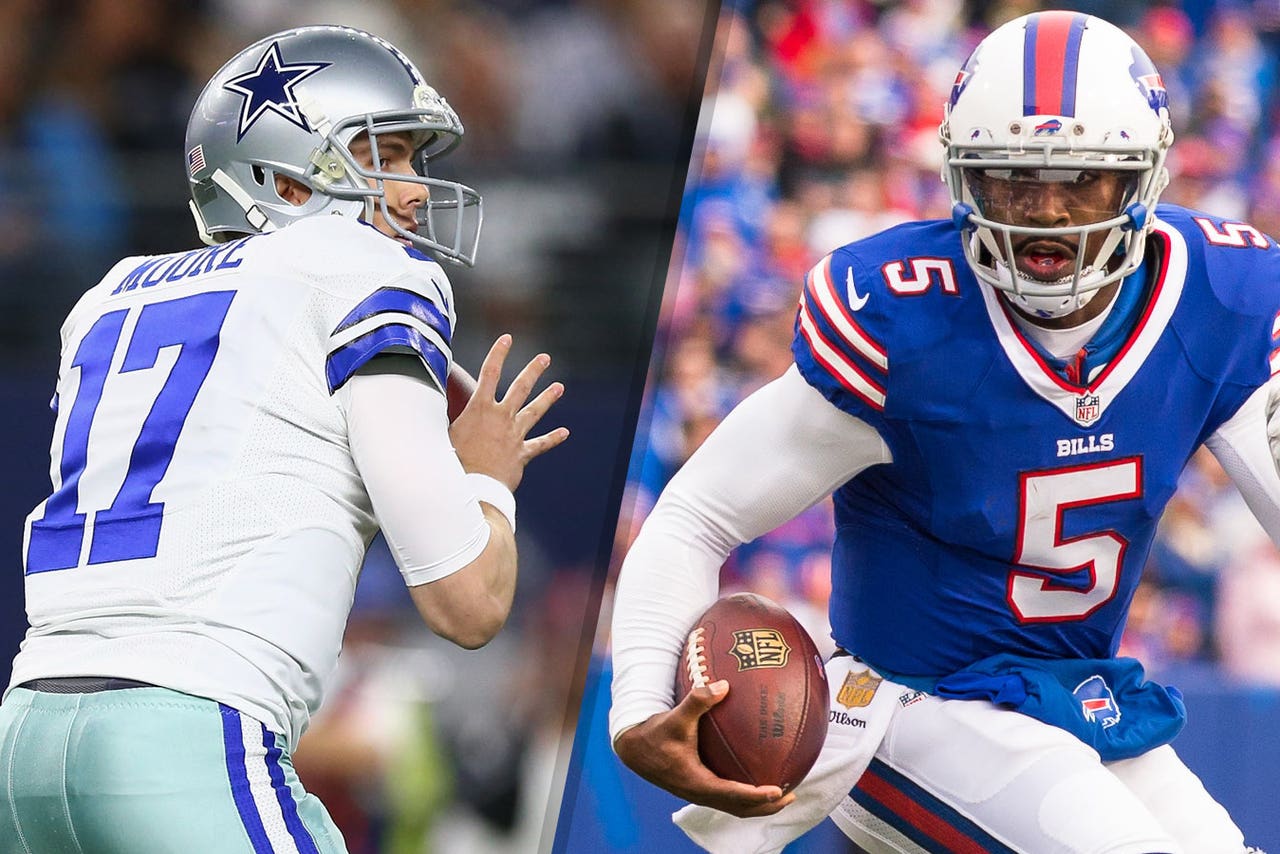 With both teams eliminated from playoff contention, the Dallas Cowboys and Buffalo Bills are looking towards the future in this one. The Cowboys will tap Kellen Moore as the starting quarterback for the first time as he'll go up against Rex Ryan's disappointing defense.
The Bills' injured offensive line will be challenged by the Cowboys' relentless pass rush, led by Greg Hardy and DeMarcus Lawrence. Tyrod Taylor could be running fairly often in this one and could be without running back LeSean McCoy.
Here are three keys to the game for both the Cowboys and the Bills.
Can you beat the Crowd's Line? Submit your final score prediction below. Good luck!
1. Establish the run
Kellen Moore is likely going to be shaky in his first start as a Dallas Cowboy. And that's not only because it's Moore's first career start, but because every Dallas quarterback has struggled this season, regardless of their resume. The Bills have allowed 130.75 running yards per game on average over the last four games. Darren McFadden has run for over 100 yards in each of his last two games. So, give him the ball. Give him the ball a lot.
2. Recognize the two-back system
With LeSean McCoy likely out with a MCL sprain, the Bills will turn to Karlos Williams to take the majority of the snaps...or will they? When McCoy went down against the Washington Redskins, Williams got the same amount of carries as third-stringer Mike Gillislee. And it was Gillislee who had the better day, sprinting for a 60 yard touchdown, capping his 81-yard game in the losing effort. Gillislee has a small sample size when it comes to his carries this year. He has just 14, but he's converted those carries into 146 yards and two touchdowns. The Cowboys should keep an eye on him, not just Williams.
3. Find Jason Witten
As previously mentioned, Moore may need all the help he can get, and Jason Witten will be his safety outlet as his reliable tight end up the middle. That bodes well for the Cowboys. In the last two weeks, the Bills' defense has given up plays to tight ends. They allowed Redskins' tight end Jordan Reed to catch seven passes for 84 yards and two touchdowns, and the game before that, Philadelphia Eagles' tight end Zach Ertz caught five passes for 98 yards. If you target Witten, he will catch it (he's caught 70 of his 94 targets this season), and he will move the ball up the field.
1. Disguise coverages against Kellen Moore
Kellen Moore is as inexperienced as they come at quarterback, having played in just one game in his career. That appearance came last week in a relief effort against the New York Jets. Todd Bowles and the coaching staff didn't have a full week to prepare for Moore, yet he still threw three picks. Rex Ryan should be able to devise a plan for the young quarterback and would be smart to disguise coverages with fake blitzes and a mixture of man and zone.
2. Use extra blockers often to slow Cowboys' pass rush
Despite the Cowboys struggling in nearly every facet of the game this season, their pass rush has come on of late. Greg Hardy and DeMarcus Lawrence have played extremely well in recent weeks and have the ability to get after the quarterback. Seantrel Henderson is out for the year for the Bills, so their offensive line will be lacking depth. Keeping tight ends and running backs in to help block will give Tyrod Taylor more time to see the field.
3. Shadow Dez Bryant with Ronald Darby
There's no doubting that Ronald Darby has had an outstanding season, but he'll be without running mate Stephon Gilmore for the remainder of the season. He'll be asked to cover No. 1 wideouts, and that will entail shadowing Dez Bryant this week. It will be a good test for the rookie as he'll see what he can do against the bigger wide receiver. A strong campaign could solidify his spot atop the Defensive Rookie of the Year list.
---
---