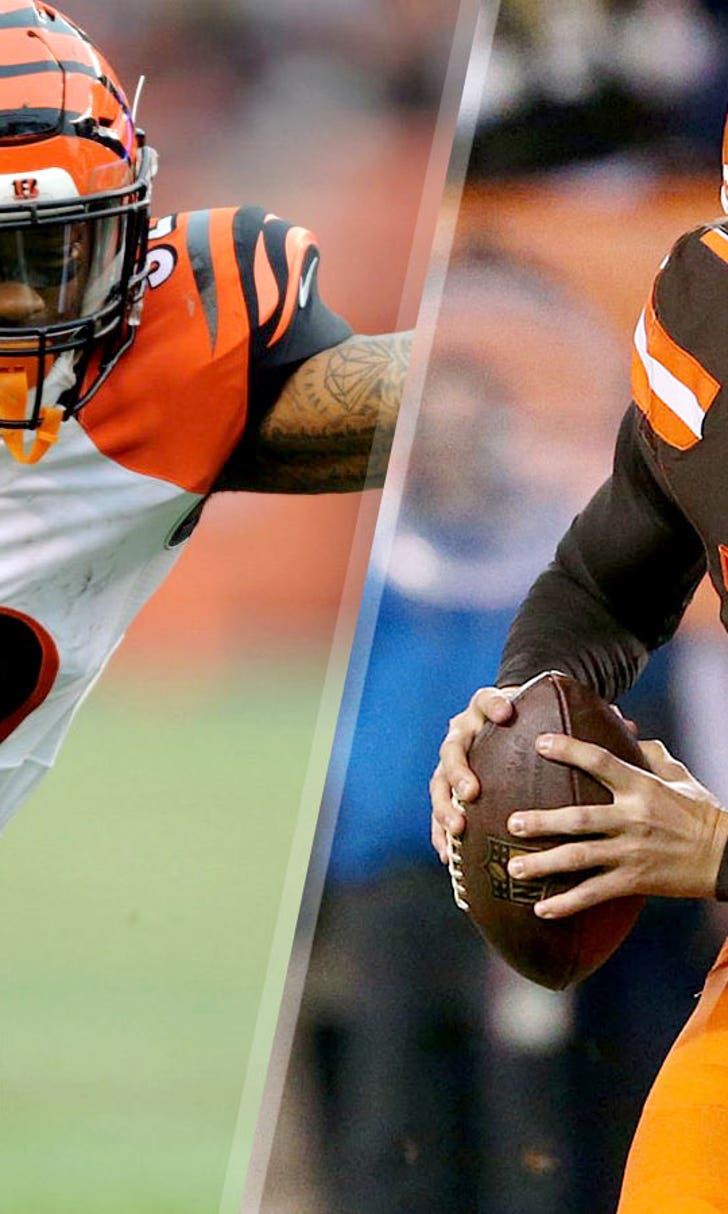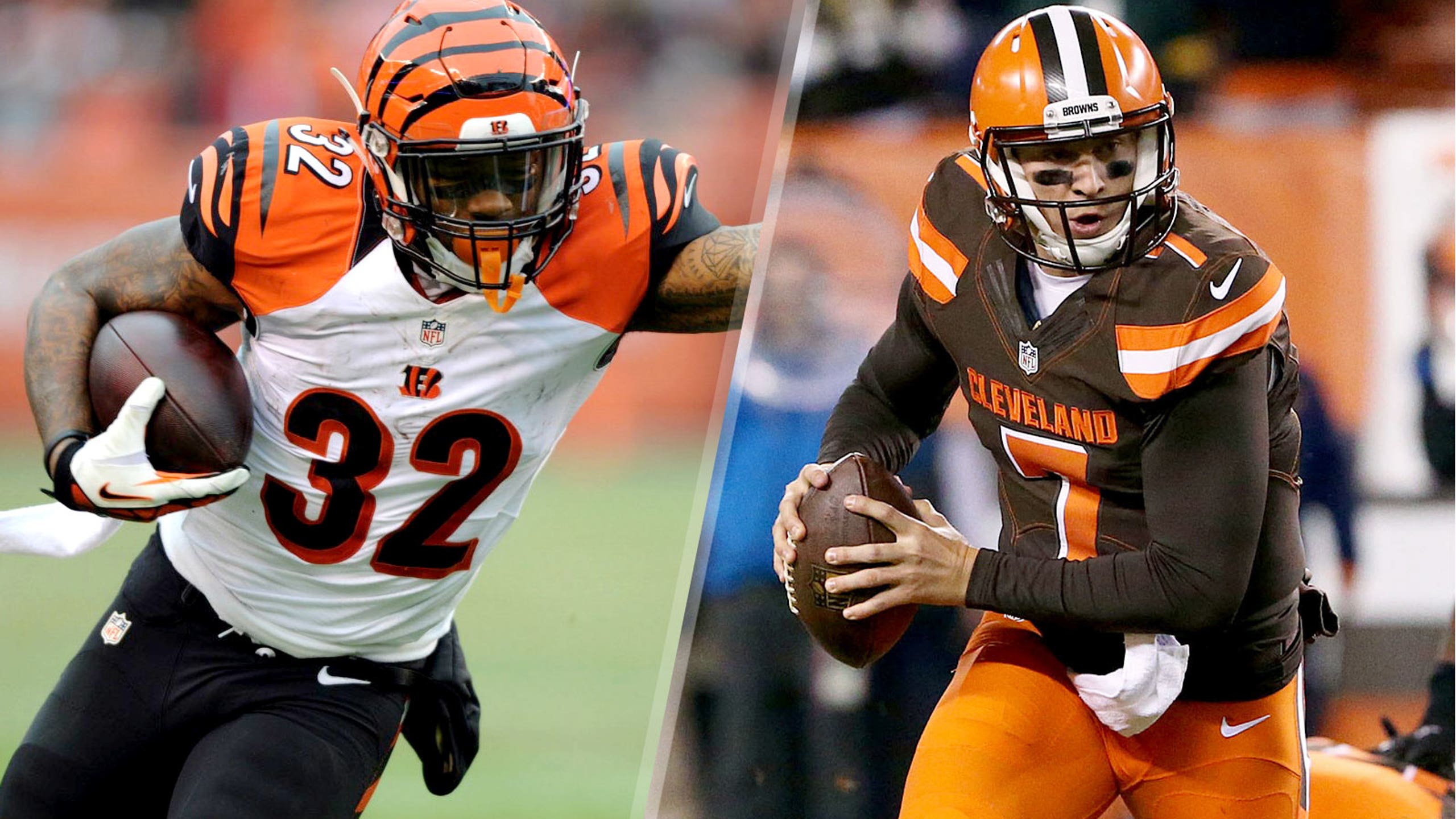 Six Points: Bengals at Browns
BY foxsports • December 4, 2015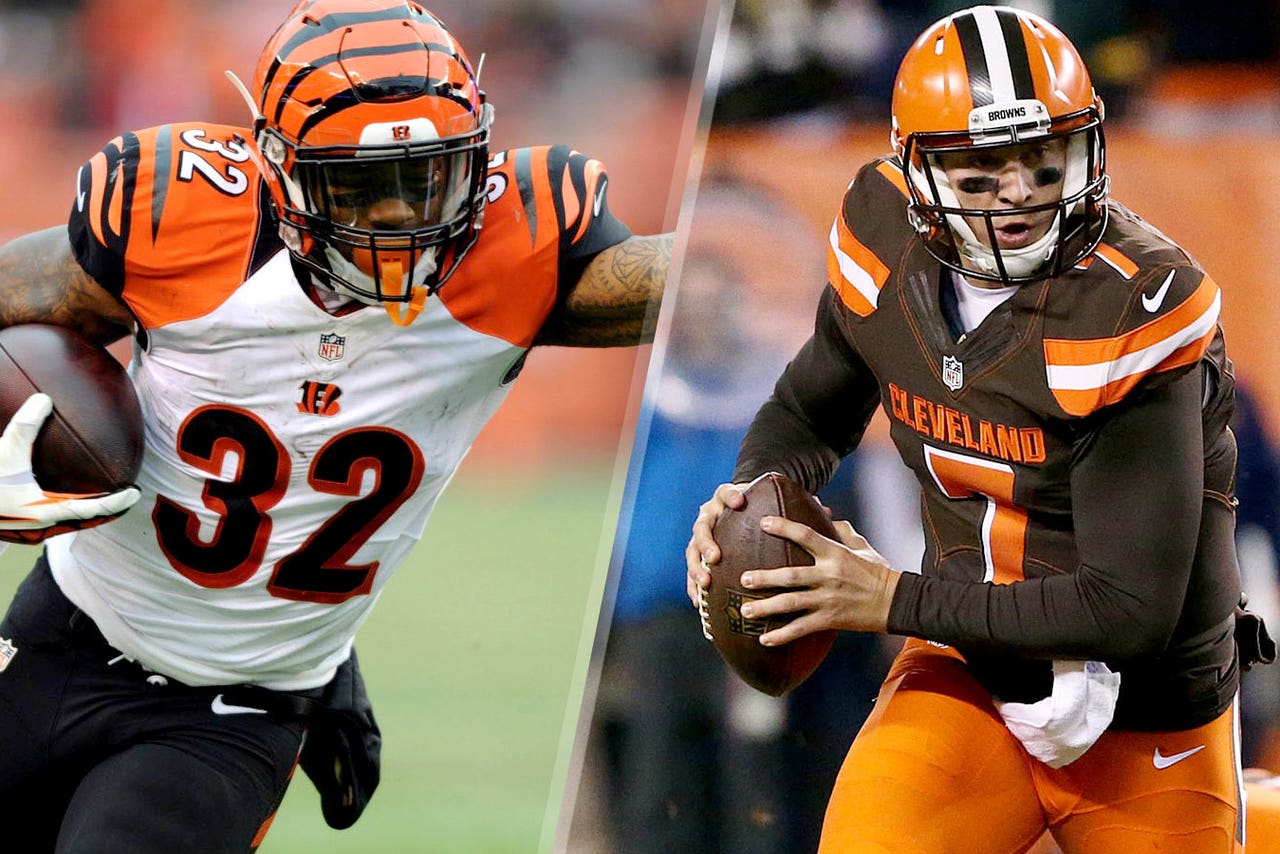 The first-place Cincinnati Bengals pay a visit to Cleveland this Sunday, where they'll face yet another starting quarterback.
Austin Davis, the Browns' 24th starting quarterback since 1999, gets the nod over Johnny Manziel after coming on strong in relief of Josh McCown last Monday night. Manziel has started the last two games against the Bengals, both losses, but will remain on the sideline as part of his punishment for breaking the team's trust during the bye week.
Davis was 3-5 as a starter in St. Louis last season, but head coach Mike Pettine apparently liked what he saw from Davis late in the fourth quarter against Baltimore. The Browns have lost six straight games, including a 31-10 drubbing in Cincinnati in Week 9.
One month later, Cincinnati stands atop the AFC North at 9-2 and is looking for a ticket straight to the divisional round of the playoffs via a first-round bye. The Bengals have been unable to get out of the opening round in four straight seasons. They may have to play without tight end Tyler Eifert, who leads the league with 12 touchdown receptions, including three the last time these teams met. Eifert suffered a stinger last week against St. Louis.
Here are three keys to the game for both the Bengals and Browns:
Can you beat The Crowd's Line? Submit your final score prediction below. Good luck!
BENGALS
1. Ride Jeremy Hill 
Hill is coming off his best game of the season in terms of yardage (86 yards on 16 carries), looking more like the running back that amassed 1,124 yards as a rookie last season. That same rookie carved up the Browns for 148 yards and two touchdowns in his visit to Cleveland last season. The Bengals' patience with Hill this year is starting to pay off, and there's no need to stop feeding him now, especially against one of the worst run defenses in the league.
2. Go Green
Bengals receiver A.J. Green has had limited success against the Browns over the years, mainly due to the coverage of Joe Haden. While Eifert was the beneficiary of three touchdown passes from Andy Dalton against Cleveland last month, his injury, combined with Haden's, means that more opportunities are likely headed Green's way. 
3. Confuse Davis
Davis' season up until this point has been spent primarily on the scout team getting third-string reps. Regardless of how quick a study may be, he has a lot of work to cram into one week. The Bengals should come at him with a variety of looks and blitz packages to keep him from getting comfortable as the game progresses.
BROWNS
1. Double Geno Atkins
The Bengals defensive tackle has been giving offensive lines fits this season. The potential return of starting left guard Joel Bitonio would be a big boost, but the Browns should still deploy center Alex Mack to help against Atkins. Leaving either guard spot alone on an island with Atkins is a recipe for disaster. 
2.  Blitz Dalton heavily
It's no secret that Andy Dalton isn't at his best when he's under pressure as we saw in the team's back-to-back losses against Houston and Arizona. Despite all of the weapons at Dalton's disposal, the line is the backbone of the is the true backbone of the offense. Sending four rushers isn't going to get the job done, so the Browns need to blitz a few extra rushers, especially to Dalton's right, the weaker side of his line. 
3. Play-action to Benjamin and Barnidge
Benjamin and Barnidge have been Cleveland's most dangerous threats on offense. The play-action game can help draw up defenders, allowing Benjamin and Barnidge to sneak behind them for big plays down field, especially if the Bengals are able to sit back and get pressure without blitzing.
---
---