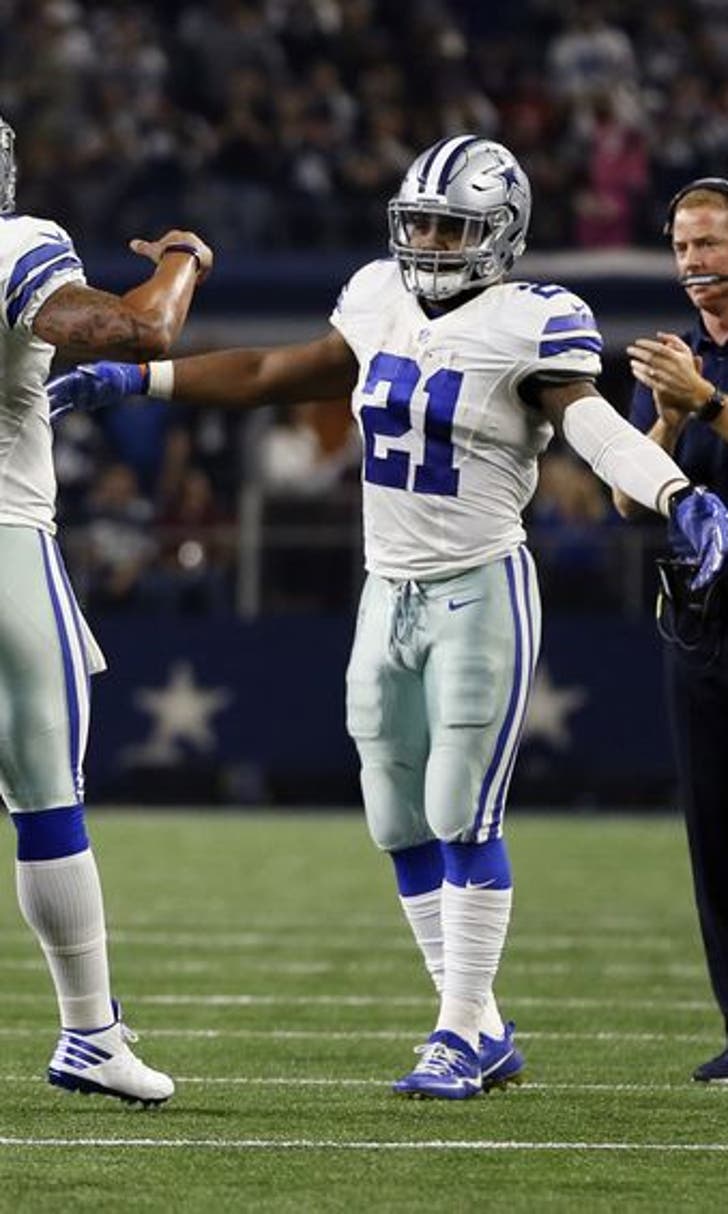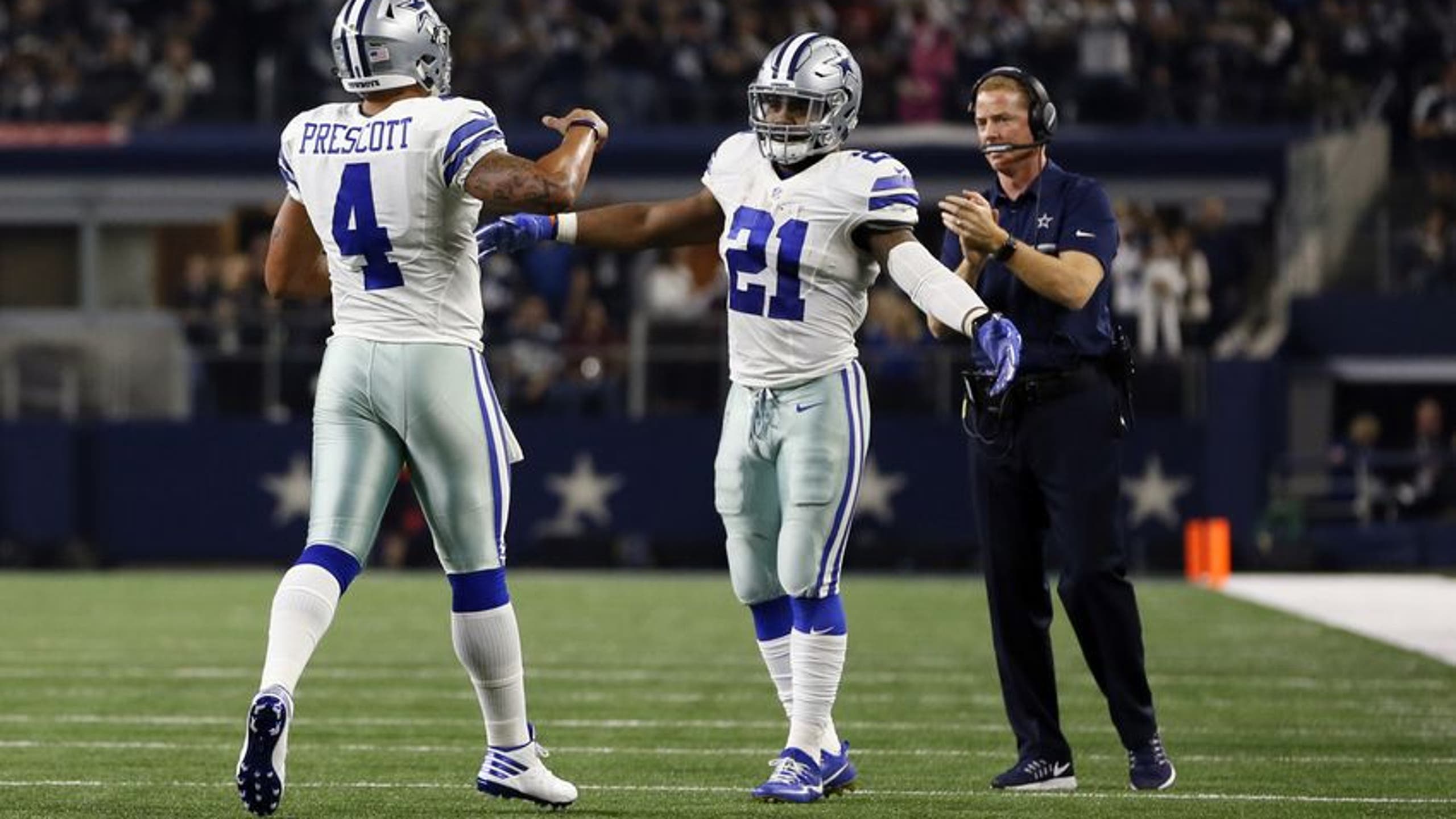 Should Dallas Cowboys Rest Starters to Avoid Injuries Before Playoffs?
BY Fansided and Cody Williams/FanSided via NFL Spin Zone • December 24, 2016
After both Marcus Mariota and Derek Carr saw their seasons end due to injury in Week 16, should the Dallas Cowboys rest their starters?
No injury in the NFL is something a football fan should want to see. For an NFL player to see his livelihood at least temporarily taken from him is devastating to watch. However, it's particularly hard to digest whenever a player performing at a high level or having great success with his team goes down with a severe injury. Unfortunately, that's what NFL fans had to watch in Week 16.
Tennessee Titans quarterback Marcus Mariota and Oakland Raiders quarterback Derek Carr both suffered broken fibulas on Christmas Eve in their Week 16 matchups. Yes, by some cruel stroke of fate, two of the most fun young quarterbacks in the league both had their seasons likely ended by the same injury.
Even more devastating than the fact that Mariota and Carr simply being fun to watch, though, is the position their respective teams were in. Mariota's Titans are still alive in the AFC South race, highlighting a tremendous turnaround from last season, something due in no small part to the quarterback's progression. Meanwhile, Carr and the Raiders were in-line to win the AFC West and lock up the No. 2 seed in the conference.
Now neither of those things might happen. And even if they do, neither team stands much of a chance without their starting signal-caller on the active roster and/or with him on crutches.
Beyond the disappointment, though, things may now change around the NFL. Specifically, teams who could potentially be contenders may start to look ahead and truly ponder the idea of resting starters to end the regular season. Without question, one of those teams considering that notion will be the No. 1 seed in the NFC, the Dallas Cowboys.
You know Dak Prescott and Ezekiel Elliott by now. There's no need to reel off what they've done this season after Dallas went 4-12 just a year ago. Entering their Monday Night Football tilt with the Detroit Lions, the Cowboys are 12-2 and have clinched all they can. The NFC East, a first-round bye, and home-field advantage throughout all belongs to America's Team. But much like the Raiders and Titans without their quarterbacks, losing either Prescott or Elliott would be a devastating blow to the Cowboys' postseason chances.
More from NFL Spin Zone
Now, I know what you're already thinking; yes, Tony Romo is the backup to Prescott. Yes, Tony Romo was a perennial top-eight NFL quarterback for a decade (give or take). However, there's also no indication that he still is that player following his recent injuries or, perhaps more importantly, that he wouldn't get injured again.
Then there is also the "anyone can run behind Dallas' offensive line" crew, who all may have a screw loose. Elliott has been a revelation as a rookie. While the line helps him, you're either blind or in denial if you don't see the plays and yardage he gains by his own merits.
The skinny of the situation is that the Cowboys are substantially less effective overall without their rookies in the lineup. And that doesn't even begin to factor in the likes of players like Sean Lee, Byron Jones, Dez Bryant, Jason Witten, and the entire offensive line and the impact that one of them getting injured would have.
Subsequently, the Cowboys should be faced with quite the quandary. Up to now, Jerry Jones and the Dallas brass has persisted that they will not rest starters, even after having clinched the No. 1 seed in the conference. But even so, seeing what happened to Mariota and Carr has to make you think a little harder about it, at the very least.
As is nearly always the case, there are two valid sides to this coin. On the side that favors resting starters, you eliminate the risk of your key players getting injured. However, you also risk your best and most important players getting out of rhythm and being healthy, but not quite as effective. Then the other side is playing your key players through the final two games if you're the Cowboys. You put them at risk for injury, sure. But you also know that your players aren't going to miss a bit or have any rust come playoff-time if they stay healthy.
It's also worth noting that Dallas has a negative experience that heavily influences their decisions in the matter. Jones in particular blames the Cowboys' 2007 Divisional Round loss to the rival New York Giants on a loss of momentum due to resting starters in the final game of the season, having locked up home-field advantage throughout the NFC playoffs. Sounds like a familiar situation—which has to almost wholly influence Jones' stance on the currently 12-2 Cowboys.
So then, what are the Cowboys to do now that they're faced with this situation? It's not an easy answer by any stretch given the inherent validity in both viewpoints. And, given that it was a semi-compromise that "backfired" in 2007, that's not an option either.
Frankly, though, Jones isn't going to change his stance. Unless he's pressured to the point where his words hold no weight on the matter, it'd be a shock if Prescott, Elliott, and the rest of the starters aren't playing at least 95 percent of their usual workloads. Yet, for my money, that's the wrong decision.
Call it being overly cautious or scared, but I'm resting the Cowboys starters if it's my decision. Momentum is a finicky beast that can swing on one play in one game. So really, playing them to keep it could ultimately be all for naught where you want it to be or not, just in the process of also risking their health heading into the playoffs. That's not a risk I'm willing to take with the rookies—or any other pivotal starters, for that matter if I'm in the Dallas front office.
But, as stated previously, it won't happen. Prescott will be under-center and Zeke will carry the bulk of the rushing attack's workload come Monday Night Football against the Lions. Let's just hope that this too doesn't turn into a situation that Jones and company looks back on with regret.
---
---