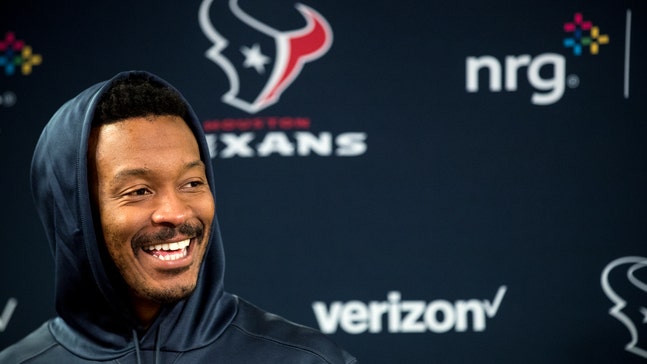 Saddened Broncos move on from Demaryius Thomas
Updated
Mar. 4, 2020 11:58 p.m. ET
ENGLEWOOD, Colo. (AP) — Emmanuel Sanders kept glancing at the empty locker next to his cubicle on Wednesday, the first time in 3,115 days that Demaryius Thomas wasn't a member of the Denver Broncos.
"It's weird, man," Sanders said a day after the Broncos traded away the five-time Pro Bowler who had excelled for five head coaches and seven starting quarterbacks in his nine seasons in Denver.
"I've got mad love for him, so it's hard to see him go."
And it'll be a strange sight Sunday to see Thomas suited up for the Houston Texas (5-3) when they visit the Broncos (3-5).
"That's weird, too," Sanders said. "I know it's going to be weird for him."
The Broncos talked about moving on without their former captain, but they just couldn't avoid the void that was evident in the locker room and on the football field where his friendship, leadership and mentorship made his a profound presence.
"I was sad," quarterback Case Keenum said. "He's going to be one of those guys I'm going to tell my kids and hopefully my grandkids that I got to play with that guy. I got to throw the football to that guy.
"Special. Special player. Special person. I wish him the best."
General manager John Elway said it was tough trading the team's longest-tenured player, but it freed up room both under the cap — $14 million in 2019 — and on the field for rookie receiver Courtland Sutton , the second-round draft pick who's already shown big play ability.
"We think he's ready to go," Elway said. "Hopefully this accelerates his maturity."
The trade comes with some risks for a team whose season is at a crossroads:
—Gone is the talented teacher who was doling daily tips to Sutton on tactics and technique.
"I was definitely sad to see him go," Sutton said, but he kept turning back to a piece of advice he received from Thomas: do your job lest you cost somebody his.
"So, being put into this position, I have to make sure I'm producing every day in practice, film-wise and then of course every time we have a game," Sutton said.
—Sanders' new role as the No. 1 receiver comes with double teams and facing No. 1 cornerbacks.
"He's going to take it in stride," Keenum said. "He has been a pro this year. He has worked his tail off every day. He's shown up ready to go. I've been impressed just how he comes to work every day, the type of guy he is and how bad he wants it."
—Sutton faces a tougher task, too, as a starter.
"It's going to be harder than coming off the bench," cornerback Chris Harris Jr. said. "It's way harder being a starter than coming in on nickel (downs). He just has to adjust. He might see double teams now, you never know. He might get different coverages.
"But the guy, I don't know how he didn't go top 10 in the draft. His talent is unreal. He can make all the catches. I'm excited to see him step up in this role."
—A locker room that's been lacking in the leadership department since the retirements of Peyton Manning and DeMarcus Ware also lost one of its most respected voices in the soft-spoken Thomas.
"I can't believe this is real!" Von Miller wrote in an Instagram tribute . "These last 8 years have been incredible. I love you bro. I'm hurt, no doubt. I can't be too hurt because every chance I got to tell you I love you, did just that."
Elway said he expects Sanders to fill the leadership vacuum with the young receivers "now that Emmanuel is the alpha in that room."
Harris credited Thomas with helping the "No Fly Zone" secondary the unit that helped lead Denver to two Super Bowls and one championship.
"He helped make me a lot better, going up against a bigger receiver," Harris said. "So, I'll always appreciate D.T."
Elway insisted his trade of Thomas doesn't mean he's giving up on the season. He said with more discipline, the Broncos can salvage 2018 and make a playoff push.
"Win," Elway said when asked what would constitute a turnaround in his view. "We've lost four out of the last five, right?"
Actually, five of six.
Sanders hung out with Thomas, who has 36 catches for 402 yards and three TDs this season, on Monday night as trade talk, centered around the Patriots and Eagles, swirled around them.
"His vibe was like, 'I really don't want to leave, but I'm trying to see the positives of it,'" Sanders said. "And I felt for him. He wanted to stay. He wanted to retire a Bronco. He didn't want to go."
His ex-teammates didn't want to see him leave.
"Now, we just wish D.T. the best," Harris said. "Except for this weekend."
---
---