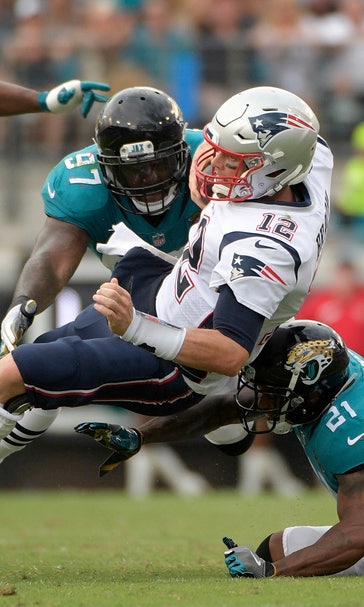 'Sacksonville' looks for better results against rival Titans
September 20, 2018
JACKSONVILLE, Fla. (AP) — One of the NFL's most formidable fronts is off to a slow start.
The Jacksonville Jaguars, who ranked second in the NFL with 55 sacks in 2017, have four in two games — on pace for 32 this season. Players insist the issue is all about the schedule and not any "Sacksonville" shortcomings.
The Jaguars (2-0) have faced veteran quarterbacks Eli Manning and Tom Brady, both savvy enough to get rid of the football quickly and avoid the pressure that defines Jacksonville's defense. The result: A relatively pedestrian nine quarterback hurries in eight quarters.
Jacksonville hopes to end the trend against AFC South rival Tennessee on Sunday. It's hardly a given considering the Titans (1-1) have allowed a league-leading one sack. But they also could be without starting offensive tackles Taylor Lewan (concussion) and Jake Conklin (knee). Conklin missed the first two games while recovering from a knee injury sustained in the postseason.
Making matters worse for Tennessee, backup Dennis Kelly (illness) was hospitalized last weekend and could miss a second straight game.
"They do have a good O-line, but we'll see this week," Jaguars defensive tackle Malik Jackson said with a sly grin.
Jacksonville is clearly frustrated by its sack totals, but quick to point out that opponents are sliding protections, chipping defensive ends with backs and tight ends, and even sending out as few as two receivers.
"It's kind of like, 'OK, if you want to max protect, you've got five guys covering two guys,'" linebacker Myles Jack said. "Eventually, Sacksonville will return. I don't think it's at a standstill. I just think they're getting so much respect right now. They'll get their numbers."
Jacksonville has become one of the favorites in the AFC following wins against the New York Giants and New England. A victory against the Titans would give them their first 3-0 start since 2004.
Tennessee has won four of the last five meetings, including a series sweep last season, and has more victories (27) against Jacksonville than any team in the franchise's 24-year existence.
"It's intense, both teams on the rise that started at the bottom of the league and now both teams have been fighting for something (in) recent years," Titans linebacker Brian Orakpo said. "It's exciting. It's exciting for football. The AFC South is becoming very competitive again, and we're both glad to be on the winning side of the things."
Here are some other things to know about the Titans and Jaguars:
QB QUESTIONS
Titans quarterback Marcus Mariota is still experiencing arm weakness along with numbness and tingling in two fingers after injuring his right elbow in the season opener. The symptoms affect the velocity and spin he gets on the football.
"The way that they explained it to me is like when you strum like a guitar string," Mariota said. "My nerve's kind of been strummed, and it's going to take its time to settle down."
GABBERT RETURNS
If Mariota doesn't improve, backup Blaine Gabbert would make his second straight start. Either way, it will be Gabbert's first game back in Jacksonville since the Jaguars traded the 10th overall pick in the 2011 draft to San Francisco in May 2014.
"I've heard mixed reviews on his time here. I think the fans will kind of give him his warm welcome he deserves," Jack said sarcastically.
Gabbert went 5-22 as Jacksonville's starter. But he's 1-0 against his first NFL team , notching a win last year in Arizona.
"I went out that game last year against Arizona, and Gabbert lit up the field," Jaguars linebacker Telvin Smith said. "I ain't forgot."
PAYBACK TOUR
The Jaguars are playing the second of three consecutive home games against teams that beat them in 2017 . New England ended Jacksonville's season in the AFC championship game. Tennessee swept both meetings. And next week's opponent, the New York Jets, knocked off the Jags in overtime.
"We're 1-0 on the Payback Tour," Jack said.
Added cornerback A.J. Bouye: "We owe a lot of teams some whuppings."
STREAKING
The only game Tennessee has lost to Jacksonville in the past 34 months came on Christmas Eve 2016, when Mariota was knocked out of the game with a broken right leg. The Titans have won five straight overall in the AFC South, including a 20-17 victory last week against Houston that was buoyed by a touchdown on a fake punt.
"They don't respect us at all," Jackson said. "We're going to have to go out there and earn our respect."
---
---