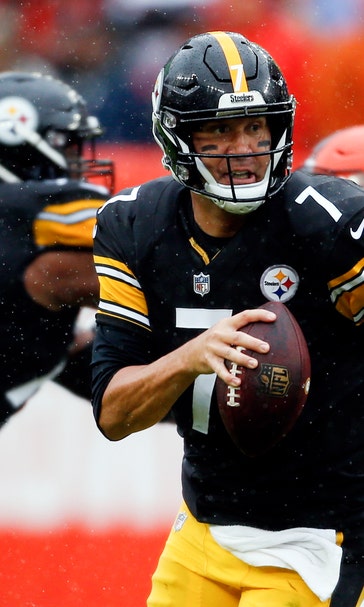 Roethlisberger returns to practice, questionable for Chiefs
September 14, 2018
PITTSBURGH (AP) — Pittsburgh Steelers quarterback Ben Roethlisberger returned under center on Friday after missing the previous two practices with a bruised right elbow.
He is officially listed on the injury report as questionable to play, but Roethlisberger's teammates expect him to be on the field for the Steelers' home opener Sunday against Kansas City.
"It's always good to have Big Ben out there," center Maurkice Pouncey said. "He's fought through so many things throughout the years. He's a tough guy."
Roethlisberger did not speak to reporters following Friday's practice, but is expected to play in his 202nd game, second most in franchise history. The 15-year veteran has missed just six games because of injury since the start of the 2013 season. He played a full 16-game schedule just once in his first nine NFL seasons.
Roethlisberger was a full participant on Friday after missing Wednesday and Thursday because of his right elbow injury, sustained on the Steelers' next-to-last offensive play of overtime last Sunday in Cleveland when Genard Avery sacked him and forced a fumble.
"We're never really worried about him," Pouncey said. "He takes some big hits in the games. If he wants to sit out a couple days, it's totally fine."
On Wednesday, Roethlisberger declined to say whether he had an MRI exam on the elbow. Second-year quarterback Josh Dobbs, who beat out veteran Landry Jones to serve as Roethlisberger's primary backup, took first-team snaps on Wednesday and Thursday.
"Ben is a guy who's professional enough to be ready if called upon," left guard Ramon Foster said. "If he's playing, our job is to protect him overtime."
Roethlisberger threw for 335 yards and a touchdown during an ugly, season-opening 21-21 tie at Cleveland. But he was also responsible for five of the offense's six turnovers, including three interceptions and two fumbles, as Pittsburgh blew a 14-point fourth-quarter lead.
Roethlisberger's teammates still want the two-time Super Bowl winner under center, of course.
"He's the leader," right guard David DeCastro said. "I'm sure he's a guy that wouldn't need to take any reps, but it's always good having him back. It gives you confidence when he's out there."
DeCastro is listed on the injury report for Sunday's game against Kansas City as doubtful after missing practice for a third straight day with a broken hand. The two-time All-Pro left for several snaps after he injured his hand in the fourth quarter against Cleveland, but returned and finished the game.
"Dave's really tough," Pouncey said. "We didn't think he would come back in the game, but for him to come back shows how much he cares and how dedicated he is. He doesn't say a lot, but he goes out there and plays hard."
DeCastro said he could still play and wear a brace to protect his hand, but swelling had to subside. He said Friday the swelling has gone down, but he's not rushing things. B.J. Finney would make his eighth start and third against the Chiefs if DeCastro can't play.
"It's one of those things where you take it day to day," DeCastro said. "You try to be smart about it and try not to rush back, but at the same time, if I can play but not do any damage, I'll play. We'll cross that bridge. They didn't give me a timeline, so I'll try my best to get back as healthy as possible."
NOTES: CB Joe Haden (hamstring) is also listed as doubtful after missing three practices. CB Artie Burns, the starter opposite Haden, practiced Wednesday and Thursday, but was limited Friday with a toe injury and is questionable for Sunday's game. DE Tyson Alualu (shoulder) is doubtful, while TE Vance McDonald (foot) and DE Cam Heyward (knee) are both questionable after practicing in full on Thursday and Friday.
---
---