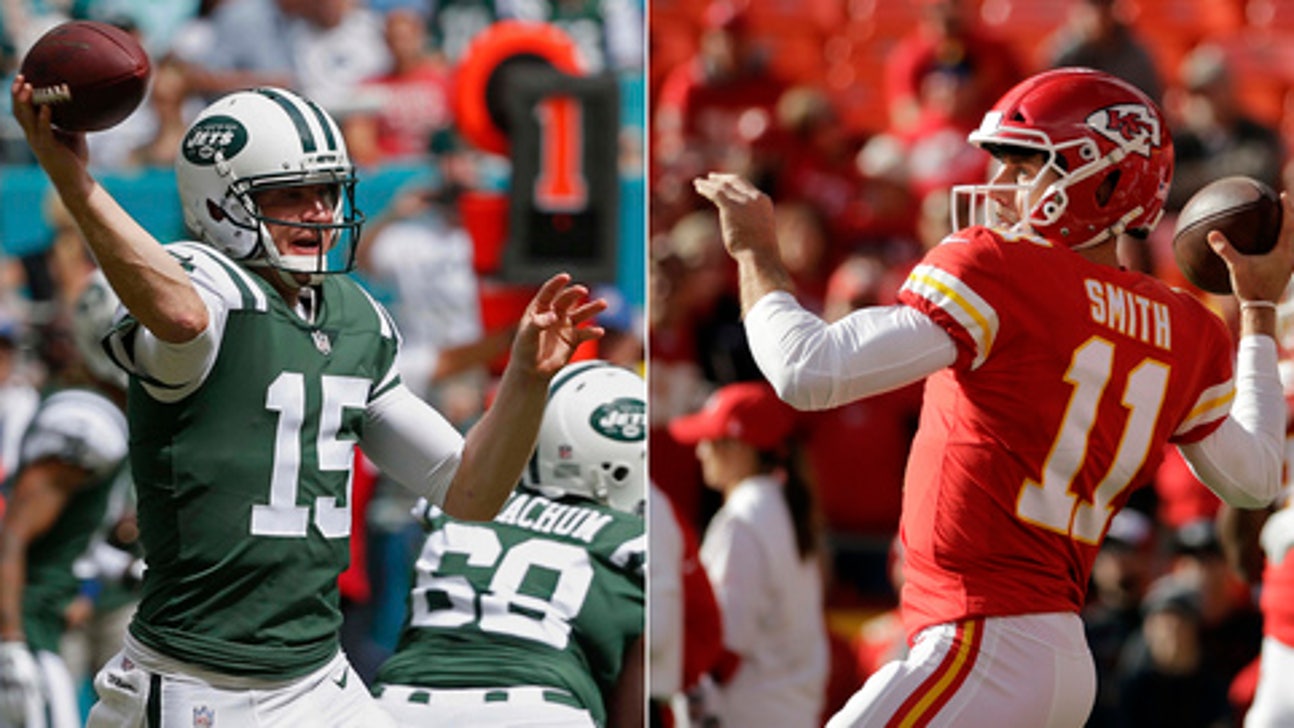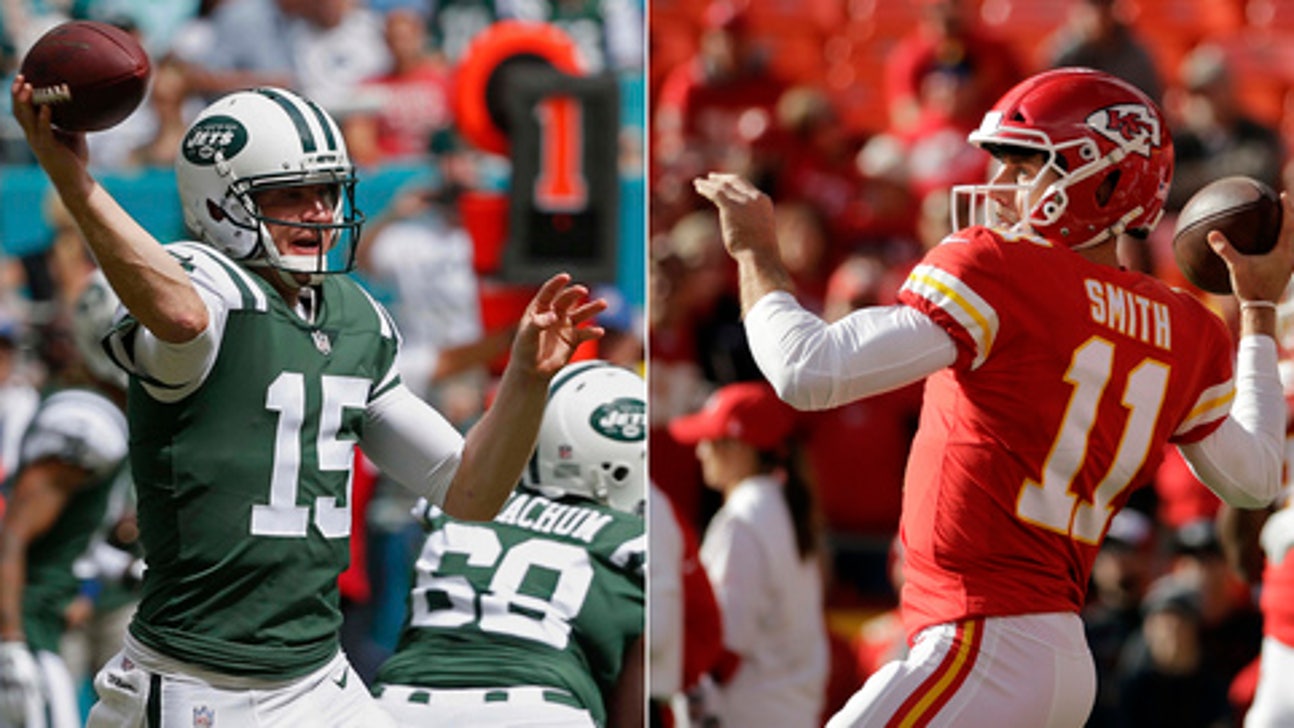 Revis returns as slumping Chiefs face sputtering Jets
Updated
Mar. 4, 2020 11:49 p.m. ET

EAST RUTHERFORD, N.J. (AP) Look who's back, and just in time to spice up a showdown between slumping squads.
Darrelle Revis is expected to make his debut with the Kansas City Chiefs on Sunday, and it will fittingly come against the New York Jets at MetLife Stadium.
''It's just exciting to have this opportunity to return back to football,'' Revis said. ''I think the reason for me returning is the fire I have, the fuel I have to continue to play this game at a high level. My role is to help win.''
The seven-time Pro Bowl cornerback established himself as one of the best at his position during his first tenure with the Jets, which began in 2007 and ended with a bitter divorce in 2013 when he was traded to Tampa Bay. Revis spent the next season in New England before returning to New York in 2015.
But he wasn't nearly as dominant as his ''Revis Island'' days, and the Jets allowed him to leave after last season. Revis was out of work until signing a two-year deal with the Chiefs last week.
''I've seen Revis in a Buccaneers uniform, a Patriots uniform,'' defensive end Muhammad Wilkerson said. ''So, it'll just be another game with Revis lining up on the other side.''
Both the Chiefs (6-5) and Jets (4-7) have lost five of their past six. Kansas City is on a three-game skid, while New York has dropped its past two.
''We just know they're dangerous and they're a very good football team coming in here,'' Jets coach Todd Bowles said.
Andy Reid's squad started the season a blistering 5-0, with some thinking the Chiefs could make a run at an AFC title. The recent slump has tempered those expectations outside the facility.
''I don't think they're pressing,'' Reid said. ''I think there's an urgency. We want to do better than what we're doing. Nobody, I think you know this, you're in this business, nobody wants to lose. That's not why they're in this business. So everybody's trying to do their best to win the game. I see that. We've just got to do a little better.
''Again, that's my responsibility, so it starts there and everybody has a piece of it.''
The Jets were one of the NFL's early season surprises after many thought they'd struggle to win just a couple of games.
But New York has blown fourth-quarter leads in three of their past four losses, and that's something they're focused on changing moving forward.
''We have to finish,'' quarterback Josh McCown said. ''We have to play better in the fourth quarter and there has to be a hyper-focus when we change sides. We have to be at our best.''
Here are some other things to know about the Chiefs-Jets matchup:
SMITH'S SWOON
Alex Smith has struggled during the Chiefs' skid, and many fans want the quarterback who was mentioned as an MVP candidate during their undefeated start to be benched in favor of first-round pick Patrick Mahomes II.
But Smith is still second to Tom Brady in passer rating this season, and his 19-to-4 touchdown-to-interception ratio is tied for third-best in the league.
Asked whether a change is possible, Reid replied: ''Alex is my guy, yeah.''
FINDING THE END ZONE
Jets wide receiver Robby Anderson is the seventh player in franchise history with a touchdown catch in five straight games, and just the fifth to do it in the same season.
He joins Santana Moss (seven, 2003), Brandon Marshall (six, 2015), Bake Turner (six, 1964) and Don Maynard (five, 1963) to accomplish the feat. Anderson also has an NFL-leading six TD receptions of 20 yards or longer.
''That's just trusting Josh,'' Anderson said, ''him having trust in me, putting it up and letting me make a play.''
AIR IT OUT
The Chiefs ran 26 plays inside of 10 yards in the passing game last week against Buffalo, a big reason fans spent most of the game booing.
Reid blamed that on the Bills bringing extra pressure, forcing quick throws, but he acknowledged the need to stretch the field more.
''Depends on what the defense is doing,'' Reid said. ''We probably could. That's part of it.''
MCCOWN'S THE MAN
Despite some fans and media calling for the Jets to give extended looks to Bryce Petty and/or Christian Hackenberg, Bowles is sticking with McCown as his starting quarterback.
McCown, who is 38 and signed for only this season, has thrown a career-best 17 TD passes. Bowles says he has not yet considered a scenario in which he would bench the veteran.
''Josh is my starting quarterback,'' Bowles said.
BAD MEMORIES
There won't be many warm, fuzzy feelings by Jets players and coaches when they take on the Chiefs. Not after what happened the previous time the teams played.
New York lost 24-3 at Kansas City, with then-quarterback Ryan Fitzpatrick tossing six interceptions to account for the bulk of the Jets' eight total turnovers.
The game led to a locker room dispute between wide receiver Brandon Marshall and defensive lineman Sheldon Richardson that Revis said after the season ''just left a dark cloud over our head'' as the Jets skidded to a 5-11 mark.
---
AP Sports Writer Dave Skretta in Kansas City, Missouri, contributed.
---
For more NFL coverage: http://www.pro32.ap.org and http://www.twitter.com/AP-NFL
---
---