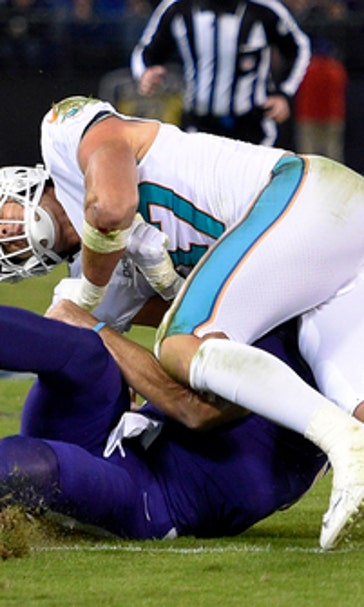 Ravens QB Flacco hurt on tackle by Dolphins
October 26, 2017

BALTIMORE (AP) Ravens quarterback Joe Flacco received a concussion from a late hit to the head in Thursday night's game against Miami.
Flacco had slid onto the turf when he has hit high by Miami linebacker Kiko Alonso. Flacco's helmet was ripped from his head, and he appeared woozy upon getting to his feet.
Several players from each team shoved one another in the wake of the play, which occurred late in the first half.
Alonso was called for unnecessary roughness. Flacco was taken from the field and put under concussion protocol. By halftime, he was ruled out.
Flacco went 10 for 15 for 101 yards and a touchdown.
Ryan Mallett came in and threw for a score to put Baltimore up 20-0.
---
---