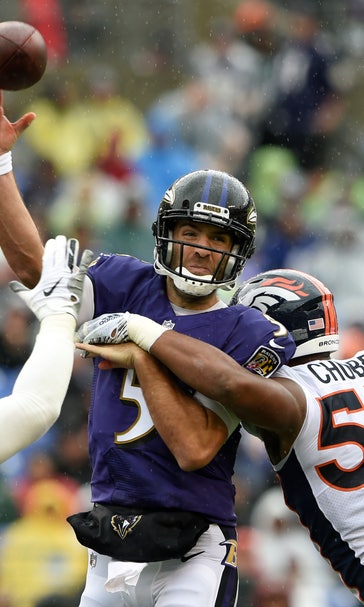 Ravens get offensive behind Flacco, who's off to great start
September 24, 2018
OWINGS MILLS, Md. (AP) — John Harbaugh has seen Joe Flacco play in more than 170 games for the Ravens, including 15 in the postseason with an MVP effort in the Super Bowl.
Though Baltimore's coach is hard-pressed to remember them all, Harbaugh ranks Flacco's performance against Denver on Sunday among the best.
Flacco went 25 for 40 for 277 yards with one touchdown and no interceptions in Baltimore's 27-14 victory . He's put up better numbers during his 11-year career, but this outing stood out because of the fashion in which Flacco zipped the ball short, long and in between.
"He's had a lot of good throwing days, right? But definitely ... it's in the top category," Harbaugh said Monday. "That's what you'd like to see Joe do. I just think it's a combination of a lot of things, including confidence in the guys that he's throwing to."
Harbaugh became Baltimore's head coach in 2008, the same year Flacco entered the NFL. The pair has gone through a lot together, most recently three straight seasons without a playoff appearance.
The Ravens (2-1) hope an improved offense will turn things around.
It's been a long time since Flacco has had so many capable receivers to choose from. Offseason acquisitions Willie Snead, Michael Crabtree and John Brown have been excellent, and Mark Andrews got into the mix Sunday with 59 yards receiving, a Ravens record for a rookie tight end.
"I'm really pleased with all those guys. They're playing really well and they've made big plays," Harbaugh said.
With Flacco leading the way, the Ravens went 8 for 16 on third down against a team that stopped 17 of 22 attempts in its first two games.
"All the receivers have a good chemistry with Joe," Brown said. "It's all about trust, starting with practice and talking with him to see if we're seeing the same thing. That plays a big part of it."
The Ravens have long been known for their defense, and that unit has played well. But, at least for now, the offense is doing its part, too.
After Denver bolted to a 7-0 lead, Baltimore went the distance on a soothing touchdown drive.
"That was the tone setter for us as a team, to have them answer for us and really get us back to even," safety Eric Weddle said. "And, once we settled down, shoot, defense played lights out."
As did the offense — again. The Ravens are averaging 32 points per game, and Flacco has completed 82 of 129 passes for 889 yards and six TDs with just two interceptions.
Most impressive of all is Baltimore's performance in the red zone: 12 trips, 12 touchdowns, including 3 for 3 against Denver.
"We've had a good mix. I think we've probably thrown the ball in six times and run the ball in six times," Flacco said. "If you can do both of those things, especially when you get down tight inside the 5-yard line, that helps a lot. We've got good playmakers, and we put a lot of pressure on the defense with the guys that we have out there."
Give credit to the receivers, along with the running back tandem of Alex Collins and Javorius Allen, but Harbaugh knows the real reason why Baltimore has been unstoppable inside the 20.
"It probably starts with Joe," Harbaugh said. "I think Joe has done a great job making plays, making throws, trusting his guys and also extending some plays. That's been big."
The Ravens escaped the Denver game without any serious injuries, and Harbaugh hopes middle linebacker C.J. Mosley (knee) can return for an AFC North showdown Sunday night with the Pittsburgh Steelers.
---
---