Derek Carr
Derek Carr
Raiders linebacker Aldon Smith suspended a year
Published
Nov. 17, 2015 9:21 p.m. ET

ALAMEDA, Calif. (AP) Oakland Raiders linebacker Aldon Smith was suspended Tuesday by the NFL for one calendar year because of violations of the league's substance-abuse policy.
The penalty is effective immediately and Smith will be eligible to apply for reinstatement no sooner than 60 days before the end of the suspension.
Smith, 26, was released by the San Francisco 49ers in August after several run-ins with the law and then landed across the bay with the Raiders. Smith went through the locker room and told teammates goodbye Tuesday before the suspension was officially announced.
Smith released a statement Tuesday night thanking the Raiders their fans and owner Mark Davis for their support.
''I am taking this time to work on myself and become the man I need to be, my team and organization needs me to be, and I know I can be,'' he said. ''I had lost my love for the game and it led me to some poor choices, but I am thankful to the Raider organization for believing in me this season and will continue to better myself and grow from my experiences. I look forward to rejoining the team next year.''
Smith will be a free agent after the season but the Raiders said they would like to bring him back when he is eligible to play again.
''Aldon has been a positive addition to the Raiders,'' the team said in a statement. ''He remains prominently in our long term plans and we will continue to support this member of our family as he gets the help that he needs.''
Smith becomes the first player suspended for a full year since Cleveland's Josh Gordon in February - also for substance abuse.
The Niners released Smith on Aug. 7 following his fifth run-in with the law a night earlier on an off day from training camp. The franchise parted ways with one of football's most menacing pass-rushers after Santa Clara police accused him of drunken driving, hit and run and vandalism.
Smith was in a contract year. He started seven games and played in nine for the Raiders, finishing his second straight suspension-shortened season with 28 tackles and 3 1/2 sacks. Smith was coming off one of his best games of the season in Oakland's 30-14 loss to the Minnesota Vikings on Sunday when he had one sack and three quarterback hurries.
He missed the first nine games of the 2014 season while serving an NFL suspension for violations of the league's substance-abuse and personal-conduct policies.
Smith signed a one-year contract with Oakland just two days before the season opener. The deal could have earned him as much as $8 million with bonuses and incentives.
The Raiders practiced at their facility earlier in the day and players were filing into the locker room when news of Smith's suspension broke.
Smith pulled quarterback Derek Carr into an adjacent room and the two spoke at length before Smith returned to the locker room and began saying goodbye to several other teammates, including wide receiver Michael Crabtree, who played with him in San Francisco.
Raiders coach Jack Del Rio said in September that the team was well aware of Smith's legal situation, surely knowing he might not be with the team for long given the possibility of another lengthy suspension. Still, it's a big blow to a team still hoping to make a playoff run.
Police said in the August incident that Smith collided with a parked vehicle while parking his car, then caused further damage to the parked vehicle with his car door. The scene was only a couple of miles from 49ers team headquarters, at or on the street of Smith's former luxury apartment complex.
Authorities said Smith left without reporting the collision or providing any identifying information. He later returned and was contacted by officers. Smith displayed ''objective symptoms of being under the influence of an alcoholic beverage'' and officers conducted a field sobriety test, police said.
That was the latest known incident for Smith in a long list of off-field issues.
He missed time during the 2013 season to undergo treatment at an inpatient facility following his DUI arrest on Sept. 20, 2013. That November, he pleaded not guilty to three felony counts of illegal possession of an assault weapon, stemming from a June 2012 party at his home.
Smith was arrested on April 13, 2014, at Los Angeles International Airport. Police said Smith was randomly selected for a secondary screening and became uncooperative with the process, telling a TSA agent that he had a bomb. No charges were filed.
He was drafted seventh overall in the first round by San Francisco in 2011 out of Missouri. He emerged as one of the NFL's top defenders in 2012 with a franchise-record 19 1/2 sacks during the team's run to the Super Bowl.
ESPN first reported the suspension.
---
AP Sports Writer Josh Dubow and freelance writer Michael Wagaman contributed to this report.
---
AP NFL website: www.pro32.ap.org and www.twitter.com/AP-NFL
---
---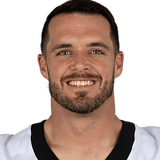 Get more from Derek Carr
Follow your favorites to get information about games, news and more
---