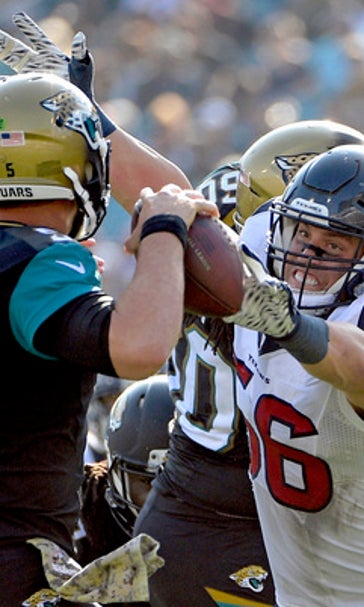 Pick Party: Bortles trying to avoid another Pick-6 vs Texans
December 14, 2016

JACKSONVILLE, Fla. (AP) Jacksonville Jaguars quarterback Blake Bortles has quite a streak going against AFC South rival Houston.
Bortles has thrown a Pick-6 in three consecutive games against the Texans, tying an NFL record set by Peyton Manning.
''I've got to be a better tackler,'' Bortles joked Wednesday.
Or a better passer.
Bortles has had 11 of his 50 interceptions returned for touchdowns during his three NFL seasons, a statistic that made headlines two weeks ago when his Pick-6 total surpassed his career wins (10).
The Texans (7-6), who host the Jaguars (2-11) on Sunday, have been the biggest beneficiaries.
Kareem Jackson returned a pick 42 yards for a touchdown in Houston's 24-21 victory in Jacksonville last month. Jackson also brought one back 27 yards for a score in Houston's 30-6 win last January. And Andre Hal started the streak by taking a 31-yarder the distance in Houston's 31-20 victory in Jacksonville in October 2015.
''Two of them for sure have been kind of long, out-routes to the field that were either late or I should have just gotten off of and gone to the next progression,'' Bortles said. ''I remember the last two. There was one last year on a slant that he housed at Houston and then obviously the one earlier this year are the two I remember for sure.''
They probably run together. After all, Bortles already has three interceptions returned for touchdowns this season. Those came in Jacksonville's last five games.
Another one Sunday in Houston and Bortles would become the first player in NFL history to throw four Pick-6's against the same team in four straight games. Manning had three returned for scores in three consecutive games against San Diego (2010-12).
''That's something I'll try not to do,'' Bortles said. ''I think they do a good job. Their corners kind of jump at stuff, kind of recognizing routes and being aggressive, so I think it's on me to kind of make better decisions.''
Bortles has completed 58.7 percent of his passes for 3,187 yards this season, with 21 touchdowns and 15 interceptions. His failure to match or improve on last year's numbers - he ranked second in the league with 35 TD passes - is a big reason Jacksonville has lost eight consecutive games and fallen well short of preseason expectations.
Still, the Jaguars have had chances.
They have had the ball with a chance to tie or take the lead in the fourth quarter in five of the last six games. They had 11 possessions in those situations, delivering six punts, three turnovers on downs, an interception and a fumble.
Regardless of the losing streak and the changes that are surely coming after the season, Bortles believes there's something to be gained by playing well in the final three games - all against division teams.
''One of them is going to go play in the playoffs,'' Bortles said. ''Every team wants to own the division they're in. So that's definitely still our goal and we got a chance to go play these three guys. I don't think spoiler is the right word to use. I think you want to more so get the chance to say, `How are we against one of these playoff teams and stack up?'
''You really don't want to talk about it or think about it, but let's build something going into the offseason for next year.''
---
For more NFL coverage: http://www.pro32.ap.org and http://www.twitter.com/AP-NFL
---
---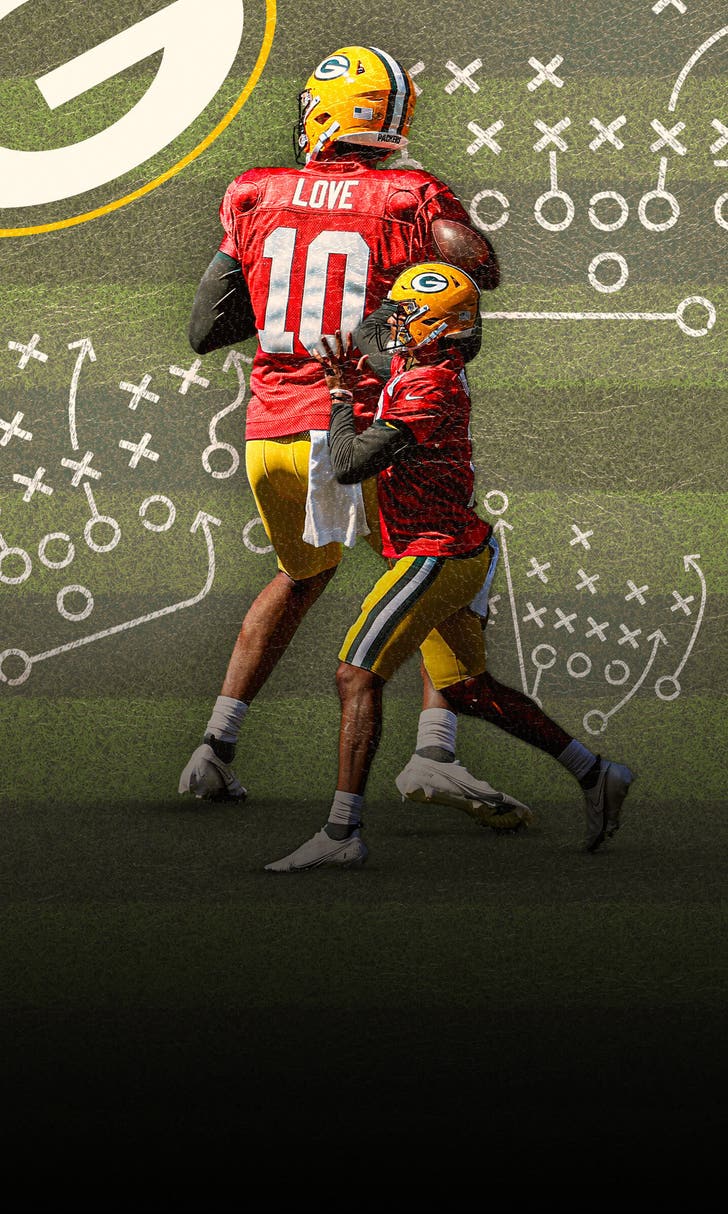 NFL OTAs have arrived: Here are some storylines to follow