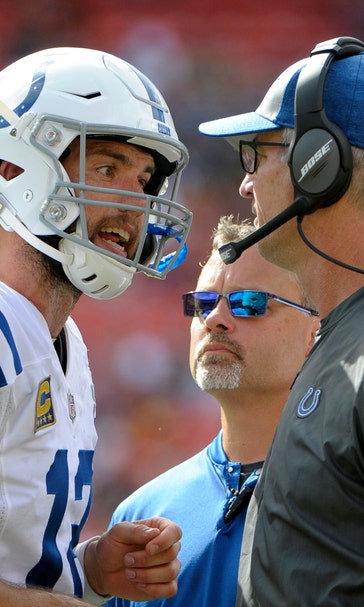 Offensive line's backup plan getting rave reviews from Colts
September 17, 2018
INDIANAPOLIS (AP) — The Indianapolis Colts started training camp with Anthony Castonzo and Denzelle Good pegged as their starting offensive tackles.
Two weeks into the season neither has taken a snap.
Somehow, though, the backup plan has worked out better than anyone anticipated.
"I just give those guys a lot of credit," coach Frank Reich said on a conference call Monday. "That's life in the NFL unfortunately. So, I think those guys have done very well in the first two games. The pass protection has been very good."
Keeping Andrew Luck upright and healthy has been the Colts' top concern for years.
It explains why the Colts used a first-round pick in 2016 on center Ryan Kelly and another first-rounder on left guard Quenton Nelson this spring.
The constant, as usual, was supposed to be Castonzo, who had started all but seven games since being a first-round pick in 2011.
But with Castonzo still recovering from a problematic hamstring injury and Good out with knee and wrist injuries, the Colts finally appear to have found a solution.
After moving Joe Haeg, their most versatile lineman, from the right side to left tackle in Week 1, the Colts moved him back to a more familiar spot, right tackle in Week 2 and plugged backup Le'Raven Clark into the spot Castonzo normally occupies and suddenly everything clicked.
Indy (1-1) allowed just one sack and helped pave the way for 104 yards rushing on 28 carries.
Luck, meanwhile, has been sacked only three times in two weeks — a stark improvement after being sacked 156 times in his first 70 regular-season starts.
"Great job, great job. Le'Raven going on the left tackle, he did a hell of a job," Luck said after Sunday's 21-9 victory at Washington.
"I'm very, very proud of him and Joe is a grinder. He's going to do his job. He's going to lay it all out there. I am so proud of the guys up front. They did a really good job in pass protection, really good job in the run game."
The question, of course, is whether Indy can keep it up.
Luck has already played behind two different starting offensive line combinations and could make it three in three weeks if Castonzo returns Sunday against the Philadelphia Eagles strong defensive front.
Either way, it appears the Colts believe they feel comfortable plugging holes along the line until Castonzo, Good or both return.
"We played really well," Reich said. "We lost Castonzo. We think he's going to be back. If he's not back, Le'Raven Clark steps in at left tackle and he plays well. Joe, playing right tackle he's going up against (Ryan Kerrigan), who's one of the best players in the league, and we get good protection pretty much all day."
Notes: Reich confirmed cornerback Quincy Wilson has been diagnosed with a concussion and will enter the league's protocol and that defensive tackle Hassan Ridgeway injured his calf Sunday. He did not say when either player is expected to return.
---
---