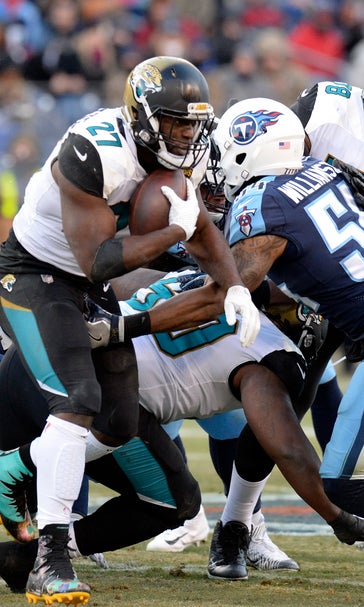 No longer strong suit? Titans defense struggling vs the run
September 20, 2018
NASHVILLE, Tenn. (AP) — The Tennessee Titans aren't close to panicking over sloppy run defense, and the Jacksonville Jaguars gives them a chance to show just how much better they can be.
Leonard Fournette left the Jaguars' season opener with a tight hamstring and sat out Jacksonville's win over New England last weekend. Fournette has been limited in practice this week.
Titans' three-time Pro Bowl defensive lineman Jurrell Casey said Tennessee will come out with the same mindset no matter who the Jaguars (2-0) hand the ball to on Sunday.
"It's going to be our job to stop the run," Casey said. "We haven't really done that in the last two weeks. We have to make sure we improve a little better. But we're definitely prepared for it. We've been playing against the guy the last couple years, and we understand their scheme. So it's going to be key for us to make sure we stay gap sound. We do that, we'll definitely stop their run game."
With Dick LeBeau as defensive coordinator, nobody in the NFL was better than the Titans at stopping the run over the 2016 and 2017 seasons. Tennessee gave up an average of 88.5 yards per game over the past two seasons and a league-low 2,833 yards rushing overall. They ranked fourth overall, first in the AFC, against the run last season.
Vrabel brought in Dean Pees as his coordinator this offseason, and the veteran coordinator brought in a few scheme changes.
Through two games, the Titans gave up 120 yards rushing in the season opening loss in Miami and 148 in a 20-17 victory over Houston last week. That has the Titans 25th in the NFL through two weeks against the run giving up an average of 134 yards a game.
While the Titans are still familiarizing themselves with the defensive changes, it's also a bit early in the season. Linebacker Brian Orakpo said the Titans can help themselves by not trying to do too much.
"Whatever call is being made out there, we have to execute it," Orakpo said. "We can't have guys doing their own thing. That's playing for your teammate, making sure you play your assignment within that call. I think that's what's kind of been hurting us against the call. Guys just trying to do a little too much. Do what you're supposed to do within the defense, and everything else will take care of itself."
The Titans swept the Jaguars last season and held Fournette to 40 yards on 14 carries with one touchdown run in Week 2 as Tennessee won 37-16 in Jacksonville. Fournette ran 19 times in the regular season finale, a 15-10 Tennessee win, and finished with 69 yards. He also caught four passes for 67 yards more.
If Fournette plays Sunday, Tennessee can't focus solely on him. Quarterback Blake Bortles already has run for 77 yards this season, fourth among quarterbacks in the league, and he's averaging 7.7 yards per carry.
All-Pro safety Kevin Byard said the Jaguars are more balanced spreading the ball out when Fournette is out of the lineup, so the safety is hoping to face the punishing running back personally.
"One of the hardest rushers in the league, this guy runs behind his pads, a strong runner," Byard said. "I hope he plays. I think you want to go up against some of the best guys in the league."
Notes: Titans coach Mike Vrabel said QB Marcus Mariota was limited but did more Thursday. LT Taylor Lewan practiced fully and was meeting a doctor later Thursday hoping to be cleared from the concussion protocol. RT Jack Conklin was limited. LB Kamalei Correa did not practice because of a back injury.
---
---