Rodger Saffold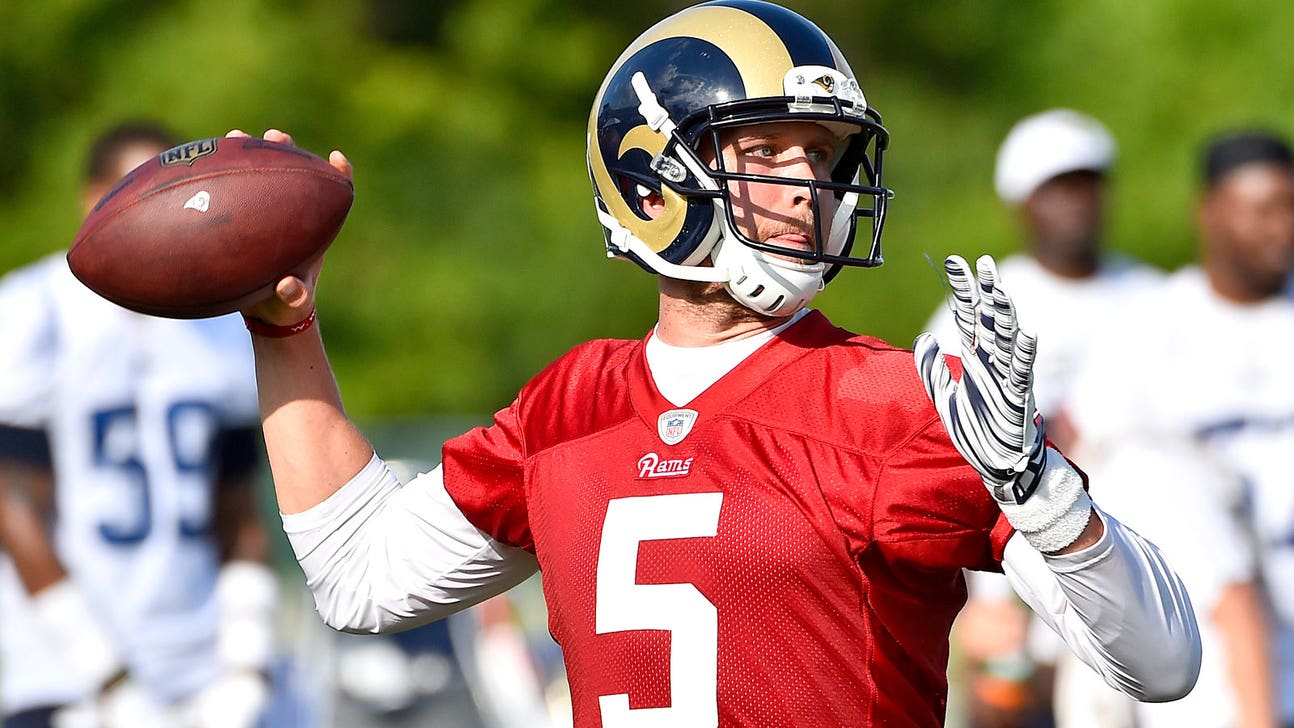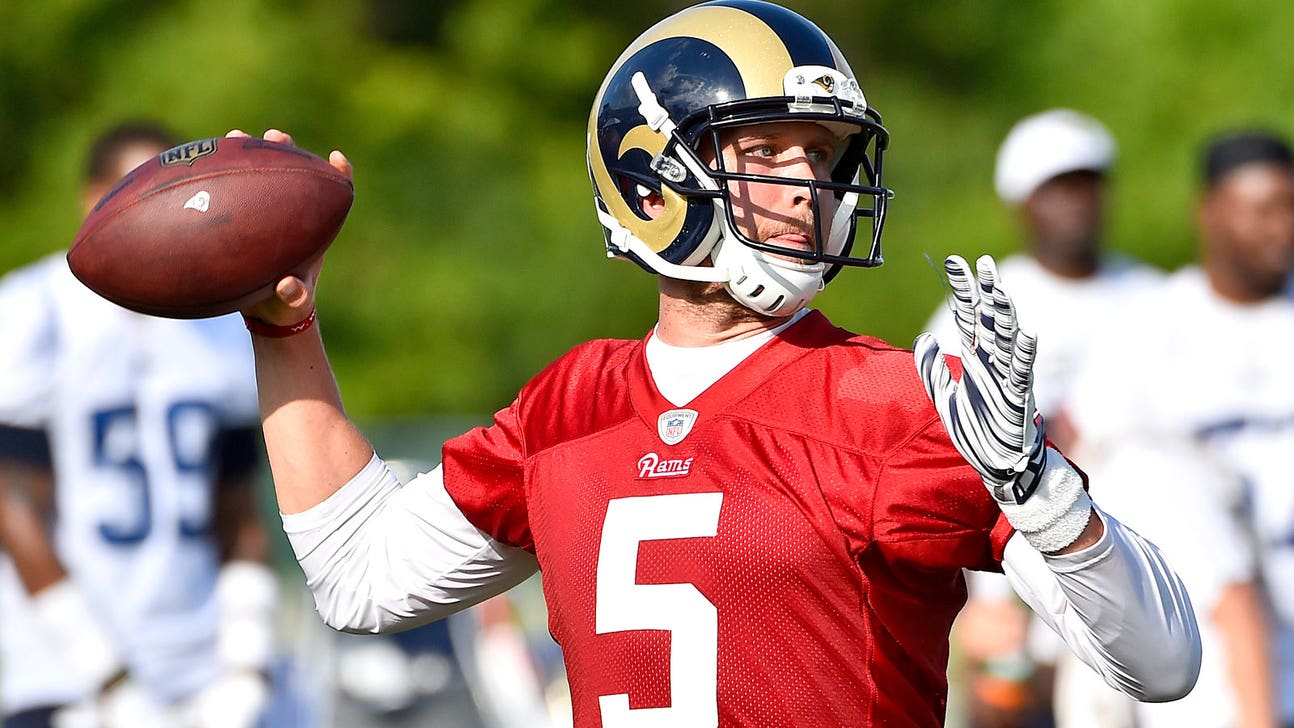 Rodger Saffold
Nick Foles' arrival could be last piece of St. Louis Rams' playoff puzzle
Published
Aug. 13, 2015 12:01 p.m. ET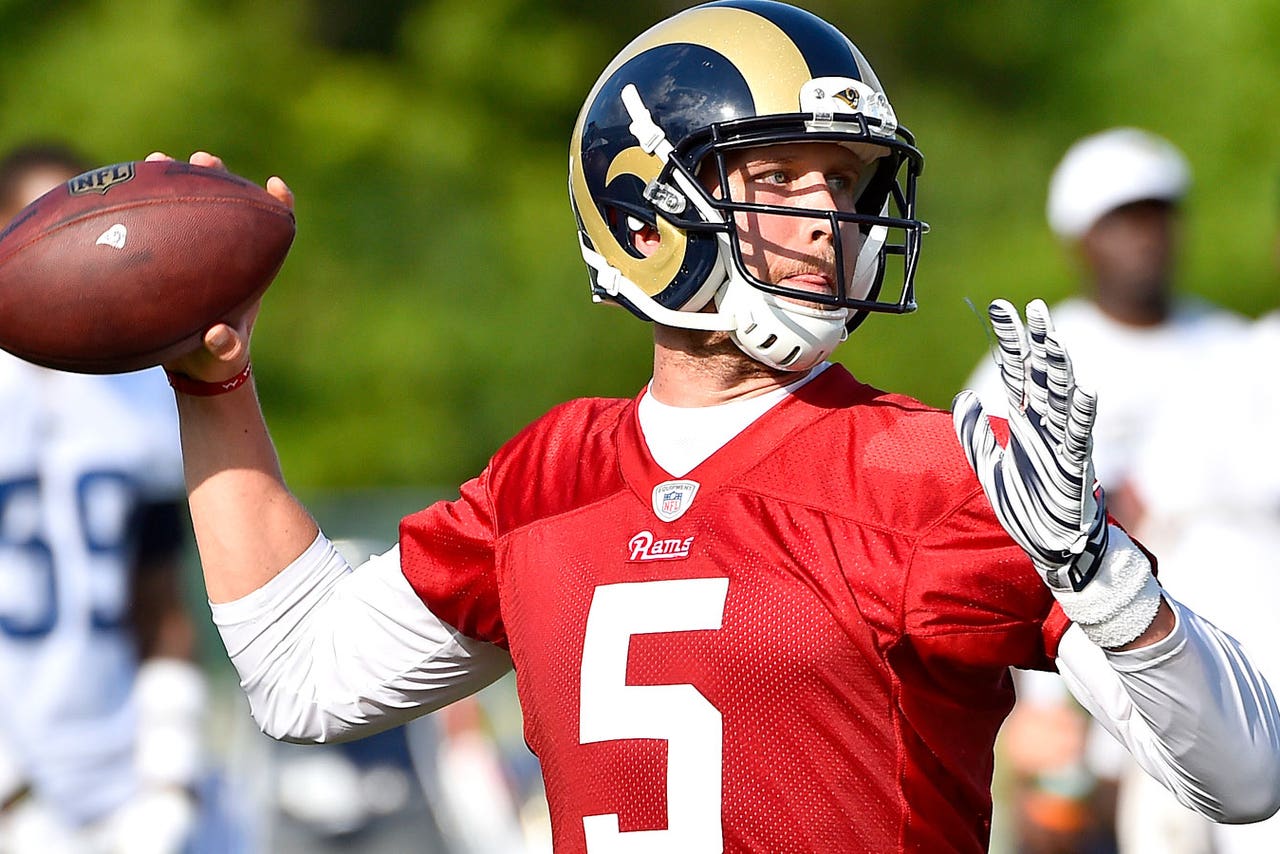 FOX Sports senior NFL writer Alex Marvez's training camp tour made its fourth stop in Earth City, Mo. Here are some of the things he learned and observed while visiting Rams camp with SiriusXM NFL Radio co-host Gil Brandt. Read his Falcons report today and check back on the following dates for his next stops on the tour:
EARTH CITY, Mo. --  St. Louis tight end Jared Cook likens his team's 2015 forecast to the Chinese zodiac.
"The Year of the Ram is what they're calling it," Cook said with a smile.
This type of optimism abounded the past two preseasons only to see St. Louis perform like lambs. A 6-10 record marked the 10th straight time that the Rams failed to make the playoffs or finish above .500.
"Guys are tired of people saying we look the part and we look good on paper," Rams outside linebacker Alec Ogletree said. "It's all about what you do on the field."
As the franchise prepares for what may be its swan song in St. Louis with a return to Los Angeles pending, there are two legitimate reasons for the Rams to feel bullish about the 2015 campaign beyond the makings of a dominant defense.
The first is the offseason acquisition of quarterback Nick Foles in a trade with Philadelphia for former Rams starter Sam Bradford. Bradford's inability to stay healthy over the past two seasons was an obstacle St. Louis simply couldn't overcome.
Foles is not only recovered from the clavicle injury that sidelined him for the second half of last season. He quickly made such a positive impression from both a quarterbacking and leadership standpoint that the Rams have signed Foles to a lucrative two-year contract extension without him having started a single game for them.
"Since Nick walked in the door, everything has just picked up," Rams head coach Jeff Fisher said.
The other positive factor in St. Louis is a greater sense of self-awareness. While the Rams are expected to field the NFL's youngest roster, veteran players say the immaturity that plagued the team in recent years has dissipated.
As middle linebacker James Lauriniatis said, "They understand all this preseason hype we've had the last couple of years doesn't automatically translate (to wins)."
Laurinaitis, whose seven seasons in St. Louis make him the team's second-longest tenured veteran behind defensive end Chris Long (eight), cites the team's offseason workouts as a sign of progress.
"Before, we were so young that we had a lot of guys who didn't really take OTAs seriously," he admitted. "If they messed up, they'd say, 'Oh, I'll figure that out before Sundays actually matter.'
"They're starting to figure out we really don't have that many (practice) reps or live contact before you get out there and the live bullets are flying with the way camps are now. Next thing you know, you wake up and it's Week 1. You have to really take every one of these practices seriously."
Ogletree is a prime example of a player who may finally be getting it. A 2013 first-round pick, Ogletree struggled in the first half of last season after reporting to training camp overweight and then having to work his way into shape.
Conditioning is no longer an issue. Ogletree stayed around team headquarters for almost the entire offseason training and immersed himself in film study hoping to secure an expanded role in coordinator Gregg Williams' defensive scheme.
"He's extremely motivated right now," Laurinaitis said. "It's been a lot easier camp for him when he's in the low 240s versus the high 250s. You see his instincts starting to come along. He's really a splash player. His knack for causing fumbles in this league is really uncanny. He just has a sense for it.
"Usually you can figure out what a guy is by Year 3 in the NFL. Is this a guy you want to keep around for a long time? I think Alec is that player."
But for the Rams to avoid another season that feels like the Year of the Dog, Ogletree and other recent high draft picks must actually turn their athletic potential into on-field success.
"Some of the guys who were young are kind of growing up a little bit," Long said. "The window is open for us. We've got to take advantage of it."
Mr. Robinson: How much of an athlete is Rams left tackle Greg Robinson? General manager Les Snead said the 6-foot-5, 315-pound Robinson posted times that fell within the acceptable range for the team's running backs  during the conditioning drills players must pass to practice at camp. Robinson lost 15 pounds during the offseason and is fully recovered from offseason toe surgery.
Robinson, though, remains a work in progress after being exposed to limited blocking schemes during his time at Auburn. For example, Rams defensive tackle Michael Brockers recently alerted Robinson to a flaw in his stance that was tipping off whether the offense had called a run or pass play.
"The game is starting to slow down," said Robinson, the No. 2 overall pick in the 2014 draft. "Mentally, I feel like I'm able to notice a few things faster than I did last year and there's less thinking."
Youth movement: Even though Robinson is just 22 years old with 12 NFL starts, he is the Rams' second-longest tenured offensive line starter behind left guard Rodger Saffold. St. Louis is set to enter the season with a first-time starter at center --€" Barrett Jones, Demetrius Rhaney and Tim Barnes are competing for the gig --€" as well as 2015 draft picks at right guard (Louisville's Jamon Brown) and right tackle (Wisconsin's Rob Havenstein).
Snead, who eschewed signing veteran offensive linemen in free agency, said he's confident Brown and Havenstein are ready for the challenge after watching the duo battle St. Louis' formidable defensive line in practice.
"We knew there were some guys we could bring in and maybe play right away based upon the fact they had started a lot of games in pro-style offenses at the collegiate level," Snead said. "The first day of camp with pads is telling. They held their own that day. Even though there are some problems going on that (offensive line coach Paul Boudreau) will tell you they need to correct, you could tell we're probably going to be OK."
Cooking with gas: Cook is one of the offensive players raving about new offensive coordinator Frank Cignetti Jr., who was promoted from quarterbacks coach to replace the departed Brian Schottenheimer (University of Georgia).
"He takes our suggestions that we have," Cook said. "There are some things we might see differently on the field than what they drew up on the board. He actually takes that to heart, listens to it and might make changes or tweak a route or the way you block a scheme a little bit so you can be more successful.
"That's something that we really need as players -- someone to not only be a coach but a person who can listen as well."
Fast learner: Brian Quick has high praise for fellow wide receiver Kenny Britt, who has served as a mentor since joining the Rams in 2014. Slow to contribute as a 2012 second-round pi
ck, Quick began to blossom last year with a career-high 25 catches for 375 yards and three touchdowns through seven games before suffering a season-ending shoulder injury.
"He's like a brother to me," Quick said of Britt. "That definitely helped me to have someone you could look up to and show you how to do things differently to help the team. He really changed my game and made me realize because I have a bigger body (at 6-foot-3 and 218 pounds) that I'm different than a lot of guys. Use that to your advantage."
Tight fit: Foles may not be the only Rams player to soon land a contract extension. St. Louis has roughly $4.3 million in salary cap space available, but that doesn't preclude the team from trying to re-sign some of their 2016 pending free agents. Free safety Rodney McLeod and cornerback Janoris Jenkins would likely draw the most interest from other teams if allowed to hit the market.
"The goal is to get as many signed as early as possible," Snead said.
Next stop: Kansas City. Alex's analysis of the Chiefs will appear Friday at FOXSports.com.
---
---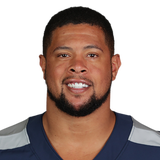 Get more from Rodger Saffold
Follow your favorites to get information about games, news and more
---