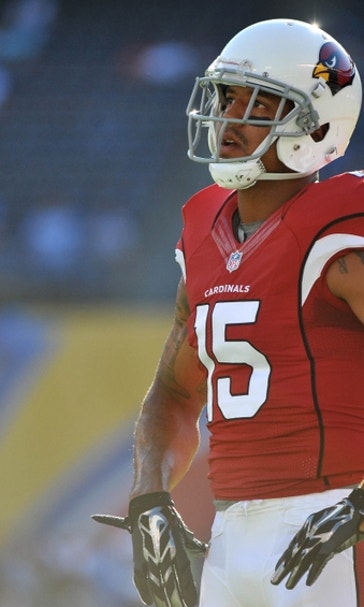 NFL roundup: Cardinals release Michael Floyd after DUI arrest
BY Fansided and Brad Weiss/Fansided • December 15, 2016
The Arizona Cardinals have had enough of wide receiver Michael Floyd, releasing him after his arrest for DUI on Monday. Floyd needs to get it together if he hopes to play in the NFL again.
The Arizona Cardinals released wide receiver Michael Floyd on Tuesday, after the former Notre Dame star was arrested for DUI. Floyd was found behind the wheel of his vehicle at an intersection unconscious, and was charged with two counts of DUI and one count of obstructing a roadway and failure to obey a police officer. This isn't Floyd's first brush with the law as the 27-year old had been arrested back in 2011 for driving while under the influence. The team added Jeremy Ross for depth with Floyd gone.
The Buffalo Bills are barely hanging on to life in the AFC Playoff picture, and they will welcome the winless Cleveland Browns to town this weekend. Bills nose tackle Marcell Dareus told reporters that the Bills will certainly not lose against the Browns, though Cleveland is going to everything it can to avoid being the second team ever to finish a season without a win. Dareus and the Bills have played below expectations this season, and the 2016 campaign could be the last for head coach Rex Ryan.
The Minnesota Vikings welcomed star running back Adrian Peterson back to practice this week, signaling that he may be returning sooner than expected. Peterson had said he would not return unless the Vikings are in contention, so a win this weekend is going to be huge for them. Peterson has been out since tearing the meniscus in his knee back in Week 2 of the season.
Darius Slay of the Detroit Lions should have been a Pro Bowler last season, and he was quite upset when he missed out on the chance to go to Hawaii and play when he was snubbed. This season, Slay could care less, and he feels the game is "pointless" now that it is in Orlando. The Lions are currently the No. 2 seed in the NFC Playoffs, as they have continued to win games late in a spectacular season in the Motor City.
In a likely laugher of a game, the Seattle Seahawks will host the Los Angeles Rams on Thursday Night Football. Seahawks star cornerback Richard Sherman has made headlines for recently calling Thursday Night Football a "poopfest," and he will likely be right in this one. The Rams are one of the worst teams in the league, while the Seahawks are fighting to grab ahold of that No. 2 seed in the NFC Playoffs.
More from FanSided
This article originally appeared on
---
---