Cam Newton
Cam Newton
Newton, Panthers offense rolling, celebrating 9-0 start
Published
Nov. 16, 2015 5:54 p.m. ET

CHARLOTTE, N.C. (AP) Cam Newton has plenty of reasons to celebrate these days - the Carolina Panthers are unbeaten and the offense is rolling.
And while some opponents may not be particularly fond of the fifth-year quarterback's touchdown celebrations, Newton doesn't particular seem to care.
''I'm a firm believer if you don't like me to do it then don't let me in'' the end zone, Newton said after his touchdown dance Sunday in Carolina's 27-10 win over the Tennessee Titans.
That's been a problem for defenses this season.
The Panthers (9-0) have scored at least 27 points in seven straight games - and at least 20 points in all nine games.
Carolina has won 13 straight regular season games dating back to last season and holds a two-game lead in the race for home-field advantage in the NFC entering Sunday's game against the Washington Redskins.
Panthers coach Ron Rivera attributes some of the offense's success to how coordinator Mike Shula has used the fifth-year quarterback since the latter part of last season, including running more of the no-huddle offense.
Rivera said Shula has allowed Newton to use his abilities and the players in the offense.
Newton has six TDs rushing this season.
He celebrated his latest score by doing a dance called ''the dab,'' which drew the ire of some Tennessee defenders, including linebacker Avery Williamson. When Williamson came walking toward Newton in the end zone, the quarterback danced some more.
Rivera said he doesn't mind Newton dancing ''as long as it's not overly outlandish and there is a respect for manners. As long as he's not taunting them. I think he's doing it for our fans.''
Said Newton: ''I try to make my game kid-like so people will see that I'm enjoying what I do. ... I'm not doing it to be disrespectful to nobody, more so just doing it just to shine light and get people a smile and having fun doing what I do.''
There is plenty to celebrate in Carolina, for sure.
While Newton's quarterback rating is 31st in the league - three spots behind Johnny Manziel - he has the Panthers offense on a roll.
Carolina is averaging 28.3 points per game - fourth-best in the NFL - and is third in the league in rushing behind Jonathan Stewart and Newton, who has run for 366 yards and six TDs.
Shula said Monday he's pleased with Newton's growth as a game manager, noting that the team has ''given more freedom'' in terms of changing up plays at the line of scrimmage.
During the week and on the nights before games Newton is adding more input into team meetings, regularly suggesting plays he believes might work against the opposition's defense.
''He's given some good thoughts that you can tell he has put a lot into in regard to any little tweaks,'' Shula said. ''It's like, `If we do this, and they have this play called, can we do that?' Sometimes things that we don't think about as a staff.''
The result has been a more productive offense, particularly in the red zone.
The Panthers have scored touchdowns on 60 percent of their trips inside the opponent's 20-yard line, up from 48.1 percent last season.
''We're scoring touchdowns instead of field goals,'' Shula said.
And celebrating along the way.
---
AP NFL website: www.pro32.ap.org and http://twitter.com/AP-NFL
---
---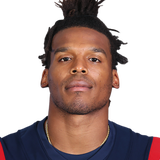 Get more from Cam Newton
Follow your favorites to get information about games, news and more
---