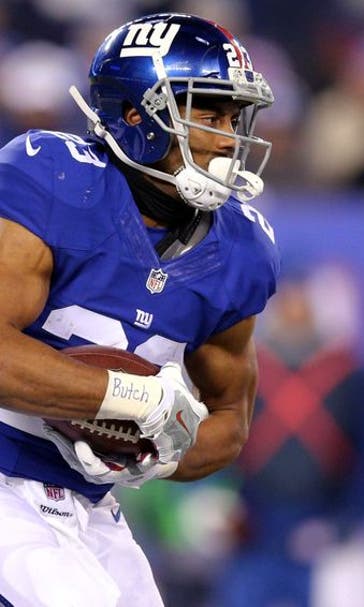 New York Giants: Starters Expect To Play Against Washington
December 28, 2016

Fansided, Maxwell Ogden/FanSided via GMEN HQ
The New York Giants have already secured their place in the NFL Playoffs. Nevertheless, the starters expect to play against the Washington Redskins.
---
The New York Giants can sit their starters and rest for a week before the NFL Playoffs. Not only has New York secured a postseason appearance, but it's locked itself in as the No. 5 seed in the NFC.
Even with the opportunity to rest, the Giants are taking this chance to keep one of their rivals out of the playoffs.
In Week 17, the Giants will square off against the Washington Redskins. That game has significant implications for Washington, which still has an opportunity to clinch a Wild Card spot in the NFL Playoffs.
According to Jordan Raanan of ESPN New York, running back Rashad Jennings made it perfectly clear that the starters plan to play on Sunday.
"Yes. Everyone is going to play Sunday," Jennings said.
That's a simple enough response to an important question.
New York has reason to rest the starters, especially after Derek Carr and Marcus Mariota suffered season-ending injuries in Week 16. It also has reason to put its starters on the field in an attempt to stabilize the offense.
Star offensive lineman Justin Pugh stated that the starters have received no indication that they won't be playing.
"I feel like [Tuesday] was business as usual," Pugh said. "We didn't talk about the playoffs until coach called us up at the very end of practice today, so we were in there just not talking about it, and we were all Washington [Tuesday]."
That's a fair sign that the Giants will be at full strength during Week 17.
The Giants currently rank No. 24 in total yards from scrimmage and No. 25 in points scored per game. Those abysmal marks are likely a reason for the players' belief that they'll be playing against Washington in Week 17.
The coaching staff is undoubtedly aware of how erratic the Giants' offense has been and is likely hopeful that it'll be able to find a rhythm before the postseason.
The question is: will the players actually play in Week 17 and is it the right decision?
More from GMEN HQ
This article originally appeared on
---
---