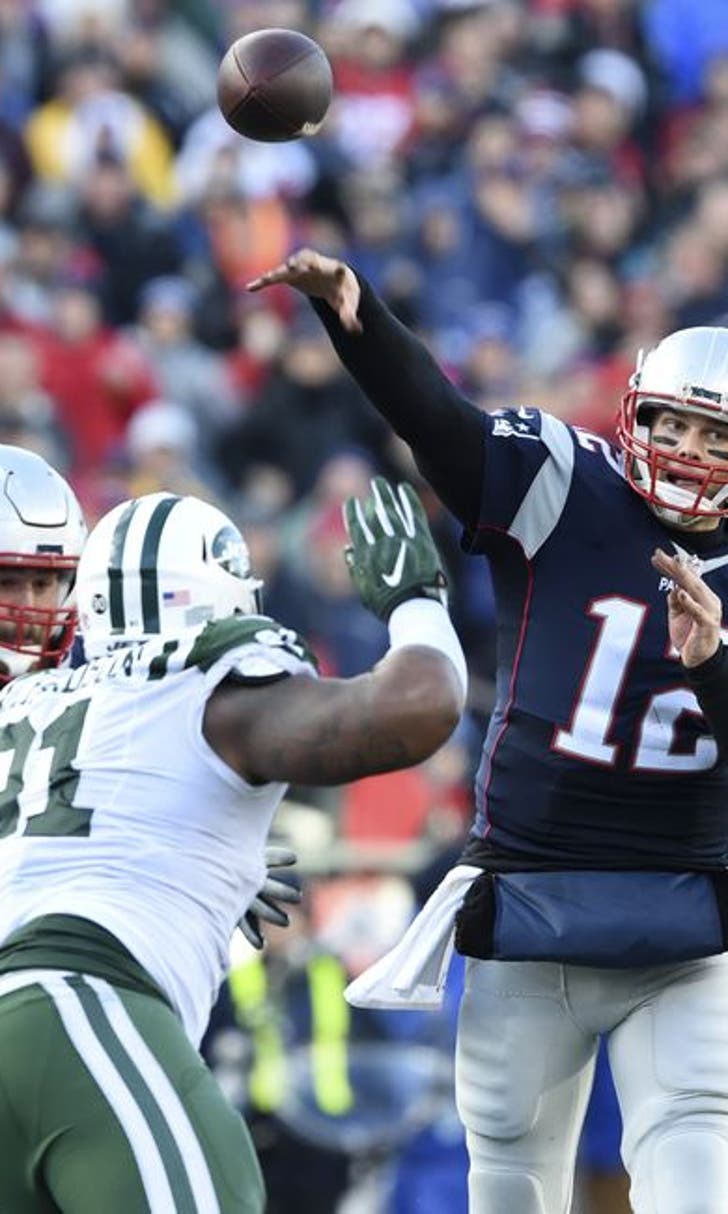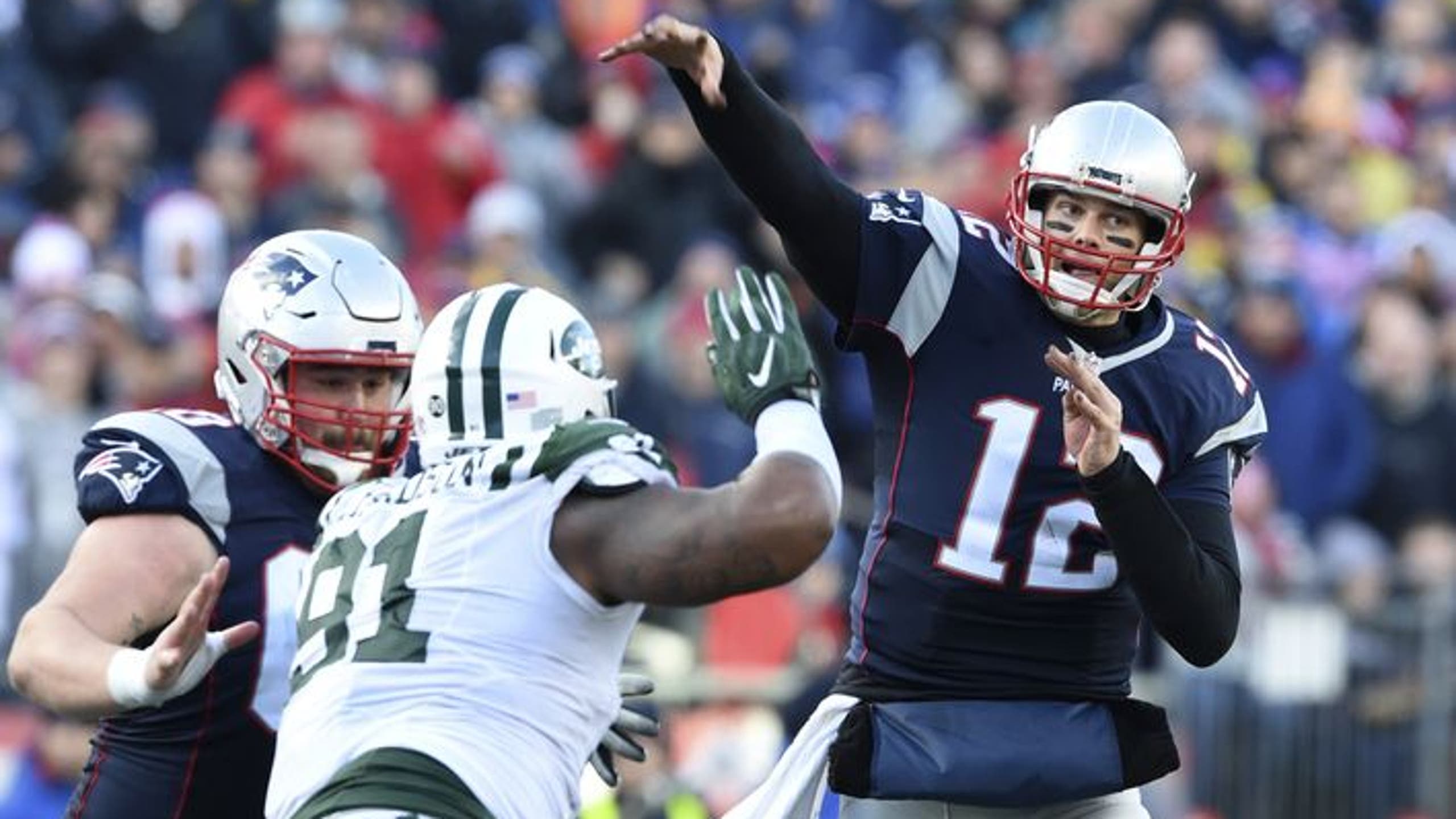 New England Patriots vs New York Jets: 5 Biggest Takeaways
BY Fansided and Hal Bent/FanSided via Musket Fire • December 27, 2016
The New England Patriots gave their fans an early Christmas present with a Christmas Eve thumping of the New York Jets.
Other than missing an open Julian Edelman in the end zone on third down there were few criticisms to be made after such a shellacking. Instead of being the motivated divisional foe with a great defensive game plan in their pocket, the Jets looked to be a team ready to pack it in for the holiday season and just get out of Foxboro, MA.
Before turning to the Miami Dolphins and New England's battle for home-field advantage throughout the playoffs, let's take one last look at the five takeaways from Christmas Eve and the Patriots 41-3 win over their AFC East rivals.
Dec 24, 2016; Foxborough, MA, USA; New England Patriots quarterback Tom Brady (12) prepares to throw the ball against the New York Jets in the first quarter at Gillette Stadium. Mandatory Credit: David Butler II-USA TODAY Sports
The New York Jets almost beat the Patriots earlier this season with quarterback Tom Brady needing a fourth quarter comeback and a Ryan Fitzpatrick turnover inside of two minutes. The Jets did not sack Brady in that match-up but they had Brady under pressure with three and four man rushes and flooding the passing lanes.
On Saturday, the Jets barely laid a finger on Brady. Muhammad Wilkerson, Sheldon Richardson, and Leonard Williams all struggled to win their individual battles inside and and generate any consistent pressure. Outside linebackers Jordan Jenkins and Freddie Bishop were nearly invisible.
Per ProFootballFocus.com, Brady was pressured just six times on 28 dropbacks on Saturday. Doug Kyed at NESN.com in his game tracking had tackles Nate Solder and Marcus Cannon pitching shutouts in pass protection.
What was also of note was the run blocking by the offensive line. The Patriots three-headed running back combined for 37 rushing attempts for 116 yards. While not huge numbers in the yards per attempt category, the Patriots were able to continue to rush well enough to help keep opposing defenses honest and respect the run and not be able to tee off on the quarterback.
Dec 24, 2016; Foxborough, MA, USA; New England Patriots head coach Bill Belichick looks on from the sidelines against the New York Jets in the first quarter at Gillette Stadium. Mandatory Credit: David Butler II-USA TODAY Sports
The New England pass defense, so porous earlier in the season, has continued to lock down their opponents. The secondary held the duo of Bryce Petty and Ryan Fitzpatrick to just eight completions on 24 pass attempts and intercepted three passes (all statistics from Pro-Football-Reference.com unless otherwise noted).
Of those eight completions, per Doug Kyed at NESN.com the secondary allowed just three of them. Eric Rowe, Devin McCourty,Patrick Chung, Logan Ryan, Jonathan Jones, Jordan Richards, Cyrus Jones, and Malcolm Butler combined for all three interceptions, two pass breakups, and allowed just three for 16 passing attempts for just 28 yards.
It is hard to believe this is same secondary which was carved up by Seattle for 324 yards just six weeks ago. Yes, the Jets, 49ers, and Rams are bad offenses, but the secondary has been beating bad teams and shutting them down. They also shut down the Broncos and only let the Ravens pile up yards when the defensive scheme backed off into a soft zone. For the season, the Patriots rank 14th in passing yards allowed but are 7th in passing yards allowed per attempt.
Finally, the three interceptions jumped off the stat sheet as the secondary started making plays. Through 10 games, the Patriots' defense had created just nine turnovers (seven in two games and six games without a single one). In their last five games the team has 12 turnovers created.
The ability to make plays and create additional scoring chances for the offense in the playoffs is invaluable. The secondary has been stepping up at just the right time for New England.
Dec 24, 2016; Foxborough, MA, USA; New England Patriots quarterback Tom Brady (12) throws the ball against the New York Jets in the second quarter at Gillette Stadium. Mandatory Credit: David Butler II-USA TODAY Sports
While the rain and cold seemed to affect both Jets quarterbacks, Tom Brady seemingly had little problem with the inclement weather.
Bryce Petty was zero for three passing with an interception and was sacked twice. He hurt his shoulder trying to recover a fumble and his day ended with a 0.0 quarterback rating. Ryan Fitzpatrick was eight-for-21 for 136 yards with two picks for a 21.2 quarterback rating.
Brady was 17-for-27 for 214 yards and three touchdowns with no interceptions for a 124.6 quarterback rating. Of Brady's ten incompletions, two were straight-up drops and one was a throw-away under pressure.
Brady got rid of the ball quickly, he moved well in the pocket when he needed to, he was sacked just one time, and his best pass of the game did not show up on the stat sheet. At the end of the second half the Patriots seemed content to run out the clock before Jets head coach Todd Bowles called a timeout with 46 seconds to play.  
The Patriots came back, made a first down, and then Brady went deep for rookie wide receiver Malcolm Mitchell. It was 51 yards in the air, a perfect pass, and had Jets cornerback Doug Middleton not had his arm wrapped around Mitchell's arm preventing him from catching the ball. The pass was perfect–and one of those passes that Brady has had trouble completing from 2010 to 2015.
Brady continues to put up ridiculous numbers in 2016 as the Patriots head towards the playoffs. Brady is 10-1 as a starter, is completing 66.7% of his passes for 3,278 yards, 25 touchdowns, and just two interceptions for a 110.7 quarterback rating. He has been an MVP candidate since he first stepped on the field in week five against Cleveland.
Brady has been brilliant in 2016 and last week was no different.
Dec 24, 2016; Foxborough, MA, USA; New York Jets quarterback Bryce Petty (9) is sacked by New England Patriots defensive end Chris Long (95) in the first quarter at Gillette Stadium. Mandatory Credit: David Butler II-USA TODAY Sports
As part of the secondary's strong play, the Patriots got a strong performance against the Jets from their defensive line. With Malcom Brown benched in the first half for being late for a meeting during the week, the Patriots were already down one pass rusher early in the game. Add in linebacker Dont'a Hightower–one of the best blitzing inside linebackers in the league–held out of the game with a knee injury and getting pressure was a question mark.
Whoops. Forget about that being a problem.
The Patriots' defensive line and linebackers controlled the game from the first snap. After defensive end Trey Flowers on first down and defensive tackle Alan Branch on second down stuffed Bilal Powell to bring up a third and long, defensive end Chris Long burst into the backfield to notch his fourth sack of the season.  
On drive number two, the Jets saw quarterback Bryce Petty under heavy pressure and sacked on first down with defensive end Jabaal Sheard (five sacks in 2016) and Branch split the sack. After an incompletion, cornerback Malcolm Butler had his first interception of the game and the pressure from up front had set the tone for the day.
A quick caveat: Brandon Shell, Dakota Dozier, Brent Qvale, Wesley Johnson, James Carpenter, and Ben Ijalana. Other than Carpenter, there is not an NFL caliber player in that group of Jets offensive linemen.
That said, the Patriots' defensive front took advantage of what was in front of them on Saturday and dominated. This may not have been a playoff team, but the Patriots' defense kept their opponents from reaching the end zone for two straight games.
The defense will have a stout test against a strong Miami offense on Sunday, but once again the defense was strong having only allowed three touchdowns in four games in December.
Dec 24, 2016; Foxborough, MA, USA; Fans cheer after a New England Patriots touchdown during the second half against the New York Jets at Gillette Stadium. Mandatory Credit: Bob DeChiara-USA TODAY Sports
The Patriots did not fall into the trap of 2015 where they limped down the stretch as injuries ravaged the team and they seemed more focused on keeping as many players healthy as possible. Ending the season by declining rather than growing stronger saw home-field advantage slip from their grasp as they lost to the Jets and Miami in the final weeks of the 2015 season.
New England took care of business against the Jets looking once more like a Bill Belichick Patriots squad that improves as the season goes along rather than the team that peaked in October and limped to the finish line.
Last year the Patriots had LeGarrette Blount and Dion Lewis on injured reserve, they were running Brandon Bolden and Steven Jackson out there behind an offensive line that had multiple rookies, five different left tackles, and Marcus Cannon trying to block Von Miller with just one healthy leg. While they had tight end Rob Gronkowski healthy, at wide receiver Julian Edelman's foot was not healthy, Danny Amendola was still hurt, and the only other receivers were Brandon LaFell and Keshawn Martin.
Rookie wide receiver Malcolm Mitchell and free agent Chris Hogan have given Brady two outside receivers who can stretch the field, work outside the numbers, line up anywhere on the field, and are bigger targets in the red zone. Free agent tight end Martellus Bennett has been the Gronk Insurance he was signed to be and surpasses 2015 tight end Scott Chandler (who had no business playing through his knee injury that forced him to retire).  
Second year center David Andrews has been an upgrade over Bryan Stork and rookie Joe Thuney has surpassed Josh Kline. Cannon and left tackle Nate Solder are healthy and make a huge difference running the ball and in pass protection.
More from Musket Fire
On defense the Patriots are very similar other than the departures of Jamie Collins and Chandler Jones. Adding Eric Rowe at cornerback gives them desperately needed size at the position. Shea McClellin and Kyle Van Noy have more than adequately replaced Collins (who was burnt twice by Owen Daniels on the same route for touchdowns in the AFC Championship game) and Chris Long and Trey Flowers have seamlessly replaced Jones.
One criticism of Chandler Jones has always been his inability to make big plays in big games. Last year Jones was actually leading the NFL in sacks at midseason, but just like every year in New England he faltered down the stretch. Even this year in Arizona, before last week's game versus Seattle, he had gone four straight games without a sack after having eight sacks in his first ten games with the Cardinals.
In New England, Jones was injured in 2012 in the playoffs missing much of the AFC Championship game and finishing with just one tackle. In 2013 he was shut out in the playoffs with just two tackles and no sacks in two games. In 2014, he got his first sack in the postseason in the Super Bowl after having four tackles and no sacks in the two prior games. Last year he had a sack versus Kansas City but had no sacks, no tackles, and no impact against Denver in the AFC Championship game.
Not to disparage Jones who had four very good years in New England, but the lack of depth behind him forced the Patriots' defensive coaches to keep him on the field and leading defensive linemen in snaps played each season explains why he wore down in the second half and lacked explosion and big plays in the playoffs.
This season the Patriots can cycle a rejuvenated Jabaal Sheard, a motivated Chris Long, an ageless Rob Ninkovich, and explosive young pass rusher Trey Flowers throughout the game. It has kept all four fresh and has played a key role in keeping pressure on opposing quarterbacks throughout the game and finishing strong in the fourth quarter.
This is not the same Patriots team that limped into the playoffs and was a two-point conversion from forcing overtime on the road in the AFC Championship game. Along with Dallas in the NFC, they have been one of the few dominant teams in the league this season.
This team seems capable of taking care of business and securing the top spot to earn home-field advantage through the playoffs. They looked strong, motivated, and hungry all season long and should be ready for another playoff run.
---
---