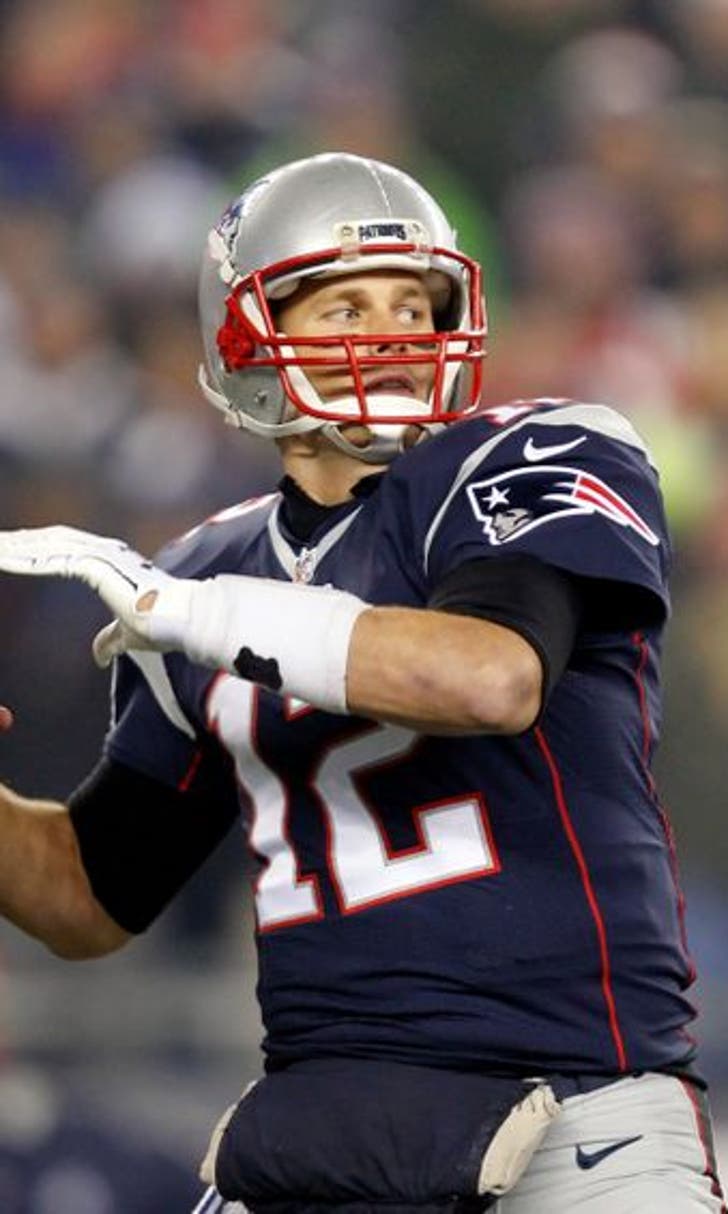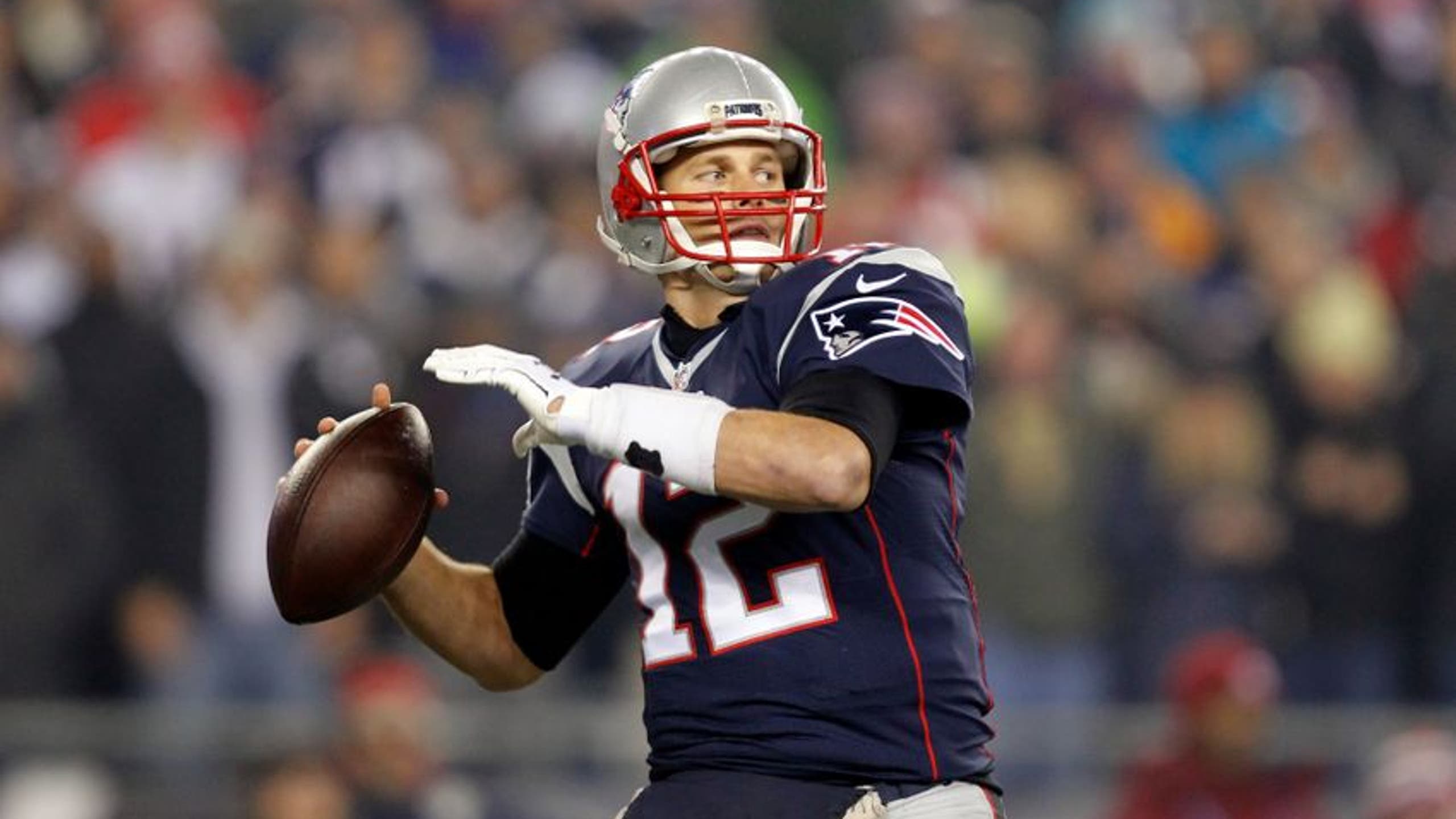 New England Patriots at Denver Broncos: Breaking Down the Matchups
BY Fansided and Hal Bent/FanSided via Musket Fire • December 17, 2016
Dec 12, 2016; Foxborough, MA, USA; New England Patriots quarterback Tom Brady (12) looks to throw against the Baltimore Ravens during the first half at Gillette Stadium. Mandatory Credit: Stew Milne-USA TODAY Sports
In Week 15, the New England Patriots will be facing a tough Denver Broncos team. What are the matchups to watch?
The New England Patriots are coming off an exciting win on Monday Night Football over the Baltimore Ravens. Although a pair of fumbles on special teams marred the performance, it was a complete game on both sides of the ball. The 17 unanswered points scored by Baltimore made the score close, but New England prevailed 30-23.
The Patriots' defense limited the Ravens to just 42 yards rushing and Baltimore was just 6-for-16 on third downs. On offense, New England rolled for 95 yards on the ground with LeGarrette Blount grinding out five rushes for 18 yards and two huge first downs to run out the last 1:55 of the game (all statistics from Pro-Football-Reference.com unless otherwise noted). Tom Brady was his usual dominant self topping 400 yards passing and three touchdowns.
With Baltimore crossed off Brady's Revenge Tour, the Patriots return to their House of Horrors: A trip to the high altitude of Sports Authority Field at Mile High. Last season, the Patriots went into Denver twice and lost two winnable games.
In 2015 the 10-0 Patriots blew a 21-7 third quarter lead before clawing back to tie the game without Rob Gronkowski, Julian Edelman and Danny Amendola and leaning on Brandon Bolden, Chris Harper, Brandon LaFell, and Scott Chandler to send the game to overtime before losing.  
In the AFC Championship, another fourth quarter comeback by Brady fell just short as the two minute offense drove down the field to cut the lead to two points. Only a failed two-point conversion prevented the Patriots from taking the Broncos to overtime for the second time on their home turf.
More from Musket Fire
Last week Denver went to Tennessee and fell behind 13-0 before a frantic comeback attempt ended with less a minute to play when former Patriots draft pick tight end A.J. Derby fumbled the ball turning the ball over to the Titans. Denver gave up an 11 and 16 play drive to the Titans uncharacteristically allowing Tennessee to grind out 180 yards on the ground and control the clock.
Last week's results no longer matter and it is a new week and two of the most successful franchises of this century face each other in a game brimming with playoff implications. Denver-New England is traditionally a great game and this year should be no different.
Read on for a look at how Brady's Bunch hopes to move the ball against the star-studded defense of the Broncos followed by a look at how a resurgent defense in New England hopes to shut down the stuttering Denver offense:   
Dec 12, 2016; Foxborough, MA, USA; New England Patriots quarterback Tom Brady (12) runs onto the field for warmups before a match with the Baltimore Ravens at Gillette Stadium. Mandatory Credit: Bob DeChiara-USA TODAY Sports
New England Patriots Offense vs Denver Broncos Defense:
The  Patriots have missed the dimension that tight end Rob Gronkowski brings to their offense. However, credit offensive coordinator Josh McDaniels and quarterback Tom Brady for not skipping a beat against the top-rated defense in the NFL last week.
Beating the lowly Los Angeles Rams without Gronkowski was a good warmup for the offense: They scored 26 points, leaned on running back LeGarrette Blount, and they piled up over 400 yards in an easy win. Last week against Baltimore it was the Brady show as he passed for over 400 yards and picked apart an elite defense.
This week it is another elite defense that the Patriots must face on the road in Denver. The Broncos have yet to allow an opponent to pile up 400 total yards of offense in 2016. The Broncos must be ecstatic that the game is not in prime time as they are 2-3 in night games beating just the Panthers on Thursday night in week one and the over-matched Texans on Monday night in week seven.
Denver lost a few key players on defense from last year but the biggest injury was defensive tackle Vance Walker. He was on his way to being a breakout performer before tearing his ACL in training camp and spending 2016 on injured reserve. That hole in the middle has been evident as teams have rushed for 1,654 yards in 13 games and 4.2 yards per rush.
Sylvester Williams is a solid nose tackle in the middle but he and journeyman interior defensive tackle Jared Crick are scaring no one. Derek Wolfe is his usual disruptive self for Denver, but with Williams and Crick doing little to slow opposing running backs and generating little pressure, the dominant defense has shown some attrition.
Dec 11, 2016; Nashville, TN, USA; Denver Broncos Von Miller (58) celebrates after a defensive stop in the second half against the Tennessee Titans at Nissan Stadium. The Titans won 13-10. Mandatory Credit: Christopher Hanewinckel-USA TODAY Sports
Denver's Outside Pass Rush
Wolfe is a beast inside and having the trio of otherworldly outside linebacker Von Miller, the emerging Shane Ray, and high-motor veteran DeMarcus Ware covers up weaknesses elsewhere. Miller is the premier defensive pass rusher in the NFL and with Ray and Ware splitting snaps to stay fresh, the edge pressure from Denver's outside linebackers is the best in the league.
The Patriots are in the opposite situation of last year when they faced Denver twice with a patchwork offensive line. New England first started Sebastian Vollmer at left tackle, Shaq Mason at left guard, Bryan Stork at center, Josh Kline at right guard, and an injured Marcus Cannon at right tackle. In the AFC Championship game it was Vollmer, Kline, Stork, Mason and Cannon. Sixty percent of that offensive line is gone now.
The Broncos will bring some pressure for sure; they have great pass rushers and a dominant secondary. However, having a solid and athletic group with a healthy Nate Solder at left tackle, rookie Joe Thuney at left guard, impressive second-year center David Andrews, guard Shaq Mason, and healthy and resurgent right tackle Marcus Cannon. The starters have been excellent in run blocking and much improved in pass protection.
Denver's glaring weakness against the run while facing Tennessee last week also included something often not seen in Denver; weak play by the interior linebackers. With Brandon Marshall already questionable after missing last week with a hamstring injury, fellow interior linebacker Todd Davis is also questionable with an oblique injury.
Dec 11, 2016; Nashville, TN, USA; Denver Broncos head coach Gary Kubiak (C) leaves the field after the game against the Tennessee Titans at Nissan Stadium. Tennessee won 13-10. Mandatory Credit: Jim Brown-USA TODAY Sports
Denver Linebackers Weakened by Injury
Those injuries mentioned before left Denver with undersized special teams players Corey Nelson and Zaire Anderson manning the middle. If Denver is forced to play Nelson and Anderson again, look for New England to run Blount at them and attack the pair in coverage with receiving running backs James White and Dion Lewis and exploit those mismatches.
The Patriots have a running game that ranks seventh in the NFL with 1,502 yards and 15 touchdowns. While they are averaging only 4.0 yards per attempt, the Patriots have continued to stick with the running game to supplement a strong deep passing attack and potent short passing attack. The running game has helped keep pass rushers off of Brady so far in 2016.
That running game will have to be strong on Sunday afternoon as Brady has his hands full trying to throw against the Broncos. Last week the Titans passed for just 73 net yards against the Broncos but somehow won the game. Only Atlanta (250 yards), San Diego (246 yards), and New Orleans (293 yards) have topped 200 yards passing against the Broncos in 2016.
Dec 11, 2016; Nashville, TN, USA; Denver Broncos cornerback Aqib Talib (21) leaves the field after loosing to the Tennessee Titans at Nissan Stadium. Tennessee won 13-10. Mandatory Credit: Jim Brown-USA TODAY Sports
How to Succeed Passing Against Denver
Denver boasts an amazingly talented secondary. Cornerbacks Aqib Talib and Chris Harris Jr. are two of the best in the entire league. Third cornerback Brandon Roby is a starter on 20 other teams in the NFL. Strong safety T.J. Ward is well-known in New England for his hard-hitting ways and free safety Darian Stewart who has blossomed in his second year in Denver.
The Patriots will lean on their running backs and tight end for favorable matchups in the passing game when they throw. Look for a number of formations to spread out and isolate the cornerbacks in coverage. Rub plays will be a big part of the game plan along with quick passes if the coverage drops off.
It is a classic matchup of a top offense against a top defense. If the Patriots can get the Broncos chasing LeGarrette Blount and the other running backs early, they should be able to open some opportunities up in the passing game with play-action down the line. It will not be easy, but the Patriots should be able to sustain a few drives against a tough Broncos defense.
(Very Slight) Advantage: New England Patriots
Next: Denver Broncos Offense vs New England Patriots Defense
Dec 4, 2016; Jacksonville, FL, USA; Denver Broncos wide receiver Emmanuel Sanders (10) is hit in the back by Jacksonville Jaguars outside linebacker Telvin Smith (50) during the first quarter of an NFL football game at EverBank Field. Mandatory Credit: Reinhold Matay-USA TODAY Sports
Denver Broncos Offense vs New England Patriots Defense:
Remember when Adam Gase and Jim Bob Cooter were running the Denver offense in 2013 and the team put up 606 points (37.9 points per game average)? That offense scored more than 40 points six times that season (including topping 50 points three times). Only one team held that Broncos' offense under 27 points during the regular season.
Well, other wide receiver Demaryius Thomas and back-up tight end Virgil Green this offense has completely turned over at every position. This Broncos offense features a revolving door at running back, a young and unheralded quarterback learning on the job while battling injuries, and two receivers accounting for being targeted on 54% of all passes thrown this season.
Denver Rushing Attack
Denver is ranked 16th in scoring and 19th in passing. While those statistics are middle-of-the-pack, the rushing offense has been terrible. The team is ranked 27th in the NFL in rushing and are averaging just 3.6 yards per rush.
After paying a premium to bring back running back C.J. Anderson at running back as a restricted free agent, the Broncos got just 437 yards from him before landing on injured reserve with a knee injury. Devontae Booker has been terrible, Kapri Bibbs flashed potential then went down with an ankle injury, and Denver has been forced to sign street free agent Justin Forsett.
The Denver rushing attack ground out 179 yards against New England in week twelve last year (most of the yards when linebacker Dont'a Hightower left the game with an injury). Denver was not great running the ball last year but they were 17th in the league running the ball and ran well enough to keep the pass rush off their quarterbacks.
This year the Broncos' offense has been primarily Demaryius Thomas and Emmanuel Sanders.  Just look at last week where 30 of the 51 passes thrown by quarterback Trevor Siemian went to the duo. Look at the rest of the options: tight ends A.J. Derby and Virgil Green, rookie wide receiver Jordan Taylor, washout Cody Latimer, and special teamer Bennie Fowler.
Dec 4, 2016; Foxborough, MA, USA; Los Angeles Rams wide receiver Pharoh Cooper (10) is tackled by New England Patriots defensive end Jabaal Sheard (93) during the third quarter at Gillette Stadium. The New England Patriots won 26-10. Mandatory Credit: Greg M. Cooper-USA TODAY Sports
Patriots Defensive Game Plan
New England needs to follow the same plan they used against Baltimore last week: stuff the run with a strong and disciplined front four and then bring pressure on third down while stifling the top targets with Malcolm Butler and the secondary.
Last week Malcom Brown, Alan Branch, and the front seven held Baltimore to just 42 yards rushing while forcing a safety and helping the offense overcome a slow start to still jump out to an early lead. The defensive ends did a solid job maintaining the edge and the New England linebackers pounced on the ball-carriers.
Smart blitzing and dropping linebackers and defensive ends into coverage confused veteran Baltimore quarterback Joe Flacco. At the same time, cornerbacks Malcolm Butler and Logan Ryan (and even Cyrus Jones stepping in for the injured Eric Rowe) had a strong game in coverage of veterans Steve Smith and MIke Wallace and young speedster Breshad Perriman.
Thomas and Sanders are a handful and the Patriots' cornerbacks will need help from safeties Devin McCourty and Duron Harmon in coverage. The Broncos will need to get production in the passing game from tight end A.J. Derby and running backs Justin Forsett and Devontae Booker going against safety Patrick Chung and linebackers Shea McClellin and Kyle Van Noy.
More from Musket Fire
The Patriots' defense will need to tackle well and keep Derby, the running backs, and other wide receivers from extending drives while focusing on Sanders and Thomas in coverage. If the Patriots play like they did last week, they should have little difficulty slowing the Denver offense on Sunday.
Advantage: New England Patriots
Score Prediction: New England Patriots 23 – Denver Broncos 13
---
---