Morris Claiborne says his LSU ring was stolen, would 'never' sell it
Published
Mar. 15, 2016 6:11 p.m. ET

Former LSU star cornerback Morris Claiborne's 2011 SEC championship ring was listed for sale on eBay for $100,000 on Monday. It caused quite a stir on social media, especially among Tigers fans, who were disappointed that Claiborne would auction off such an important piece of his college career.
But fans weren't the only ones surprised to see the ring listed for sale -- Claiborne himself says he was shocked to hear the news, which he discovered on social media.
The Dallas Cowboys corner issued a statement on Tuesday through the LSU sports information department, claiming the ring was stolen and put up for sale without his knowledge.
The eBay listing for the ring says the bidding ended at 9:36 p.m. Monday night, stating "This listing was ended by the seller because the item is no longer available." The location of the item was listed as Shreveport, La. -- Claiborne's hometown. The seller, "brigg.lager" has no record of any other listings or previous transactions.
"I was not aware that my LSU ring from the 2011 season was being auctioned on eBay until I saw a post about it yesterday afternoon on social media. I love LSU and treasure all of my LSU possessions. I would never sell any of my LSU memorabilia as the time I spent on the LSU campus are some of my most special memories. The ring was taken from me without my knowledge and I've taken the necessary steps to get it back. I truly apologize to all LSU fans, teammates, coaches and supporters for this unfortunate situation. I am forever an LSU Tiger."
MORE FROM FOX SPORTS SOUTHWEST: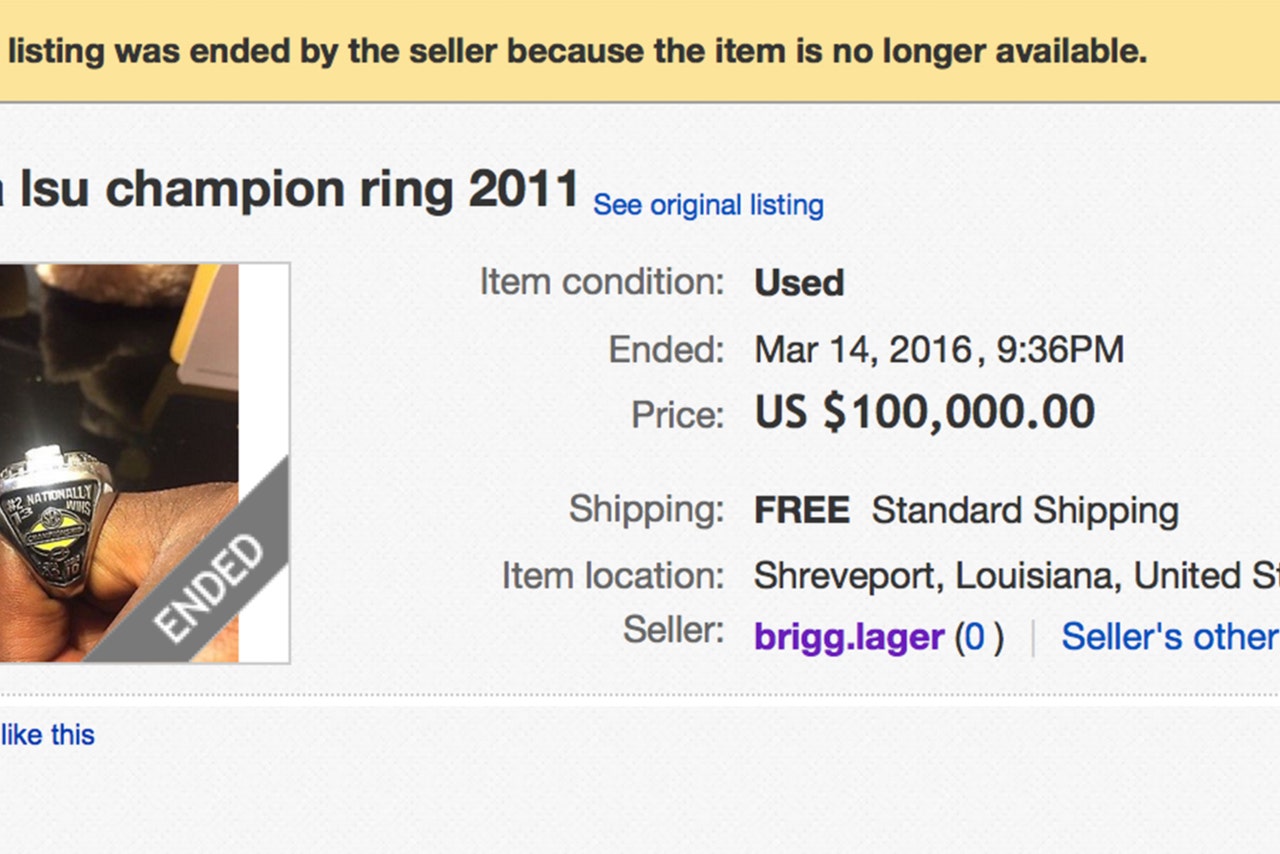 - PHOTOS: Cowboys Cheerleaders Auditions
- Top 50 college football coaches salaries in 2015
- Five-star recruits who were never stars in college
- Biggest football recruiting steals
---
---