Tom Brady
Tom Brady
Mexican media exec named in Tom Brady jersey theft sought autographs, selfies
Published
Mar. 21, 2017 6:38 p.m. ET
MEXICO CITY — The Mexican media executive suspected of stealing Tom Brady's jersey went to the Super Bowl as a working journalist but spent the week collecting selfies and autographs from football greats and boasting to colleagues that he was there as a fan.

Mexican journalists who were in Houston for the game and interacted with Martin Mauricio Ortega, former director of the tabloid La Prensa, told The Associated Press that he brought multiple NFL memorabilia items, including a Kurt Warner jersey he hoped to sell to the former quarterback for thousands of dollars.

"When I met him he was carrying a football helmet and he was bragging about having the signatures of former Super Bowl MVPs, and he was a little disappointed that Marshall Faulk refused to sign it," said Ariel Velazquez, who covered the game for the Mexican daily El Universal. "He also said that he was not there to work: `There are people here to do that.'"

Brady's jersey went missing from the Patriots' locker room after the game, and set off an investigation that stretched from Boston to the border. Working with U.S. investigators, Mexican authorities obtained a search warrant and recovered the jersey March 12, along with another Brady jersey that disappeared after the 2015 Super Bowl. A helmet belonging to a Denver Broncos player was also discovered, according to NFL spokesman Brian McCarthy.




Broncos spokesman Patrick Smyth said the team was in touch with NFL security because the helmet may belong to Von Miller, MVP at the 2016 Super Bowl. Ortega may have tried to sell it: A memorabilia dealer told the AP Tuesday that Ortega once asked him how much the helmet would be worth.

A Mexican government official confirmed that the warrant targeted Ortega and the search was at his home. Speaking on condition of anonymity because of the sensitivity of the case, the official said an agreement was reached for an unspecified victim in the U.S. not to press charges in exchange for the jersey's return.

Ortega did not respond to multiple calls and text messages to his personal phone seeking comment.

Arturo Palafox, sports editor of the newspaper 24 Horas, said he talked to Ortega frequently in Houston both in the media center and while riding the shuttle to and from the hotel. He was surprised that someone with the rank of newspaper director would be covering the Super Bowl as a reporter.

"He told me that he was not there to work, that he was a fan," Palafox said. "And that he had asked for vacation from work to spend it at Super Bowl week, and he had attended more than 20 of them."

Velazquez and Palafox both said Ortega was carrying a bag containing a past Super Bowl jersey worn by Warner and an Emmitt Smith book. Warner was named MVP at the 2000 Super Bowl.

"He showed me Warner's jersey with his signature and told me a story about how Warner was surprised that he was in possession of the item," Palafox said. "He said he planned to gather interest from Warner to sell him the jersey for $8,000."

An official at OEM, the publishing company that owns La Prensa, said Ortega was not part of its Super Bowl coverage and the company had no idea he was even there. The person was not authorized to discuss the matter publicly and spoke on condition of anonymity.

La Prensa published at least six articles in his name from Houston during Super Bowl week, including one about Brady being named MVP. The official said Ortega ordered staffers back in Mexico City to write the articles and use his byline.

"What happened with La Prensa was just because Mauricio was the director ... he didn't have to consult anybody," the official said.

The person said the company did not have contact information for Ortega after he handed in his work phone when he resigned March 14, two days after the jerseys were recovered. The person added that Ortega had worked for La Prensa since 1993.

It wasn't immediately clear how many Super Bowls Ortega attended, but the NFL said they found that he was credentialed at least as far back as 2005. A credentialed member of the media has access to prominent athletes and latitude to enter behind-the-scenes places in a stadium. Ethics policies at news organizations, credential guidelines and professional standards of conduct usually prohibit actions such as seeking autographs while on the job. But it does happen.

The winning team's locker room after a Super Bowl is a loud, crowded place, filled with dozens of excited, celebrating players — sometimes passing around the Lombardi Trophy they just earned — along with coaches, various other team employees and members of the media.

Mostly, a player will stand or sit in front of his locker while being interviewed by what could be a dozen or more reporters at a time, a scene replicated in several spots around the room. Sometimes a player will step away for several minutes to go take a shower, leaving his belongings unguarded.

Ortega was also seen at Super Bowl auctions during the week of the big game. Mexican media have reported that Ortega's basement was full of NFL and other sports memorabilia.

Palafox said Ortega mentioned that in conversation: "He didn't tell me exactly what he had, he just said that back home he had a lot of stuff."

Brian Drent, president and CEO of Mile High Card Company, an auctioneer of fine sports memorabilia in Colorado, said Ortega told him last year that he had Miller's Super Bowl helmet.




He said Ortega had purchased a Joe Montana game-worn jersey for more than $20,000 and flew from Mexico to Denver to pick it up. As they talked, Drent said, Ortega told him at this time he wanted to auction off a Patrick Ewing game-worn jersey and Jerry Rice game-used cleats. Then he brought up the helmet.

"He asked me what I thought Von Miller's helmet from Super Bowl 50 would be worth. I said, `That's a great piece. But I'm not sure of its value,'" Drent said. "He said, `Well, I have it.'"

"I asked him, `How did you get it?' And he kind of shrugged off the question."

Drent said Ortega never offered to auction or sell the helmet and that the two never spoke again, although Ortega did try to get hold of him on Facebook.

Ortega also used his Super Bowl media access to take selfies with players, including at least one with Brady that he showed to Palafox.

"I told him that I was one of the first ones to talk to Brady after the game, and he said that he had it better and showed me a selfie with Brady," Palafox said. "I would say I was shocked to see it, but after everything that I saw that week that was just the icing on the cake."

Associated Press journalists E. Eduardo Castillo and Peter Orsi in Mexico City, Arnie Stapleton in Denver and Howard Fendrich in Washington, D.C., contributed to this report.


---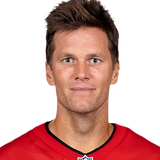 Get more from Tom Brady
Follow your favorites to get information about games, news and more
---