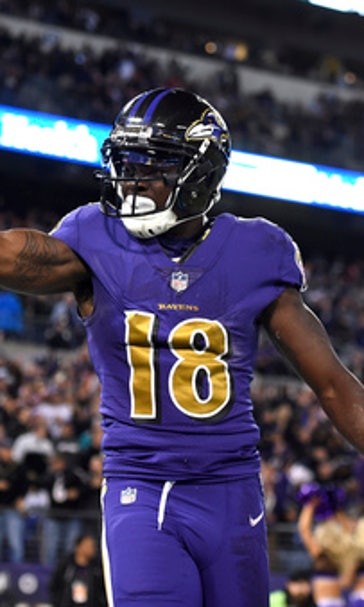 Maclin in catch-up mode with Ravens after difficult start
November 1, 2017

OWINGS MILLS, Md. (AP) Jeremy Maclin came to Baltimore looking to bounce back from an injury-marred, unproductive season in Kansas City.
His tenure with the Ravens has thus far been an unexpected flashback.
Maclin missed two games with a sore shoulder and has 19 catches for 212 yards through the first half of the season. Though he's scored three touchdowns, the 32-year-old receiver was obviously looking to do more as part of an offense run by strong-armed quarterback Joe Flacco.
''It's just how the chips have fallen so far,'' Maclin said Wednesday. ''We've got a lot of football left, so we'll see how the second half pans out. As long as we're winning football games, that's what it's all about.''
Well, the Ravens (4-4) have won half their games, anyway.
Two years ago, after a successful six-year run with Philadelphia, Maclin joined the Chiefs and led the team in catches (87), yards receiving (1,088), and touchdown catches (eight).
Last season, however, he caught only 44 passes for 536 yards and two scores in 12 games, a drop-off he attributed to being ''banged up.''
During the offseason, the Chiefs made the surprising move of cutting Maclin to shear salary-cap space. Two weeks later, in mid-June, he signed a two-year contract with Baltimore.
The plan was for Maclin to pair with Mike Wallace and Breshad Perriman to give Flacco a trio of speedy deep threats. That blueprint, however, has not yet been utilized.
Maclin's 19 catches have put him on course for a career low, yet it's more than any other wide receiver on the team. So are his touchdowns. Wallace has 16 catches and one score, and Perriman has hauled in only four passes for 26 yards.
With Flacco back at practice Wednesday after receiving a concussion in a 40-0 win over Miami last week, coach John Harbaugh hopes the league's 32nd-ranked pass offense can get it together Sunday in Tennessee. Before he left in the second quarter, he connected with Maclin on a beautiful 34-yard touchdown play.
''We're just trying to find ways get guys open,'' Harbaugh said. ''Jeremy Maclin is a big part of our game plan right now, and he's going to be a factor in this game, for sure. I'm sure they're thinking about him and are concerned with him.''
Maclin wouldn't care if he was used as a decoy, if the move brought about the desired result.
''As long as we're winning football games, fine, whatever that entails,'' he said. ''Whether it's us catching a lot of balls, if it's us running the ball.''
Though things haven't quite turned out the way he envisioned, Maclin expressed no regret over picking Baltimore over other suitors last spring.
''It's a first-class organization and the fans are wonderful,'' he said. ''Just having the privilege of playing here with an organization I've always had respect for is pretty cool.''
---
For more NFL coverage: http://www.pro32.ap.org and http://www.twitter.com/AP-NFL
---
---