Bruce Irvin
Bruce Irvin
Loss to Arizona leaves Seattle trying to find what's wrong
Published
Nov. 16, 2015 9:17 p.m. ET

RENTON, Wash. (AP) On yet another Monday this season, Pete Carroll was left trying to explain what went wrong for the Seattle Seahawks.
Why there were so many penalties coming off a bye week. Why Russell Wilson barely had time to drop back, let alone setup and throw. Why Seattle's vaunted defense gave up 363 yards passing and three touchdowns to Carson Palmer.
Mostly, Carroll was left trying to explain why Seattle was unable to play its way back into the NFC West race after a 39-32 loss to Arizona that left them three games behind in the division with seven games to go.
''I don't see all the mystery to it, it's just we're not quite right,'' Carroll said. ''So we're going to keep working really hard to keep focusing on all the stuff that we can improve, and make the adjustments that we need to make, and move on. This season is this week. It's this week.''
As it stands now, Seattle (4-5) trails the Cardinals, who have a difficult schedule in the final two months with games against Cincinnati, Green Bay and return engagements with Seattle and St. Louis still on the docket. So the division race isn't over yet.
But it would take an unexpected collapse by the Cardinals to let Seattle back into contention at this point, and the wild card isn't a certainty either. Seattle is two games behind Green Bay and Atlanta.
There is no solace for the Seahawks in knowing that four of their five losses have come against teams leading their divisions or currently in playoff position.
''It's real frustrating because we know we can play and we're just not there the way we need to be yet. So the battle of this season is to find it,'' Carroll said. ''We have plenty of good play in us, and we have to find the consistency that allows us to get the game done. When we have, we've gotten nice wins, and when we don't we have to suffer like that.''
The issue for Seattle is there is not one easy fix for what happened against the Cardinals. The Seahawks were awful offensively in the first half largely due to penalty problems that put them in difficult third-and-long situations and kept drives from being extended. Seattle faced eight third downs in the game and six were for 10 yards or more. Marshawn Lynch only had eight carries in the game and Seattle's game plan never got started because of the penalty issues.
Seattle finished with 14 penalties for the third time in Carroll's tenure.
''The penalties really dictated what was going on the way they got their first 19 points,'' Carroll said.
Even when Seattle was able to get its offense into rhythm and stay in manageable situations, the defense had its miscues as well. Richard Sherman let Michael Floyd slip behind him on Arizona's first touchdown; Kam Chancellor and Earl Thomas saw Jermaine Gresham split in the seam on the go-ahead score in the fourth quarter; and no one was able to corral Andre Ellington on his 48-yard touchdown run with 1:58 left that put Arizona up by 10.
All those mistakes overshadowed what Seattle did to get back into the game and left the Seahawks again trying to figure out what's gone wrong against quality opponents.
''I think there's something there in our consistency in these games against these really good teams,'' Carroll said. ''We have it, it's available to us, but we haven't captured yet. We're working at that,''
NOTES: Seattle claimed DT A.J. Francis off waivers and waived DT David King on Monday. Francis played in one game this season for the Dolphins. ... Carroll did not have updates on the status of WR Paul Richardson (hamstring) and LB Bruce Irvin (knee). Richardson pulled his hamstring in the first half while Irvin suffered a knee sprain in the fourth quarter. ... Seattle lost for the fourth time this season when winning the turnover battle. Seattle forced three turnovers of Arizona and gave up only one.
---
---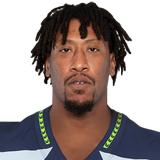 Get more from Bruce Irvin
Follow your favorites to get information about games, news and more
---