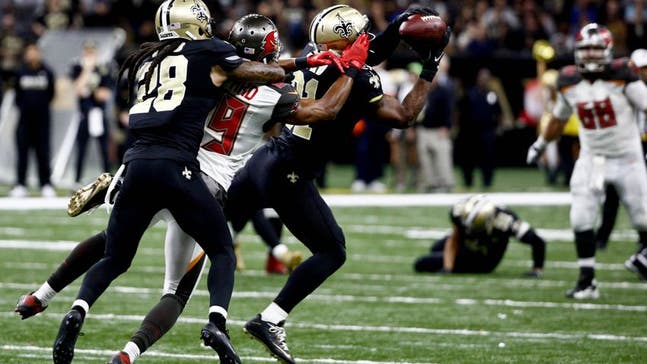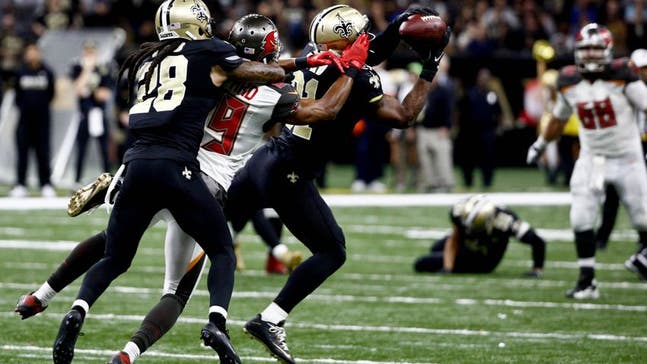 Like it or not, Jairus Byrd is one of Saints' best defenders
Updated
Mar. 4, 2020 8:45 p.m. ET

Fansided, Ty Anania/FanSided via Who Dat Dish
And no, it's not just because of his two-pick breakout game.
That's not necessarily a credit to the unit, as Jairus Byrd is still not a top-tier safety. But he's an asset to the defense. He will be on the team in 2017, and hopefully for the years following. He's good enough to start on a dominant defense, if this unit ever reaches that point.
Byrd didn't start off the season well. After a poor outing against Atlanta in Week 3, Sean Payton benched Byrd in favor of rookie Vonn Bell. The move, at the time, seemed justified.
But much like Ingram, Byrd came alive after his benching. Perhaps it lit a fire under him.
But much of it, I'm sure, has to do with Dennis Allen finally figuring out where Byrd is most effective. And it turns out, he's a great asset closer to the line of scrimmage.
Dannell Ellerbe hasn't played great these last few weeks. And Vaccaro, for all he does well, is still deficient in coverage. Byrd, in my opinion, is playing better than both of these guys (granted Vaccaro has been absent these last two weeks.) He's still no Cameron Jordan, or even a Delvin Breaux. But who else on the unit is more important to their game?
More from Who Dat Dish
For all of Byrd's deficiencies, most notably his lack of takeaways, one thing has always confused me about his general perception. Byrd is one of the team's better tacklers, possibly the best. Better than Vaccaro, I'd say. Yet fans typically think of him as a liability in that department. That's likely due to Rob Ryan featuring Byrd solely in that deep-safety role. He was the last line of defense. When Jairus Byrd missed a tackle, everyone in the stadium knew it.
Now, Allen regularly tasks him with covering RBs in the flat, or playing a more read-and-react role in the middle of the field, allowing him to get to the ball and make tackles before the play develops. It's been a great addition to this unit, and has mitigated some of the damage done by Vaccaro's suspension.
And then, of course, the turnovers.
It took a while, but last Sunday the Saints finally got a look at the playmaker they expected Byrd to be. Byrd picked off Jameis Winston twice on the day, in very different manners.
The first interception was something that, oddly, the Saints haven't seen much of. An errant and ill-advised deep throw that sailed gently into Byrd's hands.
The fact that the Saints haven't seen much of that is, contradictorily, a credit to Byrd's presence on the team. Opposing QBs tend to forgo that deep ball when Byrd is in the area. And because those plays are generally a good source of interceptions, Byrd's INT numbers have dropped significantly since his Buffalo days. He made a similar interception earlier in the year, against the Chargers when he'd been benched. But the play was called back for defensive holding, or some other penalty (I can't recall.)
The second interception was a rarer sight for the Black and Gold Jairus Byrd. He was playing the "robber" role, patrolling the intermediate middle of the field and looking to read the play make a break on the ball. He did just that, and came away with INT #2. It was a great play by Byrd, and one that, admittedly, has been absent from his time in New Orleans. But if he can start making those plays with some consistency, it adds a much-needed component to this defense.
Until Vonn Bell can show that he belongs in the game, Jairus Byrd will be this team's starting FS. And even if and when Bell develops into a playmaker, Byrd should still deserve to be on the field. When the Saints drafted Bell, most had him pegged as Byrd's eventual replacement. Now it's looking like Bell will serve as the third safety in the team's three-safety sets.
Safe to say, I'd be shocked if the Saints decided to cut Byrd to save the paltry $3.7 million cap space. He's an asset to this team, and one of their best defenders.
---
---