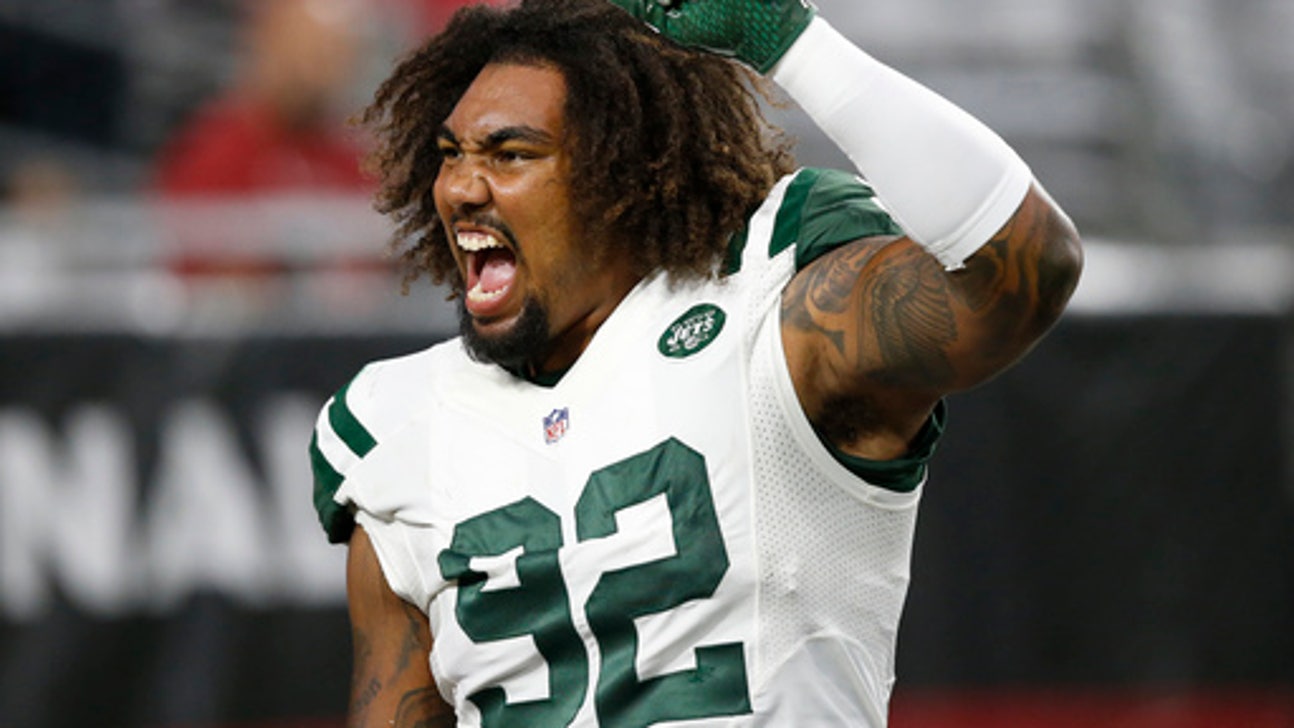 Leo the Leader: Jets' Williams taking leadership courses
Updated
Mar. 4, 2020 12:36 p.m. ET

FLORHAM PARK, N.J. (AP) Leonard Williams is serious about tackling a leadership role with the New York Jets.
So much so, the big defensive lineman has spent the offseason taking in-depth courses on the subject, trying to help fill what has become an ever-growing void on the Jets' veteran-purged roster.
''It has helped me go to work every day with a purpose,'' Williams said Tuesday before the team's first minicamp practice. ''Sometimes when you're in camp and you're doing the same thing every day, you kind of feel like you're going through the motions.
''It just helped me wake up every morning and set intention on my day.''
Williams spoke late last season, his second in the NFL, about wanting to be more vocal and lead by example. With linebacker David Harris and wide receiver Eric Decker released in the last week, the Jets' list of vets has dwindled significantly.
''It was a little hard just because both of those guys are great leaders on and off the field,'' Williams said. ''They've been here since I was a rookie. Especially having Dave, he was the quarterback of our defense and he's not around anymore. I'm so grateful he was here. He taught me a lot.''
With so many new, young faces on a team in dire need of players to look up to, Williams fits the bill. The Jets' 2015 first-round draft pick out of USC made his first Pro Bowl in February after he led the team with seven sacks, a number he intends to build on.
He also registered for workshops at the San Diego-based Ascension Leadership Academy, which helps attendees further develop the skills to motivate and inspire others with a series of five weekend courses spread over a few months.
''I just learned that it's all a mindset,'' Williams said. ''I kind of already knew that, but they harped on that a lot, and anything you really think is possible you can make possible.''
He has one more session remaining at the end of this month, a few weeks before the Jets open training camp.
''It's not just athletes, it's just everyday people, business people,'' Williams said. ''You really learn a lot from each other and learn about your paths and what holds you back in life, and stuff like that. It's really cool.''
Williams recently was involved in an incident with teammate Darron Lee in which he was praised by many fans for his actions.
The two were attending the Governors Ball Music Festival on Randall's Island on June 3 when Williams was seen on a video, posted on Twitter by an eyewitness, stepping in front of a man who appears to be Lee, then briefly lifting and forcibly removing him from a possible altercation.
While details surrounding the incident are unclear and police were not involved, the NFL is looking into it. Neither Lee nor Williams has commented.
''I mean, I understand there's going to be a lot of questions about that, but it's not my situation to talk about,'' Williams said. ''I'm just trying to stick to football right now. We only have a few more days left.''
Since last season, the Jets' roster has been revamped significantly, with Harris and Decker joining the likes of Darrelle Revis, Brandon Marshall, Nick Mangold, Nick Folk, Breno Giacomini and Marcus Gilchrist as veterans who have been shown the door.
For Williams, losing Harris was a tough blow, he said, because of how much the linebacker inspired him.
''He just taught me how to show up, ready to work every day,'' Williams said. ''He was the first one in and last one out, always. He played every play as hard as possible. I loved seeing that in him because he was an older guy, already established, and he still showed up every day as if he was a rookie.''
And, now Williams is trying to slip into that same mentor role in which Harris was so solid.
''He passed down a lot of stuff to me,'' Williams said, ''and I'm going to try to pass it down to the younger guys as well.''
NOTES: Coach Todd Bowles on why the Jets are even considering starting Josh McCown, who turns 38 on July 4: ''Even when you go to kindergarten, somebody's got to be the teacher.'' ... Outside linebackers coach Kevin Greene likes what he's seen from rookie Dylan Donahue , a fifth-rounder from West Georgia. ''He's a hunter,'' Greene said. ''He has a hunter's heart. That's what you need as a player, playing this position as a pass rusher and everything. You've got to continue to hunt the quarterback. He has that. And, he's wild and he's on the edge, and I like that, too.'' ... Bowles said WRs Quincy Enunwa (shoulder/neck) and rookie ArDarius Stewart (groin) are likely to miss minicamp. OT Ben Ijalana had arthroscopic surgery on a knee, but is expected to be ready for training camp next month.
---
For more NFL coverage: http://www.pro32.ap.org and http://www.twitter.com/AP-NFL
---
---