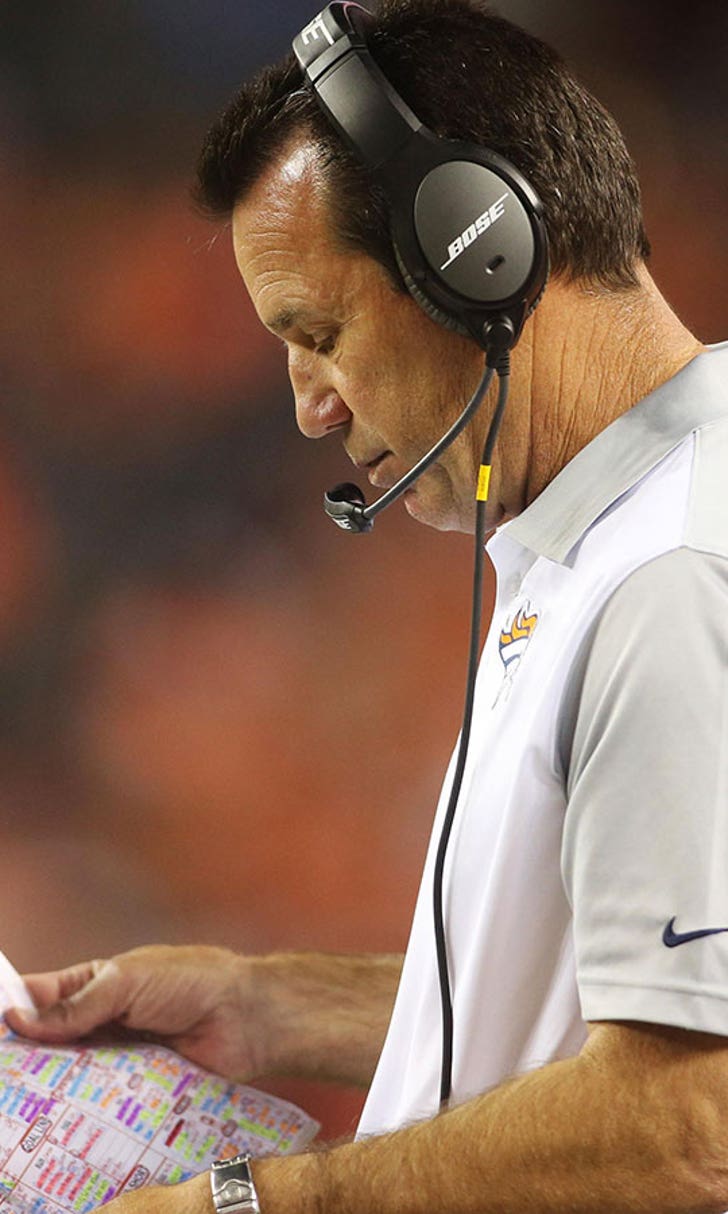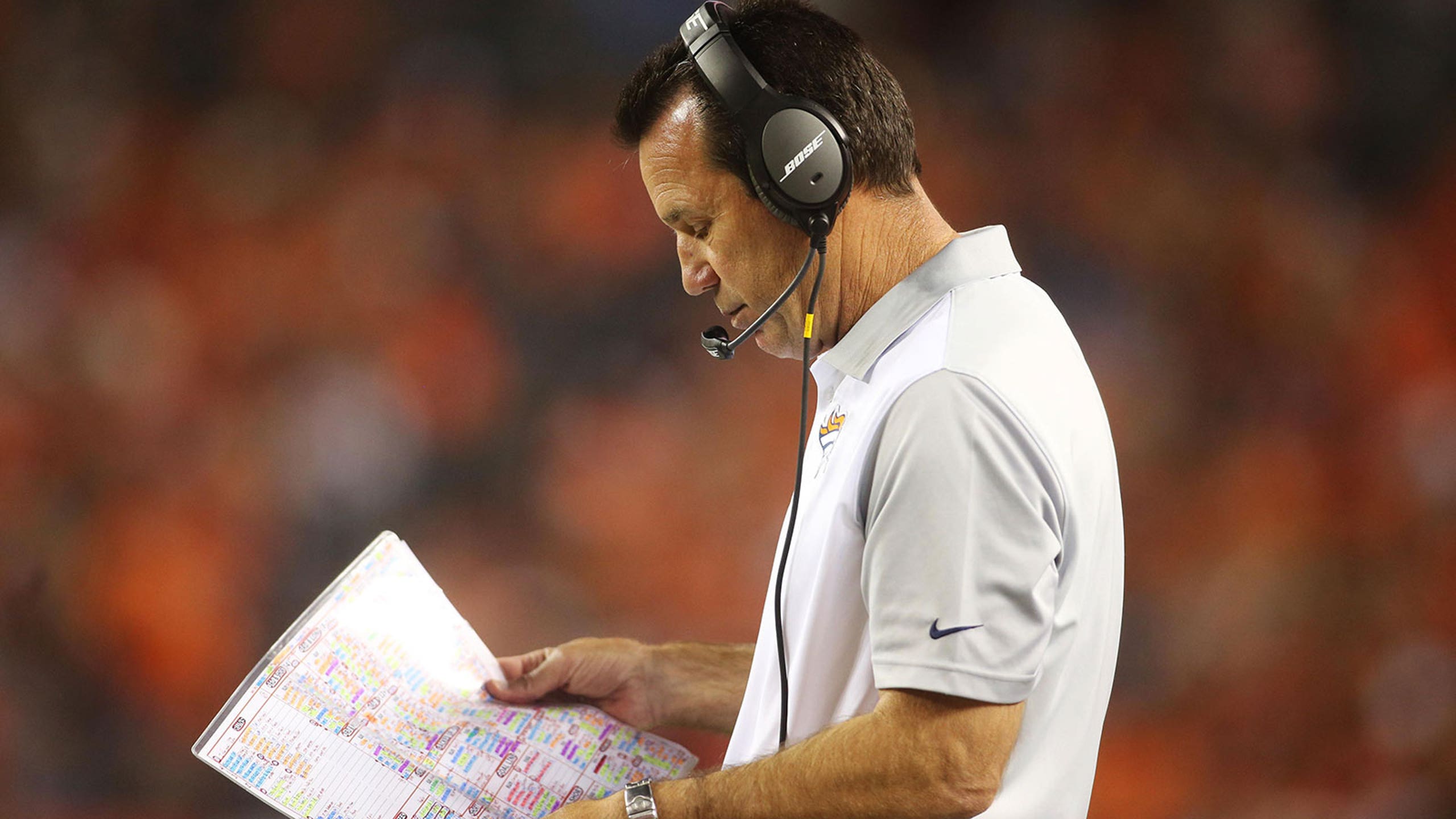 Kubiak won't scale back game plan for Osweiler vs Bears
BY foxsports • November 19, 2015
ENGLEWOOD, Colo. (AP) Scale back the playbook for a quarterback making his first NFL start? Not when that man is Brock Osweiler, Peyton Manning's fourth-year understudy who has a stronger arm and better mobility than the ailing 39-year-old icon.
Denver coach Gary Kubiak said he won't have a mini-menu of play calls Sunday when the Broncos (7-2) visit the Chicago Bears (4-5).
''No, I feel very comfortable with Brock,'' Kubiak said. ''I could go give him all of the work, mentally, that he needs. He handles everything well, but I think there is a point where you go back, you study him and you see what he's done and what he feels most comfortable with.
''As far as volume of game plan and stuff, I'm very comfortable doing anything with him.''
While nobody can decipher defensive intentions at the line of scrimmage like Manning can, Osweiler, who turns 25 Sunday, displayed the athleticism and mobility to run Kubiak's bootlegs last week.
He escaped tacklers in the pocket like Manning hasn't done in a decade. He hit receivers on the run with more zip on his throws than Manning's been able to muster this season. And he commanded the huddle like a seasoned vet after Manning was benched following his fourth interception in Denver's 29-13 loss to the Chiefs.
''He came in with a bunch of swagger leading the huddle,'' said receiver Cody Latimer.
To go with a huge smile, noted tight end Virgil Green.
''There weren't too many other guys with that kind of smile,'' Green said. ''I think he tries to model exactly how Peyton takes the huddle and when he got in the huddle last week he came in there and said, `Let's keep fighting. Let's keep working. Let's keep grinding.' That's all you can ask for.''
The prevailing notion is that Osweiler's athleticism and mobility will allow the Broncos to run a more traditional Kubiak-style offense while Manning sits out and tries to get healthy.
Manning is dealing with foot, rib and shoulder ailments and his franchise-record 57-game starting streak will come to an end Sunday. Manning has never missed an NFL game outside of the 2011 season he skipped after a series of neck surgeries threatened his career.
Kubiak is considering leaving Manning behind in Denver to continue getting treatment.
The Bears are certainly expecting to see some wrinkles in the Broncos' offense.
''We're sure they're going to do some different things,'' Chicago coach John Fox said.
The Bears will also see Manning's imprints on the Broncos' offense when Osweiler makes his first start since the 2011 MAACO Bowl for Arizona State against Boise State.
''The things that I've learned behind him, I don't know where a quarterback gets elsewhere,'' Osweiler said. ''I really have not wasted a single day when I've been here in this building, in the room with Peyton. He has so much knowledge of defenses, how to be a professional and offensive football that if I wasn't locked in every single day sitting behind him, I'd be crazy.''
Fox and several members of his staff know Osweiler about as well as any opponent after working with him from 2012-14. Bears offensive coordinator Adam Gase can certainly provide plenty of insight into Osweiler's strengths and weaknesses.
''I'm sure that he knows a few things. How many secrets and things like that - shoot, I don't even know what I have,'' Osweiler said with a laugh. ''I hope he doesn't look too hard into that and try to do a crystal ball thing over there. At the end of the day, it's just a football game.''
NOTES: With their outdoor fields still soaked from this week's blizzard, the Broncos practiced indoors for the second day in a row Thursday, which again necessitated WR Emmanuel Sanders (sprained left ankle) sitting out. He's expected to return to practice Friday. ... OLB Von Miller on facing Fox: ''I was his first pick, so he loved me before I loved him.''
---
AP NFL website: www.pro32.ap.org and www.twitter.com/AP-NFL
---
Follow AP Pro Football Writer Arnie Melendrez Stapleton on Twitter: http://twitter.com/arniestapleton
---
---