Ken Whisenhunt, Tennessee Titans were never a good fit from the start
BY Mike Garafolo • November 3, 2015
In June 2014, before he'd even coached his first game with the Minnesota Vikings, Mike Zimmer told me he nearly pulled out of the team's coaching search because he'd been passed over yet again by another team.
Zimmer declined to name the specific team, but it wasn't hard to figure out it was the Tennessee Titans -- who just fired the guy they hired instead of Zimmer.
Ken Whisenhunt is out as the Titans' coach after only 23 games -- just three of which he won -- which highlights what a fascinating and disappointing move his hiring was. It gave the Vikings the chance to hire Zimmer, who's in the process of proving the Titans and all the other teams that passed on him over the years made a huge mistake.
It also left the Detroit Lions looking elsewhere for a coach after Whisenhunt passed on their offer to take Tennessee's. The Lions ended up with Jim Caldwell, who might be the next coach of the class of 2014 to be fired.
Right now, Whisenhunt probably wishes he'd taken the Detroit job and the Lions might reciprocate such feelings.
One other interesting aspect of Whisenhunt's firing is the Titans' blocking of Mike Mularkey from interviewing for offensive coordinator jobs this past offseason. A source said he had a legitimate shot at the Chicago Bears' gig that eventually went to Adam Gase, who was a head-coaching candidate at the time. The Titans never indicated to Mularkey that Whisenhunt was on the hot seat, but the timeline of events is certainly interesting at this point.
Mularkey will take over the team as interim head coach, the Titans announced, which figures to be another frustrating moment for Tennessee defensive coordinator Ray Horton, who along with assistant head coach Dick LeBeau has the Titans ranked fifth overall in total defense right now.
"To be honest, there's self-doubt: 'Am I good enough?' " Horton told me at that June 2014 NFL job symposium where Zimmer shared the story of his own self-doubt. "You think your numbers support that you're good enough, along with your players and how they speak about you. It's like, 'What am I doing? Woe is me.' "
Zimmer experienced those feelings. So did Bruce Arians, who was passed over for years before finally getting his chance with the Arizona Cardinals. Maybe Horton is the next good head coach-in-waiting sitting in front of every team, yet unable to get the opportunity to show it. He's been a minority candidate the Fritz Pollard Alliance has endorsed in recent years, though that's only helped him land interviews, not ace them.
Horton is close to Whisenhunt, so the Titans might have wanted to go in another direction here. Early word is they were looking for an offensive coach to man the team during the rest of Marcus Mariota's rookie season.
Speaking of which, Mariota's presence has already ignited speculation Chip Kelly will leave the Philadelphia Eagles and join the Titans. Hey, if he can't trade for the quarterback, maybe he can trade himself, right?
Sure.
The bottom line is the Titans and Whisenhunt both made the wrong decisions for one another back in January 2014, and it greatly affected three franchises. For that, the Vikings should be incredibly grateful because it looks like they got the best coach of the bunch. Yeah, the one that was sitting there right in front of every NFL team with a vacancy over the past decade-plus. Like Arians, Zimmer's brash style rubbed some owners the wrong way. Oh well, the Vikings won't apologize for being the team that finally gave him a chance.
Though the Titans, in so many words, have some apologies to make to their fans.
---
---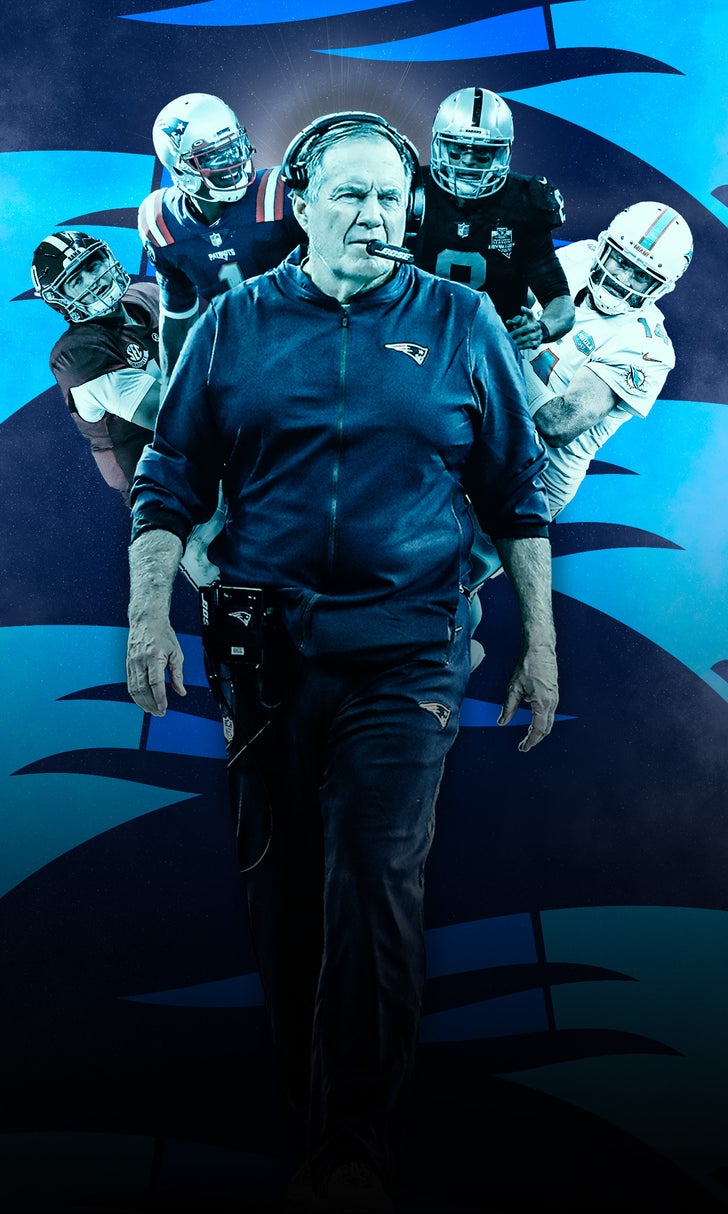 They Need A Hero
They Need A Hero
Bill Belichick still needs a Tom Brady replacement if he's going to guide New England back to contention. Who could it be?