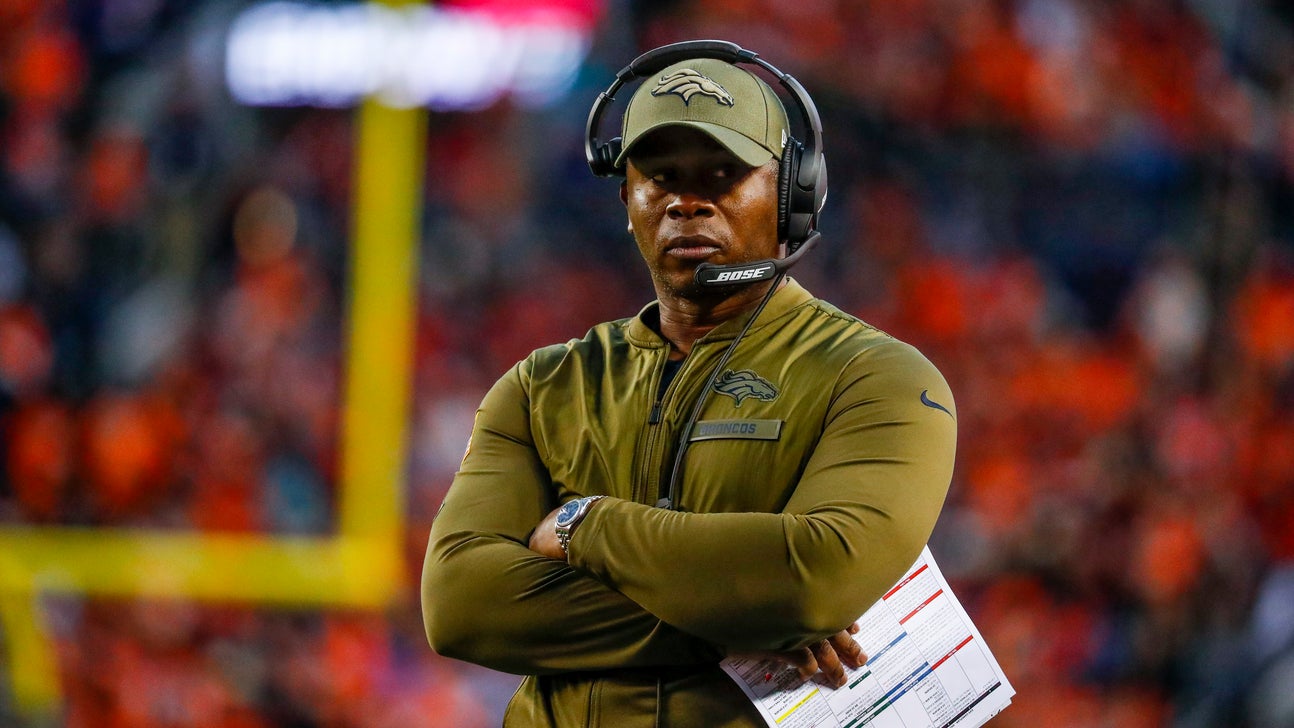 Joseph's job safe for now as Broncos stumble again
Updated
Mar. 4, 2020 9:11 p.m. ET
DENVER (AP) — Vance Joseph keeps losing games but not his locker room.
That's why Denver Broncos general manager John Elway didn't fire his coach at the bye like so many fans were suggesting.
Despite Joseph's 8-17 mark in Denver and a 3-6 start for the second straight season, Elway is encouraged by the growth he sees in the coach he contemplated firing last year and in the fight he sees in his scrappy team this year.
"At this point in time, we're going to stay the course. I think there's enough good things that are going on ... and the way that we're playing," Elway told Broncos broadcasting partner 760-AM in Denver. "I'm much more encouraged this year than I was last year."
In 2017, the Broncos lost eight games by double digits on their way to a 5-11 mark.
Although they're flirting with back-to-back losing seasons for the first time in 46 years, the Broncos have gone toe to toe with some of the league's heavyweights.
They've lost by a combined dozen points to the Chiefs (8-1) twice, the Rams (8-1) and the Texans (6-3).
Elway hit the motherlode in 2018 by drafting Bradley Chubb, Courtland Sutton, Royce Freeman and Josey Jewell and signing undrafted free agent Phillip Lindsay.
These baffling Broncos, though, lack depth at key positions because of his deficient drafts in recent years that include first-rounders Bradley Roby, Shane Ray, Paxton Lynch and Garett Bolles.
With the immediate impact of so many rookies and the strong, steady play of veterans Von Miller , Chris Harris Jr. , and Emmanuel Sanders , the Broncos have enough star power to compete with the league's top teams.
They also have a razor-thin margin for error as they're repeatedly encumbered by bad play-calling, penalties and poor performances, especially by Bolles at left tackle and Roby at cornerback.
Bolles' NFL-high 17 holding calls in his 1½ seasons has earned him the nickname "Garett Holds" on Denver's airwaves.
After excelling as a nickel back for years, Roby's promotion to starter in a contract year following Aqib Talib's trade to the Rams has been a perplexing failure.
Yet, Joseph has had to let both Bolles and Roby fix their flaws in the glare of games because of a lack of depth at their positions. Last month, Joseph told The Associated Press he didn't fear losing his players over sticking with Bolles and Roby: "They understand we're playing the best players."
Despite their holes, the Broncos could be 6-3 and surrounded by an entirely different narrative were it not for three slip-ups, all at home:
—They lost 27-23 to the Chiefs when offensive coordinator Bill Musgrave inexplicably went to three-wide sets on a crucial fourth-quarter three-and-out, giving the ball back right away to Patrick Mahomes for what turned into the game-winning drive. With Denver's defense exhausted — Harris was taken off for IVs — what was needed instead was for the Broncos to run both the football and time off the clock.
—They lost 23-20 to the Rams when Sanders' taunting foul resulted in a field goal instead of a touchdown, a four-point swing that proved to be the difference.
—They lost 19-17 to the Texans when Brandon McManus missed a 51-yard field goal as time expired after Joseph decided he was close enough after reaching the Houston 32 with 38 seconds left. The Broncos ran down the clock to 13 seconds before snapping it again and Lindsay lost a yard.
McManus, who missed a 62-yarder in the closing seconds of the first half, allowing the Texans to go down and kick a field goal for a six-point swing, had never missed consecutive kicks as a pro but was again wide right.
Joseph accepted the blame for the 62-yarder, saying he got greedy because of Denver's offensive struggles.
"Put that on me," Joseph said. "I was chasing points. That's wrong."
Joseph, however, staunchly defended his decision-making on the second one when he decided not to risk Case Keenum getting sacked again after the Broncos got inside the Houston 35-yard line.
However, McManus is much more accurate from inside of 50 yards than outside. He's successful 77 percent of the time between 40 and 49 yards, but just 52 percent of the time on field goals of 50 yards and longer.
So, Joseph basically settled for a coin flip and paid the price with his 17th loss in 25 games as Broncos coach, leading furious fans to call for his ouster as they filed out of Mile High Stadium on Sunday night.
Not so fast, said Elway.
"You'd love to have the magic wand and throw the fairy dust on this thing and have some good things happen and get us over the hump," Elway said on 760-AM. "We've been in six one-score games, so I'm much more encouraged this year than I was last year because I think that guys are still playing hard and we're in games."
Although the Broncos have the 49ers, Browns and Raiders left to play, they also face the Chargers (6-2) twice, the Steelers (5-2-1) and the Bengals (5-3).
Joseph said the Broncos need to start and finish better and somehow "find six more points a game."
"We do that," Joseph said, "we can win a lot of games."
And maybe save his job again come January.
---
---