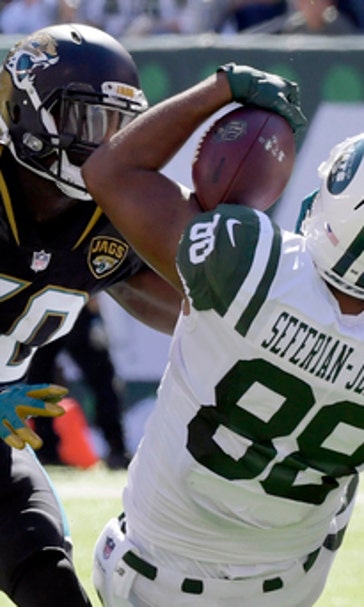 Jets tight end goes from cautionary tale to comeback kid
October 19, 2017

FLORHAM PARK, N.J. (AP) Austin Seferian-Jenkins limped out of Gillette Stadium last Christmas Eve and worried about his uncertain future.
The New York Jets tight end was dealing with demons in his personal life, and his body was betraying him. Just three years into his NFL career, Seferian-Jenkins' life was spinning out of control.
''I'm lucky to be here,'' he said after practice earlier this week. ''The last time I played the Patriots, I pulled my hamstring and I thought that was the last time I was ever going to play football. I'm thankful for the opportunity that I was able to play them and I'm thankful for everything that's happened.''
Just 10 months after that game in New England, Seferian-Jenkins is in the middle of a massive comeback story.
On the field - and, more importantly, off it.
He's second on the team with 23 catches, already a career high despite him being suspended the first two games of the season for violating the NFL's substance abuse policy last year.
''He worked on himself all offseason, and that's tough to do, especially when you have things go bad for you,'' coach Todd Bowles said. ''But I'm happy for him. He's the kind of guy you root for.''
That hasn't always been the case for the 25-year-old Seferian-Jenkins, who a year ago was dealing with having been arrested for a DUI - resulting in the two-game suspension - and subsequently getting cut by Tampa Bay after being a second-round pick out of the University of Washington in the 2014 draft.
The Jets took a chance on him, claiming him off waivers and giving him an opportunity to clean up his life and rejuvenate what was once a promising career.
He made little impact on the offense last season, though, finishing with just 10 catches for 110 yards while dealing with a few injuries. But the hamstring issue that ended his season in Week 16 became a defining moment for him.
''I just felt like I was done playing,'' Seferian-Jenkins recalled. ''Life was like a really hard thing for me to grasp and deal with, personally. I know a lot of people can relate to that, how their life sometimes is hard. You have difficult patches in life and sometimes you don't feel like you can get through those. I just felt like that at that point in my life, I was like, I wanted to get my life together more than anything.
''If that meant not playing football anymore, that meant not playing football anymore.''
Instead, football became part of the rehabilitation process for Seferian-Jenkins.
He followed a strict plan to beat his alcohol addiction, and that included making himself healthier, both physically and mentally. The big tight end went out to the Las Vegas area during the offseason and worked out several times a week, reshaping his body and dropping 30-plus pounds from his 6-foot-5 frame.
By the time he showed up for offseason workouts with his teammates this spring, he looked like a different guy. At 262 pounds, he was lighter, faster and stronger.
''As a person, I'm happy,'' he said. ''I've done all those things and football's never really been a hard thing for me. It's like the off-the-field stuff like life that's kind of been the tough thing for me. Once I got that handled, I got the life part of it figured out, the football stuff's easy.''
Seferian-Jenkins opened up during the spring about his battles with alcohol addiction and the struggles he had in the past. He focuses now only on the present.
During the spring, Seferian-Jenkins declared that he would have the best season of his NFL career. It took just four games for him to achieve that goal.
''I know that I wasn't fulfilling what I was capable of in the past, but right now, I'm here and I don't want to say I'm content,'' he said. ''I've done some good things. I've definitely missed some opportunities since I've been back. There's a bunch of room to improve and so many things I can improve on, which is really cool.''
Those things include run blocking, pass blocking, running routes and route discipline - tools of the trade.
He has 152 yards receiving and two touchdowns this season while becoming an integral part of John Morton's offense. Seferian-Jenkins' 23 catches are just three fewer than Jets tight ends had in the past two seasons combined. In the past four weeks, he leads all NFL tight ends in receptions during that span.
''It's a complete 180 from where he was,'' said quarterback Josh McCown, who played with him in Tampa Bay in 2014. ''The biggest thing is just his attitude, his overall approach when it comes to work and his consistency.''
Seferian-Jenkins nearly had his third TD catch of the season - and second of the game - in the Jets' 24-17 loss to the Patriots last Sunday. But his 4-yard score was overturned and called a fumble and a touchback as officials ruled that he briefly lost control of the ball and didn't regain control until he was out of bounds in the end zone.
He thought he scored, but never criticized the officials, saying he needed to work on controlling the ball better.
By Wednesday, Seferian-Jenkins was done answering questions about the play, preferring instead to focus on the Jets' matchup with the Dolphins in Miami on Sunday.
And being better tomorrow than he was today.
''I just want to be the best tight end I can be and be the most complete tight end,'' Seferian-Jenkins said, ''and be the best tight end the Jets have ever had.''
---
For more NFL coverage: http://www.pro32.ap.org and http://www.twitter.com/AP-NFL
---
---