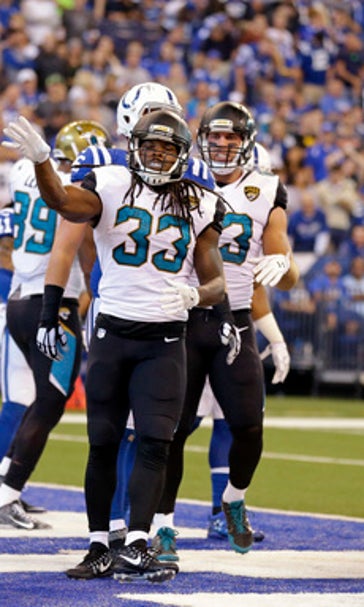 Jags may have found winning combination in 27-0 win at Indy
October 22, 2017

INDIANAPOLIS (AP) The Jacksonville Jaguars figured out how to win without Leonard Fournette on Sunday.
If they keep it up, who knows how far this defense could take them?
For the second time this season, the Jags recorded 10 sacks in a game and for the first time in 11 years they pitched a shutout.
''Our secondary does such a great job and gives us so many opportunities. They continue to make us look good,'' defensive end Calais Campbell said after a 27-0 win at Indianapolis. ''Our defensive backs make our job very easy and I appreciate them very much. I will take them out to eat, I'll do whatever because they make us look really good.''
So far, the Jags have been feasting on opponents.
They lead the league with 33 sacks and joined the 1984 Chicago Bears and 1967 Oakland Raiders as the only teams in league history to record 10 or more sacks in twice in one season. And there are still nine games to play.
Cornerbacks Jalen Ramsey and A.J. Bouye have not given up a touchdown this season, and they relegated last year's league champ for yards receiving to a bit role. T.Y. Hilton caught two passes for 27 yards.
The result: Jacksonville (4-3) heads into its bye week tied with Tennessee atop the AFC South while the Colts (2-5) are reeling from one of the ugliest losses in coach Chuck Pagano's helm.
''Going into the bye week 4-3 instead of 3-4, and at the top of your division, is a lot better feeling than going in there trying to scrape and claw to get back into the division lead,'' safety Barry Church said.
And they did it without Fournette, the league's second-leading rusher. He was inactive with a sprained right ankle.
They didn't need him Sunday.
Blake Bortles led the Jags to touchdowns on their first two drives and field goals on their next two to take a 20-0 halftime lead. T.J. Yeldon scored on a 58-yard run late in the third quarter and the Jags' defense snuffed out Indy's only real scoring chance on fourth-and-2 from Jacksonville's 6-yard line.
''You never want to lose, but losing like that - at home - that's not how you want to feel,'' Colts safety Darius Butler said.
Here are some other observations from Sunday:
IN NEED OF HELP: Indy has been juggling its offensive line all season. Three opening-day starters already have been lost for the season and when center Ryan Kelly, the Colts' first-round draft pick in 2016, left early in the second quarter with a hamstring injury the pass protection deteriorated fast.
Jacoby Brissett was sacked three times in the first 35 minutes but was sacked seven times in the last 25.
''That's not fun to be a part of that,'' Kelly said. ''It's a pretty sour taste in your mouth, and it's something you learn from. It sucks.''
RUNNING HARD: Even without Fournette, the Jags had 188 yards rushing and averaged 5.1 yards per carry.
Yeldon led the Jags with nine attempts for 122 yards and Chris Ivory, who replaced Fournette in the starting lineup had 17 carries for 47 yards and a touchdown.
''You want to be able to start fast and score on the first drive, but then you want to be able to have some consistency and continue to put up points,'' Bortles said. ''Any time we're able to give our defense the lead, they're fun to watch.''
BOUNCING BACK: Lopsided losses are nothing new for these Colts. And under Pagano, they've generally bounced back pretty fast.
But the ugly nature of this loss and a host of could pose some real challenges over the next few weeks.
Indy is now two games out of the division lead and is 0-2 against the AFC South.
Andrew Luck was temporarily shut down from throwing last week, Kelly's health status is now uncertain and first-round draft pick Malik Hooker was scheduled to have an MRI on his right knee after getting hurt late in the first half and essentially waving off a trip to the locker room on the golf cart. Hooker did not return.
AIR BORTLES: With defenses stacking the line of scrimmage to defend the run, Jaguars coach Doug Marrone decided to back off the Colts by throwing deep.
It worked.
Bortles had first-half completions of 52, 50 and 45 yards, all longer than his previous season best of 35 yards, and finished with a season high 330 yards.
''Those are the types of plays that, I think, on the first four possessions it was probably a big play on every one of those possessions,'' Marrone said.
---
More AP NFL: http://pro32.ap.org and https://twitter.com/AP-NFL .
---
---