Cam Newton
Cam Newton
'I am who I am': Cam Newton doesn't plan to stop dancing
Published
Nov. 18, 2015 6:55 p.m. ET

Cam Newton has no plans to stop dancing -- even though some critics may think his touchdown celebrations are a bit excessive.
The Panthers' fifth-year quarterback said he's having the time of his life during Carolina's 9-0 season and plans to keep enjoying every minute.
To Newton, that means showing his excitement after things go well.
Newton did "the dab" after a 2-yard touchdown run in the fourth quarter of Carolina's 27-10 win over Tennessee on Sunday, causing some Titans players to begin pushing and shoving in the end zone.
The Charlotte Observer ran a letter to the editor this week from a Titans fan who said she thought Newton's celebration was excessive and uncalled for.
That opinion reflected some of the Titans players who said after the game they thought Newton's dance was over the top.
"Everybody is entitled to their own opinion and I can't fault her for that," Newton said. "It is what it is. If she feels offended I apologize to her, but at the end of the day I am who I am."
High school football players in the Charlotte area have started impersonating Newton's celebrations, just as they did when he first started his Superman celebration by pretending to rip open his shirt.
"That takes me to a happy place," Newton said with a wide smile. "I remember when I was in high school and I used to look up to guys that do things and I would try to mimic it. ... Now they're doing the things I'm doing. When I see them doing the celebration that I do, it just makes me happy."
Newton said he stopped caring about what others thought of him when he was drafted by the Panthers with the No. 1 pick in the 2011 draft.
He's come to grips with the notion that no matter what he does he's not going to please everyone.
"As long as you have peace with yourself," Newton said. "It's a maturation thing."
Panthers coach Ron Rivera has repeated several times that he's fine with Newton's celebrations, although he did say the quarterback's 10-second dance against the Titans might have been a little too long.
"This league now is about entertainment," Rivera said. "It really is. (Fans) want to see guys make great plays whether they are sacks, tackles, catches, runs or throws. But they are also looking for the players to have fun and enjoy it. As long as we can do it in a tasteful manner without getting carried away and taunting, I think we will be OK."
Rivera isn't alone.
Washington Redskins coach Jay Gruden, whose team faces the Panthers on Sunday, said on a conference call he's not irritated by Newton's high-energy celebrations.
"Anytime an opponent scores on you it bothers you, but I'm a firm believer that anytime you score a touchdown in the National Football League you should show some excitement. I don't have a problem with it whatsoever," Gruden said.
Rivera said it's amazing to him that people seem more fixated with Newton's celebration dances than the fact the Panthers are 9-0 for the first time in franchise history.
But that's OK with the fifth-year coach.
"I'm OK with that if it helps us stay sort of, kind of below the radar," Rivera said.
Panthers defensive end Jared Allen finds the entire topic a little laughable, saying NFL players have been dancing for decades after touchdowns.
"This isn't Footloose," Allen said. "You are allowed to dance."
As for Newton's celebration plans against the Redskins, the quarterback offered a little teaser, saying "You will have to find that out Sunday."
---
---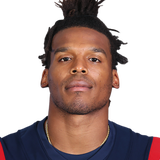 Get more from Cam Newton
Follow your favorites to get information about games, news and more
---