Gathers trades high tops for cleats, takes shot with Cowboys
May 7, 2016

IRVING, Texas — One of the first times Rico Gathers put on pads after the former Baylor basketball player decided to pursue a career in the NFL, he was asked to dunk in them.
The forward-turned-tight end won't get that request from the Dallas Cowboys. They want to see him get in a stance, block somebody, run precise routes and catch passes.
You know, things Gathers hadn't really done in nearly a decade before choosing football over a shot at the NBA, and taking the practice field for the first time Friday at the Cowboys' rookie minicamp.
"Right now it's just all foreign," tight ends coach Mike Pope said. "There's too many guys out there. Usually there's 10 where he's been. There's 22 out here. So those extra guys confuse him a little bit."
Dallas used its final pick of the draft in the sixth round on Gathers, who must have been generously listed at 6-foot-8 during his Baylor days because he's at 6-6 and 273 pounds on the Dallas roster.
Gathers said he chose to pursue the NFL mostly on his own, calling it "the first grown-man decision I've ever made in my life." And that came about nine years after he made the "business decision" to focus on basketball when he was 13, in eighth grade.
The NFL choice was something of a business decision as well. He and his wife figured it was more prudent financially, with a young son, than chasing an NBA dream. And it wasn't because Gathers didn't think he could make it in the NBA.
"It was just a thing of what do I really want to do for the next 10 to 15 years of my life, being an athlete," the 22-year-old said. "Because I know that window is so short. You only get one real opportunity at it."
Gathers' NFL pursuits started a little earlier than he had hoped when Baylor was upset by Yale in the first round of the NCAA Tournament. Because he missed the on-campus workout available to all NFL teams, he met with teams individually.
Hopeful of getting drafted, Gathers said he was "worn out" through the process of waiting before the Cowboys called last Saturday. Now he's wearing No. 80 — not really a basketball number, unless you consider Hall of Famer Dennis Rodman and the football-like numbers he wore late in his career.
And Gathers can relate, since he was one of the Big 12's best rebounders and finished fourth on the school's all-time rebounding list.
Now it's about how those skills can relate. And if Gathers beats the odds and makes the team, he can see himself "boxing out" linebackers for touchdown passes in goal-line situations.
"The red zone is where I'm going to make my money right now," he said. "Everything else is going to take time, dedication, work, a lot of time away from the facilities, whether it's dialing in to the playbook or basically calling coach and asking questions."
Tight end has been the natural spot for college basketball players pursuing pro football.
Antonio Gates, a three-time All-Pro for San Diego, has 10,644 yards receiving and 104 touchdowns after playing only basketball at Kent State and joining the Chargers as an undrafted free agent in 2003.
Jimmy Graham had 46 touchdowns in four seasons with New Orleans after playing four years of basketball followed by one season of football with the Miami Hurricanes. Now with Seattle, Graham was a third-round pick in 2010.
"He was still really raw when you go back and look at his college tape," Pope said of Graham. "You wouldn't say that you can bet this guy is an automatic winning hand. He got better as he got to New Orleans and he got to do these things over and over and over again."
And Gathers is just starting that process.
"He knew how to get into a stance, he knows how to release, some of those things we were doing today, he didn't seem like a fish out of water by any means," coach Jason Garrett said. "But there's so many different technical things that he has to learn that he simply hasn't done, and we understand that he's a project."
A project with a built-in advantage: sharing a locker room with Jason Witten. The 13-year veteran and Tony Gonzalez — another with a basketball background — are the only tight ends in NFL history with at least 1,000 catches and 10,000 yards.
And Witten is always one to share his knowledge.
"Witten's the 13th disciple," Pope said. "He helps everybody."
Maybe Gathers can reciprocate with some of his basketball wisdom.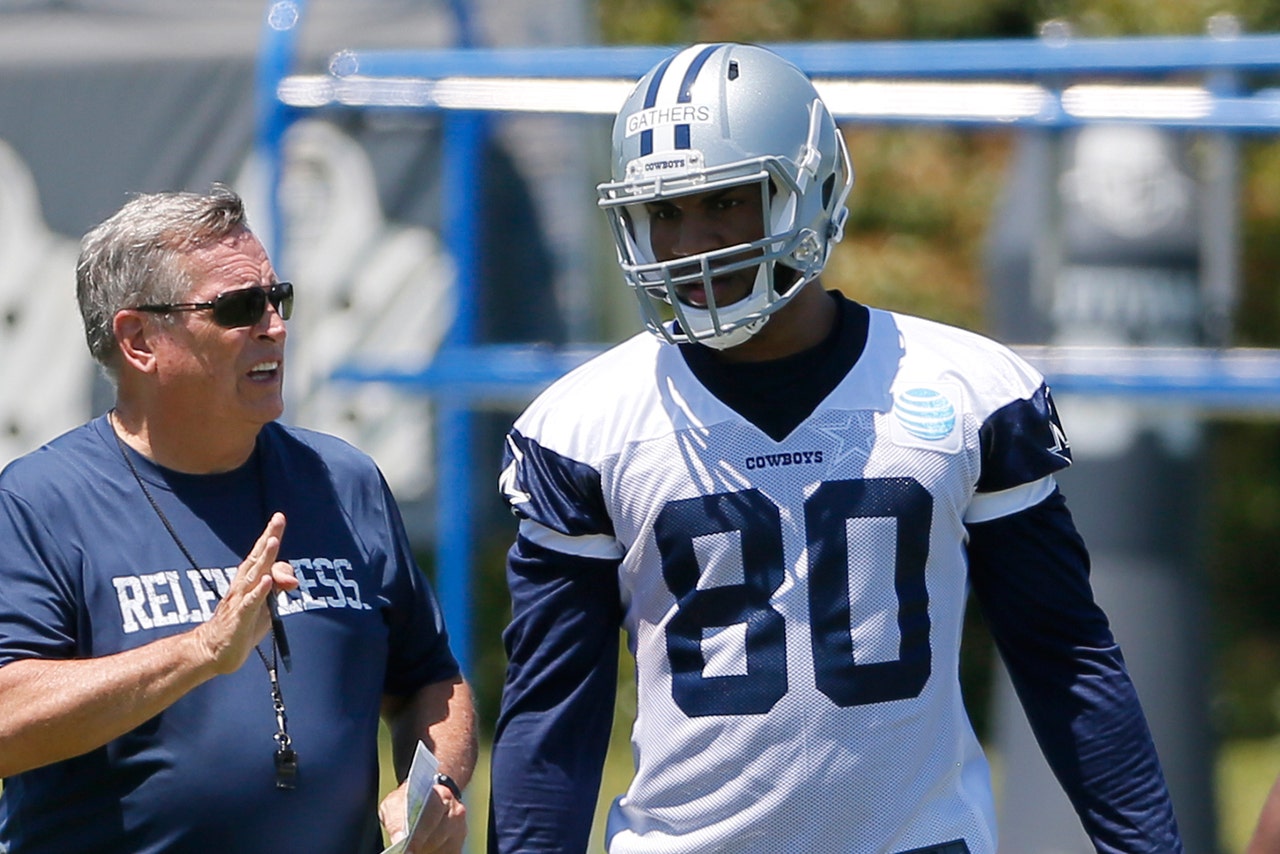 Rico Gathers
---
---