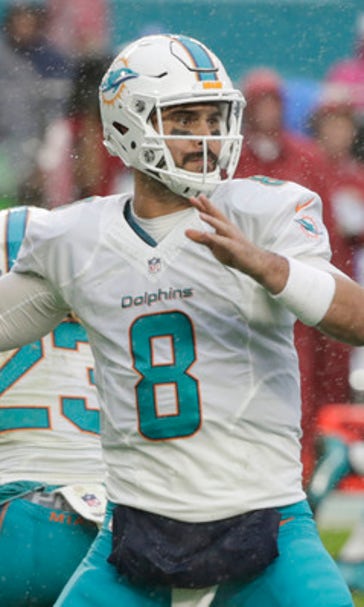 FANTASY PLAYS: Tough QB dilemmas in playoff semifinals
BY AP • December 17, 2016
If you're still playing in Week 15 of the fantasy football season, be proud. Advancing to a prime playoff spot means you worked hard to get to this crucial point.
In many leagues, a victory this week will earn you a berth in the championship game. So stay the course that took you this far in most cases, and remember that all you can do is be informed and set the most ideal lineup possible. Once the games start, it's on your players to execute.
The best you can do is put yourself in position to win without obsessing about what you can't control - winning when it counts takes luck in addition to the efforts you've already put in.
QUARTERBACK DECISIONS
Quarterback decisions this week are not easy. Drew Brees has thrown no touchdown passes and six interceptions in his past two games. Ben Roethlisberger is on the road again, where he has eight TD passes and eight interceptions. Andrew Luck has a tough matchup at Minnesota. It's not crazy to use Joe Flacco over any of those three. Flacco has two 300-yard games and six TD passes in his past two games. He faces an Eagles defense that has yielded 31.08 fantasy points per game to QBs over the past four weeks, fourth-highest in the NFL during that span. In most cases, you do not bench your star players at this time of year. But you can make an exception here with Flacco.
Tom Brady also appears to have a very tough matchup against the Broncos, but he should not be reserved like Brees or Roethlisberger, who have some negative trends working against them. Brady came up big in what looked to be a difficult matchup against Baltimore last week, throwing for more than 400 yards and three touchdowns. He'll move the offense well enough to deliver at least respectable fantasy totals this week. This is a marquee matchup for Brady, and he will be prepared to deliver. Denver also has some key injuries at linebacker that could make the Broncos more vulnerable to passes to Patriots running backs and tight ends.
JEFFERY'S RETURN
The Bears get Alshon Jeffery back from a suspension this week, and you should re-insert him in your lineup at least as a third wide receiver or flex option. Matt Barkley has thrown frequently in two of his three starts and has not made the Bears' receivers as irrelevant as feared when he first took over as the starter. Of course, do keep an eye on the weather, as windy conditions could hurt Chicago's passing game.
SPEAKING OF WEATHER
Don't get panicky at the first sign of snow or other weather reports. If there is only light snow or the winds are not heavy, you should not make a hasty move to adjust your lineup. Snowy conditions can play to the advantage of the offense, as defenders might have trouble getting into position when reacting to a playmaker who may be running a predetermined route or forcing a defender to react to him with a juke or cut. If you see winds below 15 mph or so, don't expect too much of an adverse effect on the passing game.
GORDON OUT, FARROW IN
Melvin Gordon is out with a hip injury, and undrafted rookie Kenneth Farrow should be the lead runner for the Chargers in what could be a high-scoring affair with the Raiders. Farrow is a physical type who should get some goal-line chances, so roll him out as the second running back in your lineup or at a flex spot. Ronnie Hillman may get some reps, too, but Farrow is the guy you want to use, especially if you lost Gordon.
JULIO JONES
Julio Jones is out again this week, but Matt Ryan and the Falcons may not even need him against the likes of the 49ers. Ryan has other fantasy-friendly weapons at his disposal. The Niners allow 26.58 FFPG to wide receivers, so lock in big-play man Taylor Gabriel, and you can even consider Justin Hardy, who scored last week, in deeper leagues. Tevin Coleman can play a significant role as both a runner and receiver, and he is a terrific option as your second running back or flex option.
TANNEHILL OUT, MOORE IN
All may not be lost for the Dolphins' offense without Ryan Tannehill. Matt Moore does not throw high-percentage passes as well as Tannehill, but he does throw downfield. Moore can make a big play, but then throw a head-scratcher of a pass. In 2011, Moore started a dozen games for Miami. In five games, he threw passes of 40-plus yards, and he threw a 30-plus yarder in eight. He had three games with three TD passes. But he was erratic and failed to throw more than one TD pass in eight starts. Moore is unreliable, but won't totally bog down the offense, and DeVante Parker should still have playmaking promise. Moore could also be a bit less shaky with Jarvis Landry as a target for him now. Don't expect the Miami offense to fall apart. Jay Ajayi should still get some chances to finish off scoring drives with TD runs.
---
This column was provided to The Associated Press by the Fantasy Sports Network, http://FNTSY.com
---
---