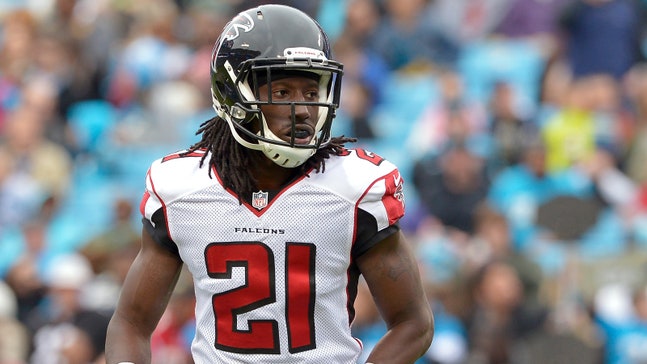 Falcons' Trufant has become NFL's next great shutdown corner
Published
Oct. 29, 2015 6:50 p.m. EDT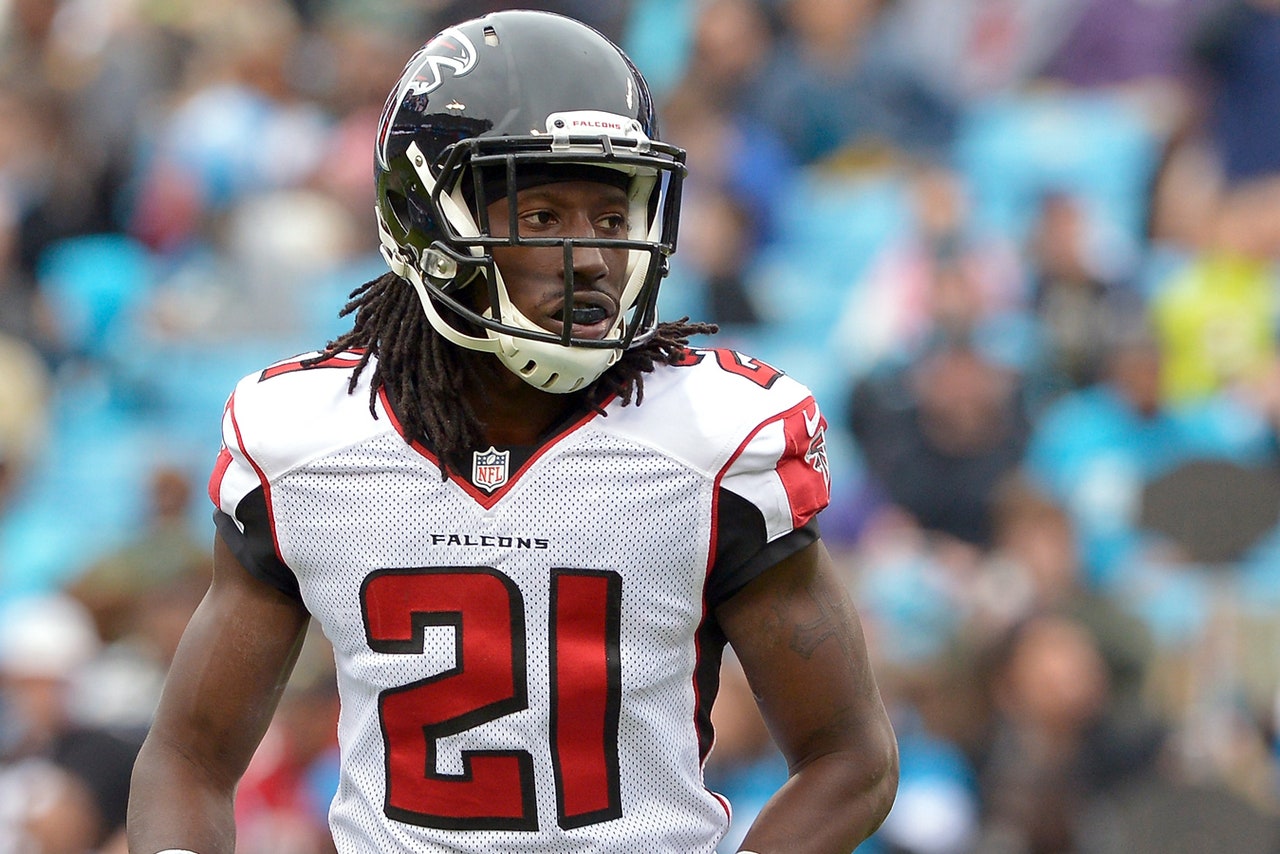 The Trufant family and some friends -- about 50 people in all -- were all in Hawaii in February 2008 for Marcus' trip to the Pro Bowl when a bunch of them decided to go snorkeling.
Seventeen-year-old Desmond put on all of his gear and headed into the water with brothers and cousins, all the while hoping he'd work his way around one little problem.
He couldn't swim very well.
"We're all in the water and he's lagging behind. We look up and a complete stranger is coaching him on how to go snorkeling," Marcus, a cornerback for the Seattle Seahawks from 2003 to 2012, told FOX Sports by phone earlier this week. "He's supposed to be this big, tough guy. It just didn't quite work out.
"He looked like a fish out of water, flopping around and not quite getting it done."
To know Desmond Trufant is to realize he wasn't about to be shown up by his two older brothers, who are eight and 10 years older than him. Desmond was always trying to compete with Marcus and Isaiah, even at a young age when he couldn't and even in activities that didn't play to his advantage.
It's that competitive nature, developed in a household where he was always trying to prove himself, that has driven Desmond over the years and now has helped turn him into one of the best cornerbacks in the NFL.
Well, to those who actually pay attention to the game, not just the hype.
There's little chatter coming from the Atlanta Falcons' 2013 first-round pick and stud cover guy. Not on the field and certainly not off it. He doesn't talk trash and doesn't advertise how good he is.
And there haven't been a bunch of highlight-reel plays for Trufant this season because he hasn't had a chance to make them. Teams just aren't throwing his way very often, which is perhaps the ultimate sign of respect and one that's been a badge of honor for another guy who recently played in now-Falcons head coach Dan Quinn's defense -- Seahawks cornerback Richard Sherman.
Quinn's Falcons are off to a 6-1 start, and Trufant's occupying the defensive left side of the field is a big reason.
"You watch the film, it's rarely coming to my side. I don't know what other corner has been thrown at less. I can't think of one," Trufant said by phone the other day, shortly before heading out to practice. "But we're winning, the defense is playing good, if that's my job and that's what required of me to win, that's what I'm going to do.
"When the balls do come, I'm gonna be there, too. Just stay ready."
***
Trufant has been ready for a while now.
Back in 2002, when agent Doug Hendrickson was recruiting Marcus out of Washington State, 9-year-old Desmond was telling Hendrickson to prepare for another client in years to come.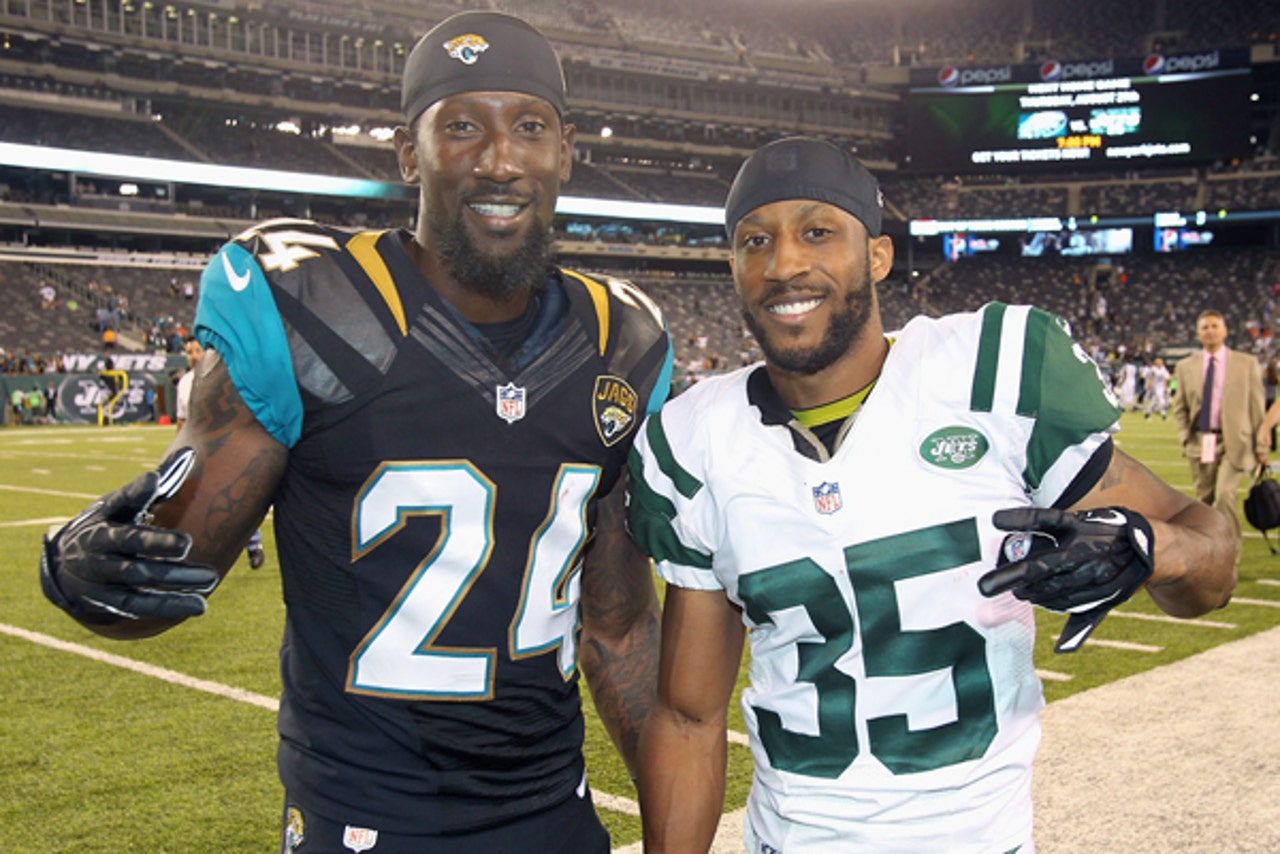 Marcus (24) and IsaiahTrufant (35) made it to the NFL before Desmond, but the younger Desmond is well on his way to having the best career of the three.

"I'm going to be better than both of my brothers," Hendrickson recalled Desmond telling him. "You watch."
"Yeah, sure, kid," Hendrickson thought to himself.
The Seahawks drafted Marcus 11th overall the following spring, and he became a terrific player for them. Isaiah wasn't as highly touted. He went undrafted out of Eastern Washington, bounced around the Arena Football League and the United Football League before finally latching on with the New York Jets in 2010. He spent parts of the next five years with the Jets, Philadelphia Eagles and Cleveland Browns.
All the while, Desmond was developing as a young athlete. He told his brothers he would play in the NFL, and they believed him.
Well, after initially doubting his athletic ability while he made bold proclamations like the one to Hendrickson, who has represented all three Trufants.
"We would always go to the park and play basketball, and my brothers would be with their high-school friends," Desmond recalled. "We were playing 3-on-3 and they let me play. I talked my way into the game. I crossed up one of their friends real bad. I hit him with a crossover."
Asked what the reaction was, he said, "Oh, you know I was talking."
The boys' mother, Constance, is certain Desmond was proud in that moment because his brothers "didn't cut him any slack." She would hear the celebrations from the backyard when Desmond would make a bucket on his brothers or older cousins.
That competition was a family trait the boys learned from their father, Lloyd, whose nickname is "Chill." That was for his laid-back personality -- except when he would run sprints against his sons. Marcus and Isaiah recall not winning any of those races until they were in eighth or ninth grade. Chill didn't let the boys enjoy any victories they didn't earn.
Naturally, that competitive drive transferred to Chill's sons and was evident in the track-and-field records they held at McCarver Elementary School in Tacoma, Washington.
First, Marcus set all of those records. Then, Isaiah broke them. Finally, Desmond claimed them for his own.
Desmond went back to the school this offseason to read to students as part of the Trufant Family Foundation's community-outreach program and checked on his records. He said they're all still standing.
McCarver simply ran out of Trufants -- for now.
"I've got some little nephews," Desmond said, referring to Marcus' one boy and Isaiah's two boys, "so we'll see what they can do."
***
Falcons general manager Thomas Dimitroff knew what Desmond could do when he and his staff scouted the University of Washington's All-Pac-12 cornerback. Dimitroff believed Trufant was the best corner in the draft -- better than Dee Milliner (ninth overall to the Jets) and D.J. Hayden (12th overall to the Oakland Raiders).
So Dimitroff moved up eight spots to No. 22 overall to select Trufant.
Through two seasons, Trufant started every game and opened some eyes with five interceptions and a total of 33 passes defensed. But it's what's happening this season that has observers around the league realizing he's special.
According to Pro Football Focus, Trufant has been thrown at 22 times in 425 snaps, with 10 resulting in completions. It's a subjective stat, as it's sometimes difficult to ascertain whether a cornerback playing in a zone has truly been targeted, but it's at least a general indication of whether an offense thinks it can attack a player.
Here's another telling stat: Trufant has only 12 tackles in seven games. That's partly because the tackles that come with receptions made in his area aren't happening. Because those receptions aren't happening. Because the passes themselves aren't happening.
Of the cornerbacks targeted 22 times or fewer, per PFF, just two have played more than 316 snaps, and it's not even close. Trufant's 425 snaps are surpassed only by Sherman's 446.
The best cornerback in the game now has company in the respect department.
"He's a unique guy. He has speed, he can play zone, he can play man-to-man, he can match up, and his development at the line of scrimmage has been outstanding," said Quinn, who served as Seahawks defensive coordinator the past two seasons before the Falcons hired him as head coach. "He has strong hands, he stays on top of guys and he recognizes, 'This split (for the wide receiver) means this route is coming.' That's when cool stuff can happen."
Trufant has six passes defensed this season and two fumble recoveries, including one during a blowout victory over the Houston Texans. He picked it up and ran it back 24 yards for a touchdown.
Other than those eight plays, Trufant hasn't had much of a chance to get a hand on the football.
"It's all about respect," Trufant said. "That's one of the biggest things for me, for any athlete -- to have respect. That's your hard work pay off. That's what it's all about."
Said Quinn: "I saw Richard get the same respect and, as long as you know, 'This is the one where they could be coming my way,' you're OK. Because you know the one time you don't keep that focus, that's when it hits. To stay focused the way he does down after down, you have to have grit."
****
Desmond, Marcus and Isaiah have an open group text among themselves in which they discuss football. If the older brothers see anything while watching games that can help Desmond, they'll share it, just as he used to make points on their games. There are a few receivers left whom Marcus once covered (Calvin Johnson, Steve Smith, Larry Fitzgerald and the like), and he'll dig up some old mental notes to share.
But the older brothers are impressed with what Desmond already observes by himself.
"He's a student of the game; he studies film like crazy. He's single, he doesn't have any kids, so the distractions are minimal," said Marcus, who has five children. "He's all about the film. He's all in the book. He's pretty good about knowing about the competition. There isn't anything I could tell him."
The brothers also haven't had to tell Desmond how to act with class. That's a source of pride for Constance as well, as is Desmond's involvement in the family foundation, which they conveniently named after the family and not just Marcus, even though the eldest child was the lone NFL star at the time.
"When we visit, I can see he is calm, he's controlled, he knows what he has to do. He's focused, compassionate, dedicated to his team, his job and his sport," Constance said of Desmond, who hosted a football camp for 150 kids during the summer. "He's a very mature and self-sufficient young man."
Constance said the Trufant boys were raised to show people what they can do rather than tell them. As much as he once celebrated his feats against his brothers and their friends on the court, Desmond has followed the family mantra on the field.
"He gives great effort, but he's not a trash-talker," said Giants receiver Rueben Randle, who was often matched up with Trufant during Atlanta's Week 2 victory. "He goes out there and does his job. That's what you want from a guy.
"He's a good ballplayer. Give him credit."
Marcus and Isaiah are trying to get their younger brother the credit they think he's not getting.
"Tell everybody we said vote for Desmond Trufant for the 2016 Pro Bowl," Marcus said.
OK, but no snorkeling for Desmond this time.
---
---