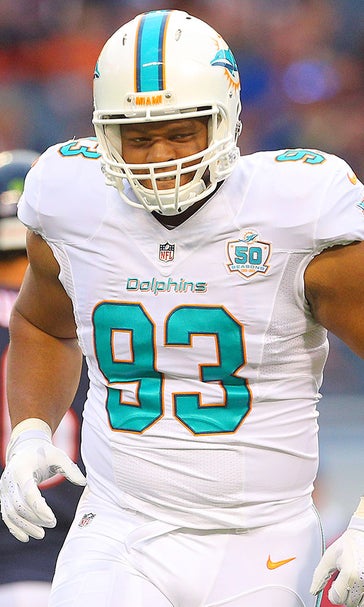 Dolphins' Ndamukong Suh will be on the field as much as possible
BY foxsports • September 8, 2015
The Miami Dolphins reeled in the biggest free agent this offseason in defensive tackle Ndamukong Suh. The Dolphins made him the highest-paid defensive player in NFL history and he's expected to play a huge role for Miami in 2015 and beyond.
Already, Suh has dominated not only the Dolphins' offensive line in practice, but opposing offenses in the preseason, as well. He'll join an already great defensive line that features Cameron Wake and Olivier Vernon, giving Miami a stout front four.
For defensive coordinator Kevin Coyle, the goal is to have Suh on the field as often as possible.
"Well, he's a guy that is rare in the sense of he can play those kind of plays," Coyle said via James Walker of ESPN. "Most guys don't have the conditioning, the athleticism, the mental toughness to play that many snaps at that demanding of a position. Throughout the league, very seldom do you see guys at that high number, you may see a few.
"But as long as he's playing at a high level, we will pick and choose when we want to give him some breaks and certainly we will have that planned as we go into games."
Suh's presence is always felt when he's on the field and is a player that opposing offenses have to take note of. He's a nightmare for quarterbacks and linemen to deal with, which is why he'll be on the field as much as possible.
"You want the big 'Chief' in there when the game is on the line and as you want our starters in there when we have to make plays," Coyle continued. "He plays more than most defensive linemen and I anticipate his numbers will still be fairly high."
Suh and the Dolphins will take on the Washington Redskins in the season opener on Sunday, a team that has neither a strong offensive line or quarterback. For the Dolphins, it should be a good showing by their stud defensive linemen.
(h/t ESPN)
---
---