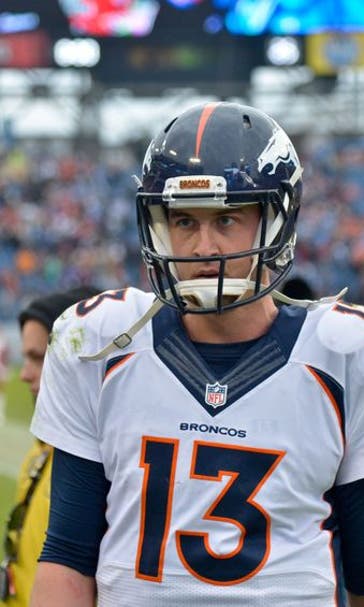 Denver Broncos week 14 playoff picture - Steelers on deck?
BY Fansided and Sayre Bedinger/FanSided via Predominantly Orange • December 14, 2016
The Denver Broncos need to win more games to be able to make the playoffs. Heading into week 14, here are their scenarios…
Just get in.
That is the remaining goal for the Denver Broncos, who are holding on to the sixth and final spot in the AFC playoff race by a fingernail.
It's a frightening prospect for any team that is coming off of a Super Bowl victory, although to some it might seem a bit greedy. Denver Broncos fans aren't going to apologize for their passion, however, as this is a team that has won five straight AFC West titles.
More from Predominantly Orange
Five straight AFC West titles, two of the last three AFC Championships, and at least one playoff win or a bye week each season along with the Super Bowl victory last year. This is a fan base that is used to winning big games, and it feels like just the other day the Broncos were smashing Cam Newton into the ground in Super Bowl 50.
The playoff picture right now paints a murky situation for the Broncos, especially considering in the last few decades, I can't remember a team facing a tougher three-game stretch to end the year, particularly one that was facing this sort of do-or-die situation.
The Broncos start things off with a home game against the New England Patriots this weekend. The Denver Broncos are the only team that Tom Brady has a losing record against in his NFL career.
On Christmas day, the Broncos travel to Kansas City. They follow that with a trip to Oakland, but they have to win at least one of the next two games in all likelihood for that Oakland game to be relevant.
The team that is nipping at the Broncos' heels right now is the Miami Dolphins, the only other Wild Card team at 8-5. They just lost quarterback Ryan Tannehill, which is a huge blow to their playoff hopes. The Baltimore Ravens and Tennessee Titans are also creeping around at 7-6.
It's a sticky situation for the Broncos, but a win this week against the top seed in the AFC would go a long way to putting this team back into the playoffs, where anything can happen.
---
---